Skippering with confidence right from the start
By Tom Cunliffe
Published by Adlard Coles Nautical, an imprint of Bloomsbury Publishing Plc   194 pages   hardcover   $40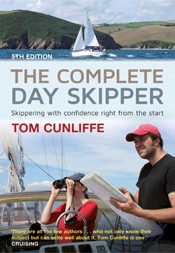 For those new to sailing, the best course of action will always be to enroll in a 'Basic Sailing' course (particularly those advertising in this publication!). You'd do well, however, to increase your knowledge of the subject by reading good books, and The Complete Day Skipper by Tom Cunliffe, originally published in 2002 and now in its 5th edition, is among the best.
The Royal Yachting Association, the governing body of sailing in the United Kingdom, defines "day skipper" as "one competent to take charge of a small yacht on short daytime passages under moderate weather conditions, in waters with which he or she is familiar." Presenting the full syllabus of the RYA Day Skipper course, this book starts with the basics: what's in a boat, docking and practical boat handling, the theory of sail, aids to navigation, and venturing our of the harbor.
Subsequent chapters cover seamanship, practical and advanced navigation, anchoring and mooring, weather, yachting etiquette, emergencies and how to prevent them, and how to make your first coastal passage. Imparting his vast experience with an eminently readable style, Cunliff provides a friendly hand on the shoulder through a perfect blend of advice, instruction, inspiration and encouragement. To add The Complete Day Skipper to your library, log onto adlardcoles.com.
A sailor since 1961, Tom Cunliffe is a TV presenter, Yachtmaster Instructor Examiner and yachting journalist. Years of teaching offshore with Great Britain's National Sailing Center have given him a knack for explaining how skippering a boat can be low-stress, safe and fun. He has cruised with his wife Ros and their daughter from the Caribbean to Russia and from Brazil to Iceland, and currently owns a classic Mason 44 cutter, Constance. Self-described as "a real petrol head," Cunliffe enjoys riding his 900cc Triumph Thunderbird and touring Europe in his 1949 Rolls/Bentley Mark VI Reggie. You'll find his fascinating website at TomCunliffe.com.