By Rick Bannerot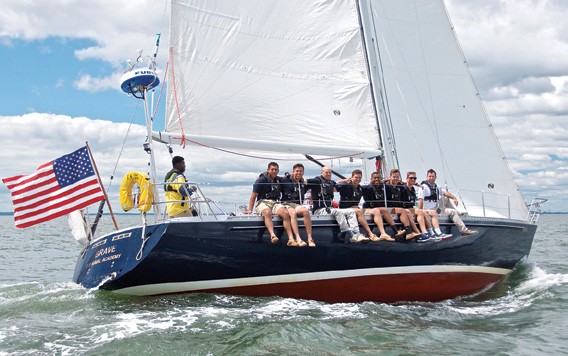 Ex Scientia Tridens, "Through Knowledge, Sea Power" is the motto of the United States Naval Academy, and in mid-June 2018, five Navy 44s (44-foot navy blue sloops) took station near the lighthouse just off the Stamford, CT breakwater before dousing sails and entering Stamford Harbor as part of their ten-day sail training exercise "at sea" from Annapolis, MD.
Brave is one of five Navy 44s that visited Long Island Sound on a recent U.S. Naval Academy Offshore Sail Training Squadron cruise.   Photo courtesy of Rick Bannerot, copyright 2018
Wait! What? Yes it is true, in today's high tech world of naval operations with billion dollar ships, the U.S. Naval Academy still has sailing in its heart and teaches many Midshipmen the finer points of handling sailboats and the decision-making and leadership skills that entails. The program is called the Offshore Sail Training Squadron ("OSTS") and is part of a series of summer training electives designed to give Midshipmen experience in leadership, decision-making, teamwork and self-discovery; all vital elements for future commissioned officers in the Navy or Marine Corps.
You can see by the mix of young men and women involved in OSTS, today's Naval Academy is an accomplished and diverse group. Of the 16,299 applicants for the Class of 2021, only 1,215 were admitted (7.5%); 27% are women, and 37% are minorities. Six percent are the sons or daughters of Naval Academy alums. All 50 states are represented, and there are 15 international students hailing from Madagascar, Mongolia, Palau and the Northern Mariana Islands. Most will serve on ships or submarines, become aviators or Marine Corps officers or become trained in other warfare specialties, while others will pursue professional engineering and medical degrees.
Each Navy 44 in the OSTS program has a complement of eight Midshipmen ("Mids"), a Commanding Officer ("Skipper"), and an Executive Officer ("XO") serving as a "big boat" sailing instructor. (XOs are a mix of civilian and military USNA faculty, retired officers with blue water sailing experience, or other qualified volunteers with a passion for sailing and sail training.)
The first week of training is comprised of shore-based classroom work in Annapolis, including basic general seamanship such as proper sailing terminology, knot tying techniques for different sailing applications, and basic sailing commands to use while maneuvering around boat traffic, docking or simply sailing in a shifting breeze.
Week two sees the Mids begin their hands-on familiarization with the boats, rigging, electronics and communications. They become familiar with round-the-clock watch schedules, living together in close quarters, and preparing meals in a tiny galley. Once the instructors are confident the Mids have absorbed the basics, they move up to participate in day-long sails on Chesapeake Bay to practice their newly acquired skills and gain confidence setting and dousing sails, tacking, gybing, all vital drills in handling boats under sail or power.
This 4-week rotation also provides an opportunity for the rising 2nd and 1st Class Midshipmen (juniors and seniors) to learn what it takes to be a leader responsible for younger, less-experienced crew. For the most junior Mids, called "Youngsters," (rising second year students) who've just completed their plebe year, it is an opportunity to actually work together with upperclassmen in an offshore, on-the-water environment, rather than just focusing on their challenging academics and athletics, developing their military discipline, and committing copious facts to memory.
The OSTS program builds self-reliance, teamwork, and discipline.   Photo courtesy of Rick Bannerot, copyright 2018
The OSTS program focuses on developing self-reliance, working with others, and implementing a working discipline across a variety of situations. In other words: get the brain and body out of the classroom and on a vessel at sea. A critical component of the learning process is to make mistakes, learn how to correct them, and improve from the experience. Most instructors agree that sailboats are a nearly perfect laboratory for such lessons.
The second and third week of OSTS adds additional layers of complexity and challenges. They conduct man overboard drills and learn how to rescue a person from the water from a boat that was previously sailing away in the opposite direction. They learn how prevailing currents combine with the effect of tides on the performance of the boat, experience different wind conditions, and adjust sails to optimize the boat for wind and weather. It's also time to introduce the Mids to sailing at night. Naturally, what comes easily in daylight is a whole new experience sailing at night, especially with no moon to help light the decks.
Once the basic proficiencies are developed, the boats are ready for their first multi-day sailing experience.  For many of these young sailors it is the first time they have ever been out of sight of land.   Starting from Annapolis, the boats sail down the Chesapeake, bend around Cape Charles, and head out into the Atlantic. Along the way, to gain experience, the boats sail under the Verrazano Bridge, into New York Harbor with its crisscrossing commercial marine traffic, supertankers, high-speed ferries, foul currents, and the amazing sights like the Statue of Liberty and the Manhattan skyline. After refueling at Liberty Landing, they then calculate the optimal timing for passage up the East River and through Hell Gate – a challenging, complex navigational exercise.
The boats then proceed eastward into Long Island Sound, ending up with a well-deserved weekend of shoreside activities at the Stamford Yacht Club. The Mids are able to relax a bit. For lodging, they are hosted by families, both SYC members and local USNA alumni. After cleaning up their boats, doing some laundry and getting a hot shower (which many Mids indicated was "Priority #1" after a long northeasterly leg off the coast!), the group enjoyed relaxing with their host families, cookouts on the club lawn, playing a game of kickball with kids, taking a train to NYC to see the sights, seeing a Yankees game, and getting plenty of sleep.
The "Mids" enjoyed a weekend at Stamford Yacht Club. Photo courtesy of Rick Bannerot, copyright 2018
Stamford Yacht Club has a proud tradition of supporting the U.S. Navy. This is the fourth year that the club has hosted an OSTS training cruise. The Gearing-class destroyer USS Myles C. Fox (DD-829) is named after SYC's own member who was posthumously awarded the Navy Cross for great valor during the Battle of Guadalcanal in the Pacific theater in World War II. The Naval Academy's 16 Navy 44s are based on the original design by Stamford's own Bill Luders of Luders Marine Construction back in 1948.
The program includes a community service component for in-port visits. The Stamford-based "Dealey Division" of the U.S. Naval Sea Cadet Corps (local middle and high school students), scouting groups, and local high school students are given a chance to meet the Midshipmen in a group Q&A session and explore the Navy 44s. These personal interactions are critical to local students interested in the USNA and getting to know the young men and women of OSTS. The Mids serve as an example of how the concepts of service, dedication and effort, when put together, can take one far.
And what is it the instructors are looking for during OSTS? It is the "Aha!" moment when Mids shift from a "precision mode" into a decision-making mode. A Midshipman suddenly doesn't need to ask the Skipper or XO to do something, but simply does it because it's the right thing to do. It is when an underclassman offers a good suggestion and the upperclassman accepts the input, and they make it happen together. It is when confidence catches up with learning and the correct initiative is taken. It is the coming together of eight Midshipmen, the XO, the Skipper and the boat to form a safe, seamless, effective blue water team. Through knowledge, sea power, indeed!
A longtime member of Stamford Yacht Club, Rick Bannerot co-chaired the club's junior sailing program for four years and currently serves on its Race Committee. He enjoys sailing and doing crash boat duty during the frostbiting season. One of WindCheck's favorite contributing photographers, Rick can be found at many regattas on Long Island Sound shooting from his 20-foot SeaCraft powerboat. He lives in Norwalk, CT.
The Ocean Blue
By Edward Murphy MIDN, USN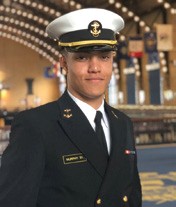 The mission of the OSTS summer training program is to introduce Midshipmen to the craft of sailing, while allowing them to explore their own leadership style. The majority of the Midshipmen who were selected for the training had no prior sailing experience.
Edward Murphy MIDN, USN   Photo courtesy U.S. Naval Academy
After two weeks of training for our four-day voyage from Annapolis, MD to Stamford, CT, we stocked plenty of food and water to sustain ourselves. The Navy 44s have fridges, propane stoves and ovens, so we were not limited to dry foods. We prepared lasagna, rice, pasta, chicken breasts, and even steaks!
The crew of eight separated into two watch teams so that while one team operated the vessel, and prepared the meals, the other could rest. In order to ensure that each watch team received enough sleep, we rotated watches every six hours during daylight from 0600 to 1800, and every four hours from 1800 to 0600. We always had one person below at the Navigation desk operating the radio, Automatic Identification System, and radar, while the other three members of the watch team were responsible for steering at the helm and handling the sails.
Sailing at night was when the crew experienced the most amount of stress.  During the night watches, we were concerned about retaining our night vision.  After sunset, we would activate all the red instrument lights. Stress levels jumped, especially once we entered the Atlantic and received a warm welcome of foul weather. Northwest winds quickly exceeded twenty knots, and the 5-foot swells made it extremely difficult to maintain a constant heading. We decided to reef the main to reduce the list and improve the maneuverability of the rudder. This proved quite challenging considering our unstable footing as we crashed into the waves. This true blue water experience allowed us to evaluate how well we could handle pressure – a valuable experience to have, especially once we commission and have other people's lives in our hands.
I was surprised by how much I enjoyed just staring into the emptiness of the most beautiful shade of ocean blue…and the sunsets were pretty spectacular, too. Every so often, we would be visited by curious guests including a pod of dolphins and a Great White shark, and we even debated whether the sea turtle we passed was still alive. Although we were 25 nautical miles from shore, we still found lots of plastic waste floating in the water. While the discussion was humorous at the time, it made me think about all the pollution we'd encountered, and the possibility that the turtle might have mistaken plastic for food. Seeing the ocean's mammals, fish, and reptiles amongst the floating debris gave us much to contemplate about how we continue to treat our waters like a trash dump.
OSTS instilled lasting memories, taught us new skillsets that broadened our capabilities as mariners, and allowed us to evaluate ourselves as leaders. The challenges and opportunities we faced built character, and without a doubt, it was a valuable experience.