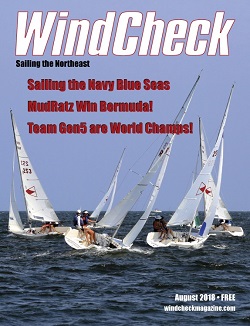 I guess it's natural to worry about the lack of growth or progress in anything we are passionate about. There is certainly no lack of hand wringing about how hard it is getting kids involved in sailing and keeping them engaged. Almost every day in Scuttlebutt, there seems to be a success story juxtaposed with a lament that we are not doing it right. The success stories almost always revolve around some program finding a secret sauce (usually a combination of independence and fun). The other version is a dedicated group, donor, mentor or gifted coach that takes matters into their own hands to instill the joys of working hard at something and seeing the results.
So, while I can't really take stock of the collective "fun meter" for junior programs in the Northeast, or get a bead on how much seamanship is imparted  (and believe me, I wish I could!), I do want to take a moment to point out that just recently we have had a medium size wave of really impressive youth campaign results that in some cases we have never seen before. WindCheck's waters, from Barnegat Bay to Buzzards Bay, have historically produced many, many great sailors, in spite of a short season compared to SoCal or Florida, but I'm not sure I can recall a time with such impressive accomplishments across a broad spectrum of the sport.
In June, the MudRatz Offshore Team from Mystic, CT, one of those groups enabled by truly dedicated adults, won their division in the Newport Bermuda Race. What's all the more amazing is that this is the second time in two runnings that a junior team from our region has done that, with the Young American Junior Big Boat Sailing Team from Rye, NY (now Young American Sailing Academy) doing it in 2016. That's never happened. It had not been done two years ago when the Young Americans did it. Was anyone laying odds that it would happen again?
Last month, teams from our region collected both Gold medals in the 420 Class at the Youth Worlds in Corpus Christi, TX. Carmen and Emma Cowles from Larchmont, NY won the Girls division for the second time in a row, while JC Hermus from Bellport, NY and Walter Henry from Syosset, NY dominated the Boys division Class by a 14-point margin. Charlie Hibben from Concord, MA and Nicholas Hardy from Newton, MA finished 17th in the 29er Boys division, so you know they are going places. These are just a few recent achievements in dinghy sailing for our region…I'm quite sure there are more and, look forward to hearing about them.
There is another international accomplishment you can read about in this issue, the Lightning Youth World Championship in Voula, Greece where the sheer determination by the kids to even get to the event is a great story. It was a typical crazy tough Lightning championship; extremely closely fought, with the top six teams separated by only 7 points. Team Gen5 USA, Jeff Hayden from Lake Mary, FL on the helm, Meredith Ryan from Buffalo, NY on the bow, and our own Brian Hayes, Jr. representing Housatonic Boat Club in Stratford, CT, calling tactics, clinched the title after getting two bullets on the last day to win by three points. The title of this column is one of my favorite expressions that is relatively new to the vernacular. If Gen5 winning the last two races to become World Champs doesn't generate a "LET'S GO!!!!!" I'm not sure what does.
So, to all the parents, coaches, donors and mentors that are making these opportunities possible for these kids, Thank You! And a huge congratulations to all of the junior and youth sailors, both the winners and the ones still at it. And for all the rest of us, less hand wringing and more celebrating, please.
See you on the water.
Ben