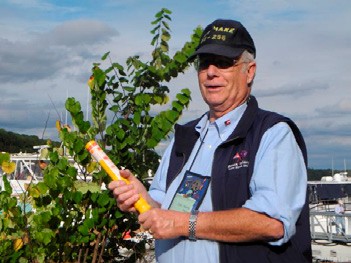 Captain Henry E. Marx, Master Mariner and founder of Landfall in Stamford, CT, crossed the bar on June 28, 2018. A lifelong mariner, Capt. Marx saw service in the U.S. Navy and the Norwegian Merchant Marine, and delivered yachts along the East and West Coasts for over 20 years. He acquired Landfall Navigation, the marine navigation and safety equipment chandlery, in 1982.
He authored a navigation video titled Loran C: A Navigator's Approach, was a well-respected navigation and marine safety instructor, served on the Marine Board Nautical Chart Committee, was a member of the Cruising club of America and the Storm Trysail Club, an advisor to US Sailing's Safety at Sea Committee, and co-founder and Chairman of the Stamford Sailing Foundation.
Capt. Marx received numerous honors for his contributions to the local and national sailing community. He received the Storm Trysail Club's prestigious Owen C. Torrey Memorial Trophy by the for his contribution to recreational boating, the club and the marine industry, especially with the US Sailing-sponsored Safety at Sea Seminars.
SoundWaters, the leading environmental education organization on Long Island Sound, honored Capt. Marx this spring for his past service and as a founding member of the Young Mariners Foundation. The Henry Marx Cup will be awarded annually to the winner of the final Young Mariners Academy race series. He was awarded the Commodore's Award by the Cruising Club of America for his contributions, both as a longtime member as well as his work as a safety educator and advocate. Donations in Capt. Marx's memory can be made to the Stamford Sailing Foundation, 97 West Ocean Drive, Stamford, CT 06902.
Thank You, Captain Henry
Our boating community recently lost a great friend and boating advocate. Henry Marx had a wealth of knowledge and experience, which he conveyed any chance he could to recreational boaters and marine industry professionals.
When we started WindCheck 16 years ago, Henry immediately offered his help to build the magazine into a resource for all boaters. I deeply appreciate Henry's friendship, advice and boating expertise through all those years. My deepest sympathy to his family, friends and the Landfall team.
Fair Winds, Captain Henry.
Anne Hannan, WindCheck Publisher Emerita