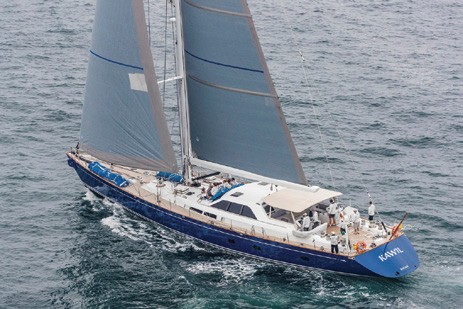 The 51st running of the Newport Bermuda Race was a slow but strategically challenging race. Of the 169 boats that started in Newport, RI on Friday, June 15, 2018, 166 completed the 635-mile race in two to six days' time (there were three retirements). After making very slow progress in the middle of the racecourse in light to non-existent winds, most of the fleet finished quickly on Tuesday evening and Wednesday morning.
The first Super Yacht to win the Newport Bermuda Race is the 112-foot Kawil.   © Daniel Forster
"A high-pressure area slowed most of the fleet significantly," said Race Chairman Jonathan Brewin, of St. George's, Bermuda, "but it made for a very strategic race. We were delighted to see all the boats arrive in Bermuda safely, maybe not too swiftly, but ultimately all were successful in arriving. Hopefully everybody had maximum fun. On behalf of the Cruising Club of America and the Royal Bermuda Yacht Club, I'd like to congratulate the fastest in the fleet, from our traditional lighthouse trophy champions to the first winners in the Super Yacht and Multihull Divisions."
Multihulls were invited to join the race for the first time this year. Jason Carroll's Gunboat 62 Elvis (New York, NY) led the 3-boat division from start to finish and was the fifth finisher with an elapsed time of 63 hours, 25 minutes and 32 seconds. Elvis was initially in fairly close contact with Greg Gigliotti's Gunboat 62 Tribe (Stamford, CT) and Wendy & Phil Lotz's Gunboat 60 Arethusa (Newport, RI), but found a little more breeze on Saturday afternoon and built a good lead that turned into a total breakaway on Sunday when the trailing boats were trapped by the expanding high pressure zone. Elvis blew up the same sail twice during the race, but apparently the extra effort was worth it. "We like to just push it a little, and it's nice to go quick," said crew member Alister Richardson. "I loaded the A2 a little bit too much, it popped once, we repaired it, and then I was sailing with it for another hour and then I broke it again after 4 hours of repairing."
Two boats contested the Super Yacht Division, with the S&S/Derecktor 112 Kawil, skippered by Harold "Spook" Stream of Lake Charles, LA, winning on corrected time by more than five hours. The satisfaction of crossing the line six minutes ahead of Kawil on elapsed time was had by Daniel Van Starrenburg of Bedford Hills, NY, whose Dykstra 110 Aurelius finished with an elapsed time of 104:27:32.
First of the two boats in the Open Division was Maverick, an Infiniti 46R DSS skippered by Quentin Stewart (Guernsey, GB). The light conditions did not favor the radical 46-footer, which is outfitted with lifting foils that provide extra stability and speed when the wind is up, but the sleek British boat nonetheless completed the course 10th fastest, in 97:03:56.
Jim Grundy's Columbia 50 Grundoon (Doylestown, PA) won the coveted St. David's Lighthouse Trophy for the best corrected time in the largest division of 85 boats. Sailing with one daughter and two sons in the crew, Grundy made off with half a dozen other trophies including the William L. Glenn Family Participation Prize and the Dorade Trophy for vintage yachts over 25 years old. Grundy's father purchased Grundoon in 1968.
Wizard, a Volvo Ocean 70 owned by brothers David and Peter Askew (Sandy, UT and Riderwood, MD, respectively), won the other lighthouse prize, the Gibbs Hill Lighthouse Trophy. Finishing first on corrected time among the highest-performance boats in the 22-boat Gibbs Hill Lighthouse Division, the Askews picked up their second major win in six months following a victory at the Rolex Sydney Hobart Race last December. Wizard is the former
Groupama, which won the Volvo Ocean Race 2011-12. "We bought the boat in Australia in the fall and thought it was real dumb if we didn't do the Sydney Hobart," said Dave Askew, "so we did, and won it [Division 0], which was a kind of shocker for both of us."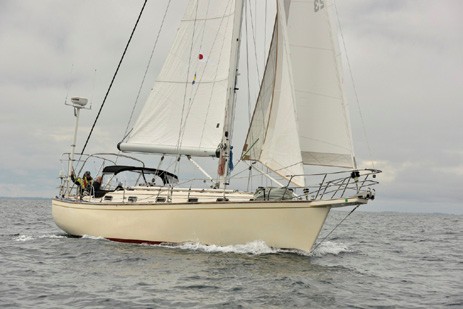 Proving that the Newport Bermuda Race is for sailboats and crews of many sizes, speeds and styles, Mary & Harold Guidotti's Island Packet 38 Orca (Westbrook, CT) won the Finisterre Division, a 40-boat fleet for amateur entries using cruising sails. Orca's crew was awarded the Carleton Mitchell Finisterre Trophy, named for the three-time winning skipper and his boat, which coincidentally was also a 38-footer.
Mary & Harold Guidotti's Island Packet 38 Orca won the Carleton Mitchell Finisterre Trophy.   © Allen Clark/PhotoBoat.com
Topping the 15-boat Double-Handed Division was Yankee Girl, a Morris Justine 36 sailed by Zachary Lee and Lief Counter (Vineyard Haven, MA and Pelham, NY, respectively. Yankee Girl sailed the racecourse in 116:30:12 and finished first on corrected time by less than eight minutes ahead Chris Terajewicz's Corvus (Newton, MA) another Morris Justine 36. This was Lee's second consecutive Newport Bermuda Race aboard Yankee Girl.
The MudRatz Offshore Team's Swan 48 Dreamcatcher (Stonington, CT) won the Stephens Brothers Youth Prize for the best performance by a Youth Division crew, with most of the crew between the ages of 14 and 23. Another Youth Division entry from the Northeast, the Young American Sailing Academy's Reichel/Pugh 63 Young American – Gambler (Rye, NY), finished 12th in Class 15 of the Gibbs Hill Lighthouse Division.
Zachary Lee and Lief Counter co-skippered Yankee Girl to victory in the Double-Handed Division.   © Allen Clark/PhotoBoat.com
Other class winners hailing from the Northeast include Alessandro Pagani's Spirit Yachts 47 Luna (Lexington, MA; first in Double-Handed Division Class 3), Rick Oricchio's J/120 Rocket Science (Fairfield, CT; first in St. David's Lighthouse Division Class 7), Justin Bonar's Jeanneau 53 YYZ (Stamford, CT; first in St. David's Class 8), Kevin McLaughlin's J/V 50 Crazy Horse (Fairhaven, MA; first in St. David's Class 9), Linda & Andrew Weiss' Ker 43 Christopher Dragon (Mamaroneck, NY; first in St. David's Class 10), Matthew Pilon's Oyster 54 Liberty Call (Middletown, RI; first in Finisterre Class 12 ), and Ronald Rossetti's McCurdy & Rhodes 66 ketch Selamat (first in Finisterre Class 13).
The 51st Newport Bermuda Race was co-organized by the Cruising Club of America and the Royal Bermuda Yacht Club in a partnership dating back to 1923. It is managed by the Bermuda Race Organizing Committee, a joint working group of the two clubs. Sponsoring this year's race were Bermuda Tourism, Goslings Rum, Pantaenius Insurance, Helly Hansen,
Hinckley Yachts, Safe Harbor Marinas/Brewer Yacht Yards, Newport Shipyard, North Sails, and Airmar. More information is available at bermudarace.com.
John Burnham with the Newport Bermuda Race Media Team and Jan Harley at Media Pro International contributed to this report.