By Nate Bayreuther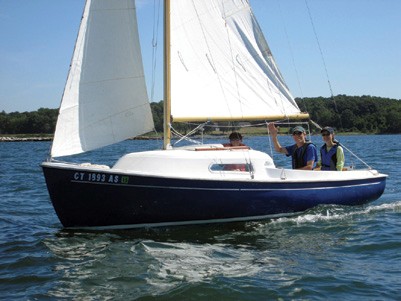 Let's get one thing straight: I'm an O'Day Mariner fanatic. I have owned my 1970, 19-foot Mariner Orion, hull #1922, since 2007 and have held three different positions on the Mariner Class Association Executive Board including President (twice). I have a website for my own boat and have organized fleet and national rendezvous since 2009.
On a family-fun-per-dollar basis the Mariner can't be beat, as the Schaeffer family, enjoying a sail on Long Island Sound, will attest.   © Nate Bayreuther
In 2013, a whopping eighteen O'Day Mariners and 58 sailors took part in a big rendezvous at Mystic Seaport Museum, celebrating fifty years since the "birth" of the Mariner. Since that time, we've had great turnouts for subsequent annual rendezvous. Clearly, there is a desire among Mariner sailors to get together and enjoy this fantastic sailboat.
Rendezvous participants trailer their boats to Connecticut and launch from the state launch ramp on the Niantic River. We sail to a nearby destination, most often Mystic Seaport Museum. With so much to see and do over the course of a few days, the Seaport is always a fantastic place to go, and the dock staff are incredibly gracious to us. For us Mariner sailors, it's about a three- to four-hour journey from Niantic, a pleasing trip for veteran sailors and a reasonable goal for new folks. Last year, however, we decided to give Essex a try, and we were welcomed at the Brewer Essex Island Marina for a mid-week stay. It was great to tour the place, eat at Marley's and the Griswold Inn, visit the Connecticut River Museum, go for a sail onboard the replica of explorer Adriaen Block's vessel Onrust, and have the place largely to ourselves since the rendezvous was not on a busy weekend.
O'Day Mariner enthusiasts came from several states for this rendezvous at Mystic Seaport Museum.   © Steve Hock
I will say, though, that every year there has been some kind of incident that throws a monkey wrench into the works. Sometimes it has been weather-related, such as downpouring rain, storms, or a total lack of wind. Other times, it has been popped trailer tires, broken trailer frames, broken rudders and tillers, halyards lost up the mast, dead VHF radio batteries, crew members falling overboard at the dock…you name it, it has most likely happened. However, the most frequent occurrence has been outboard motor failures. Nothing is more frustrating than having to deal with a motor that just stops running and won't start again. I've gotten pretty good at towing other Mariners whose engines die en route, and I know others have as well. I now make sure that a spare motor is brought to each event in case it's needed, and while it usually isn't needed, it sure is nice to have it around just in case.      
Although setbacks may happen, they certainly aren't enough to deter us Mariner sailors from having a good time. Everyone who participates in the rendezvous is there purely for fun – there's no competitive racing or judgment of sailing abilities. I believe it was this spirit of camaraderie and fun George O'Day had in mind when he created the Mariner based on the popular Rhodes 19 racer, and the purpose of our annual rendezvous is to promote this spirit and give thanks for over 50 years of a wonderfully-designed boat. 
When the Mariner Class Association was originally formed by sailors in 1966, it was with the desire to race O'Day Mariners as a one-design fleet, and in 1969, the first Annual National Championships was established and has taken place every year since then. During much of that time, organized cruises had been somewhat of an afterthought with racing receiving most of the promotion and support. In recent years, there has been a big shift to give cruising and daysailing equal standing within the Association, and the results have been pretty dramatic, especially since the vast majority of the membership doesn't race. There are now several fleets from the Great Lakes to Vermont to Florida whose members engage solely in non-racing, group gatherings on the water. One of the most exciting developments occurred when, following the success of the big 2013 rendezvous, the Association formally voted to promote and financially support an Annual Rendezvous at the same level as the Nationals. This was an historic move as, for the first time in Association history, it now provides a nonracing, Class-sanctioned annual event for cruisers.
Mariners of various vintages can be seen in this photo. © Steve Hock
This year, we're heading to Stonington, CT the weekend of August 3-5, 2018 and Stonington Harbor Yacht Club will be our destination. According to this friendly club's dock manager, they have never hosted an outside group of this size before, and I can't thank them enough for agreeing to have us stay there. We're looking forward to touring the Borough, visiting the Lighthouse Museum, sailing around the area and enjoying our surroundings. Twelve boats will be at the dock, and if you're in the area, feel free to stop by and say hello! ■
Nate Bayreuther has owned his 1970 O'Day Mariner Orion since 2007 and is currently the webmaster of the Mariner Class Association. A professional organist, he grew up next door to his family's marina, Bayreuther Boat Yard, in Niantic, CT. He lives with his wife and son in Northford and can frequently be found sailing the waters of Long Island Sound. Visit mariner1922.com for more about his Mariner and usmariner.org for the Mariner Class  Association.