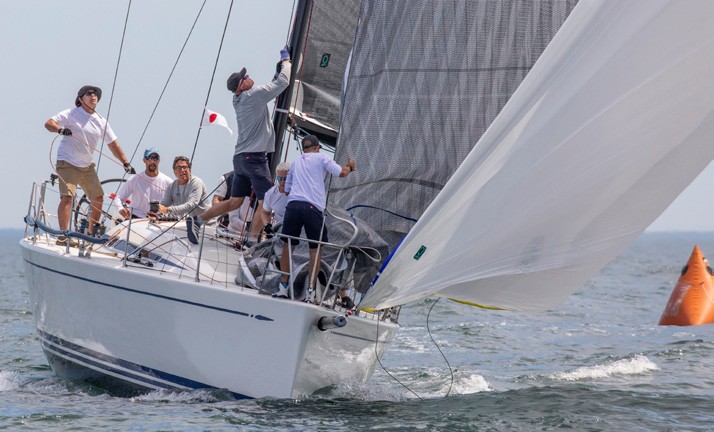 BIRW 2018
By James Gallacher
The inaugural reboot of the 'off-year' Block Island Race Week, co-hosted by Duck Island Yacht Club (Westbrook, CT) and Block Island Yacht Club June 17 – 22, is in the books.
Impetuous, a Swan 42 owned by longtime Race Week competitor Paul Zabetakis, claimed the overall win.   © Stephen Cloutier/photogroup.us
We were able to get four good days of racing in, with only one shore day (too much wind). The race committee, run ably by PRO Sue Reilly, did a great job getting the races going and a great job knowing when it was time to go back to the barn. Mudslides taste better when you're not too gassed to enjoy them.
First place overall in the Spinnaker class came down to a three-way sprint on Friday, with Paul Zabetakis' Swan 42 Impetuous (Jamestown, RI), Tom Lee's Melges 24 Jammy Beggar (Key Colony Beach, FL), and Sedgwick and Andrew Ward's J/111 Bravo (Shelter Island, NY) separated by a total of two points. Bravo came out charging in the first race looking to make a move into first place, but were held off by Jammy Beggar, who held on for the win by a mere two seconds.
Impetuous was able to claw back in the final race and claim first overall for the week by edging out Lee's team on several tiebreakers. Jammy finished second for the week, with Bravo rounding out the top three. Paul has been a fixture at these regattas, and it was great to see members of his crew who sailed together with him in the early 1990s on his Frers 33. Well done, Paul and crew.
In the Cruising fleet, four different boats won races including Block Island's own Chuck Townsend's Alerion 26 Nimble. Chuck and his team had a great sail on Friday and were able to make up some ground on the reach from "1BI" back to the finish off the entrance to the Great Salt Pond to take the daily win.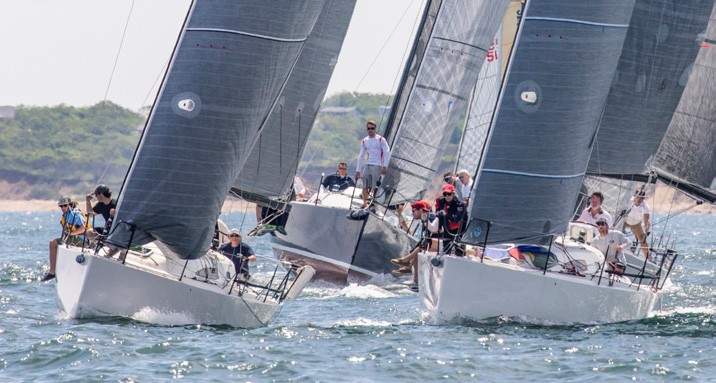 By Friday, the crew of Tom Hansen's Taylor 42 Africa (Marblehead, MA) – comprised of young children and seasoned veterans alike – were able to rattle off an impressive string of firsts (2) and seconds (3) to take first place for the week. Kevin Curtis' C&C 34 Wildfire (Fairfield, CT) was second, with Peter Floyd's Ranger 22 Reepicheep (Higganum, CT) third.
Sailors on a variety of boats enjoyed the competition and camaraderie at Block Island Race Week 2018.   © Stephen Cloutier/photogroup.us
After the racing on Friday, awards were presented at the Block Island Maritime Institute (BIMI). Competitors, volunteers and sponsors were able to enjoy one last late afternoon on Block Island before heading their separate ways. It was great to see the camaraderie between sailors from radically different boats with very different agendas talking and sharing stories on the lawn. And it was great to see everyone pack in to the awards presentations and cheer each other on. More than one group of sailors told me they thought the event was a great mix of sailing with enough down time to explore the island a little bit. Crews were thrilled, and they were already looking forward to the next time in two years.
We had a lot of help making this event a success. We'd like to thank all of our sponsors including WindCheck Magazine, Sullivan Sotheby's International Realty, Cross Sound Ferry, Gowrie Group, Narragansett Brewing, Regatta Craft Ginger Beer, GreySail Brewing, Newport Vineyards, Keel Vodka, Thomas Tew Rum, Red Bird Package Store, Official Photographer Stephen Cloutier, South Florida Performance Boats (Nor-Tech 340 Sport media boat), J/Boats, Lamar, The National Hotel, New England Airlines, Ballard Hall Real Estate, Ballard's, SupplyTime, The Surf Hotel, North U (daily chalk talks), The Block Island Sport Shop (water bottles for the race committee), the Chamber of Commerce and the entire Block Island Business Community for helping us along the way. An extensive list with links to our sponsors is available at birw2018.com.
Duck Island YC and Block Island YC are looking forward to hosting the next 'off year' Block Island Race Week in 2020 and we can't wait to welcome everyone back to our island. If you'd like to discuss bringing your fleet to our next event, send us a note at info@birw2018.com.
James Gallacher is the Director of Block Island Community Sailing and a member of Block Island Yacht Club.