By Brian Hayes, Sr.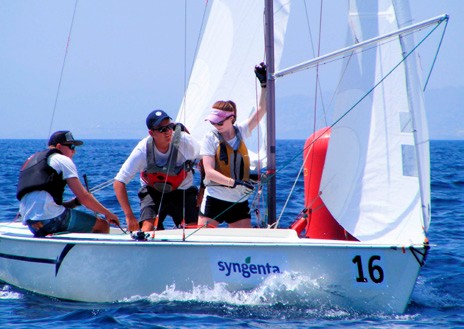 Sixteen teams from seven countries competed in the 2018 Lightning Youth World Championship. The Nautical Athletic Club of Voula, with support from the Yacht Club of Greece, hosted this International Lightning Class Association regatta in the waters off Athens, Greece from July 3 – 7, 2018.
The 2018 Lightning Youth World Champions are (l – r) Jeff Hayden, Brian Hayes, Jr. and Meredith Ryan.   © Nigel Vick
Four teams representing the USA (including three-time Lightning Junior North American Champions Tanner Probst, Jenna Probst and Maya Weber) were in attendance, along with four teams from host country Greece, three from Canada, two from Finland, and one each from Brazil, Chile and Peru.
The seven-race series featured a fabulous mix of conditions, with light to moderate breeze in five of the seven races. Two races were sailed in much trickier conditions, with a puffy, shifty offshore seabreeze (yes, offshore!) making it very challenging for sailors, testing their skills and endurance.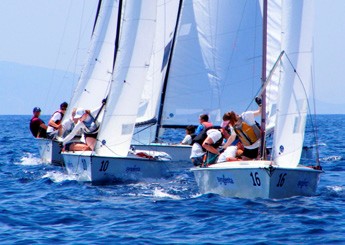 Competition was fierce, with just three points separating the top five teams at the start of the final race. When the dust had settled, Team Gen5 USA, comprising Jeff Hayden (Lake Mary, FL; helm); Brian Hayes, Jr. (Milford, CT; representing Housatonic Boat Club in Stratford, CT and calling tactics) and Meredith Ryan (Buffalo, NY; bow), emerged as World Champions.
The battle for the top step of the podium wasn't over until the final race.   © Nigel Vick
Team Gen5's name derives from the fact that skipper Hayden and tactician Hayes are fifth generation and third generation Lightning racers, respectively.
After qualifying for the 2018 Lightning Youth Worlds with a second place finish in the Lightning Junior North American Championship at Metedeconk Yacht Club in New Jersey last August, Hayden, Hayes and Ryan had a strong desire to compete in Greece but lacked the financial resources.
They overcame that obstacle by selling t-shirts, setting up a GoFundMe page, and giving presentations at local sailing clubs to gain donations. With additional support from family and friends, these enthusiastic young racers (who had only a small amount of sailing time together) took their grassroots program overseas. With prowess on the racecourse to match their sheer determination to make it to the regatta, Team Gen5 notched back-to-back bullets in the final two races, advancing from 7th place to the top of the podium.
Finishing fourth overall and representing the Buffalo Canoe Club were Tanner Probst (helm), Jenna Probst and Maya Weber. In seventh place and representing Niantic Bay Yacht Club in Niantic, CT were Parker Colantuano (helm), Amelia Reed and Jackie Morrison. Notably, all of the top ten teams were powered by North Sails!
The International Lightning Class Association is a dedicated supporter of youth sailing. The ILCA funds an annual Boat Grant program for college age and young professional sailors, providing the use of a competitive Lightning for a full racing season. More information on the ILCA Boat Grant, local regattas, class activities (and complete results of the Youth Worlds) can be found at LightningClass.org.
Brian Hayes, Sr. is a One Design Expert at North Sails, Past President of the International Lightning Class Association, and a champion in several one-design classes. He's shared his expertise at seminars and clinics for one-design fleets throughout the U.S. and Europe, and coached and trained Sonar Paralympic teams worldwide.