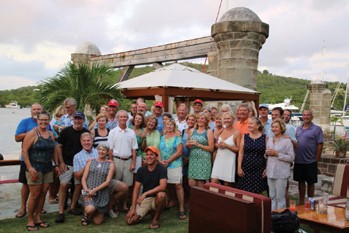 The Salty Dawg Sailing Association (SDSA), a Middletown, RI, based non-profit educational and charitable organization that hosts rallies, rendezvous and blue water sailing seminars, has expanded routes for its Fall Rally to the Caribbean. For the first time, a departure point in Essex, CT offers advantages for those not planning to cruise through the Chesapeake Bay to the primary starting venue in Hampton, VA.
© SaltyDawgSailing.org
The departure options include Essex on Wednesday, October 31, 2018 and Hampton on Saturday, November 3. Destination options are Falmouth Harbour, Antigua; Gorda Sound, BVI; and Green Turtle Key, Abacos.
"The Essex Yacht Club is rolling out the red carpet for the rally," said Bob Osborn, SDSA board member and Fall Rally Port Captain for Essex and Antigua. Located five miles up the Connecticut River, EYC invites rally participants to enjoy a charming New England village with easy access to marine businesses and provisions.
Highlighting the pre-departure event schedule will be keynote speaker Tom Whidden, America's Cup Hall of Fame sailor and three-time winner of the America's Cup. Seminars, weather briefings and social events are also scheduled. The route for the Essex fleet will be divided into two legs. The first leg, approximately six days, will start on October 31 and end in Bermuda. The Bermuda stop allows time for crew change, provisioning, refueling and social activities. Weather permitting, the fleet will leave Bermuda for the Caribbean and meet up with the rest of the Salty Dawg Fall Rally fleet.
The largest organized fleet of boats cruising-in-company from the East Coast each fall, the Salty Dawg Rally to the Caribbean offers benefits including weather routing services, pre-departure briefings, daily weather updates, online tracking, a support system with veteran participants offering advice, a low entry fee, and much more. To learn more, log onto SaltyDawgSailing.org.