By Monica Pepe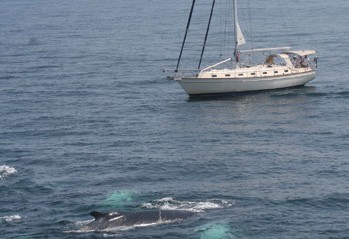 Conservation efforts to protect marine mammals, especially large whales, continue to face great difficulties and, in some cases, have managed only marginal improvements. Most notably, only around 450 North Atlantic right whales survive today. Those that remain face serious human-induced threats such as vessel strikes, entanglement in fishing gear and habitat degradation.
Whale encounters are one of the greatest thrills of sailing the Northeast, and a few common sense practices will help ensure the safety of both cetaceans and humans.   © Whale and Dolphin Conservation
Marine mammal scientists and conservationists spend a lot of time within their own communities trying to find solutions to complex issues, yet there are ways that ocean users can help support conservation efforts. It's just a matter of connecting with them and making this information readily available. In our experience, networking with dedicated sailors has proven beneficial for all parties involved.
I work for Whale and Dolphin Conservation, and along with our colleagues at Audubon Society of Rhode Island and New Bedford Whaling Museum, we reached out to the sailing community for advice on how we could connect with people who spend a lot of time on the water. Partnering with US Sailing, we launched Sharing The Seas: Safe Boating for Sailors and Whales in 2015 to educate and empower sailors to take action and make choices that will lead to better ocean conservation and safer sailing near whales.
In today's digital society we've learned that it can be difficult to easily obtain reliable information. Anything can be posted online and interpreted as factual without referencing credible sources and then information can be (and often is) shared widely on the assumption that someone else checked the facts. We decided that a key component to our program would need to be providing easier access to accurate information on marine mammals that sailors would find helpful. In particular, knowing about whale protection laws and local species would arm sailors to better avoid dangerous collisions, which can cause thousands of dollars of damage to vessels and injure crew.
Sharing the Seas offers a variety of educational resources for all types of sailors, including junior, pleasure, and competitive sailors. Key program components are communicated via the acronym SAIL:
Safe boating practices (To avoid collisions/disturbance)
Alert authorities to important sightings (How to report marine mammal sightings and animals in distress)
Important information (Overview of common marine mammals and sea turtles along with their typical behaviors)
Limit litter (Tips to prevent marine pollution such as plastics)
For competitive sailors, we also offer information on whale distribution overlapping with ocean races. The Atlantic Cup, for example, transits through a known feeding area for endangered North Atlantic right whales in late May/early June, so it's important for crews to be extra watchful when transiting that area. We provided customized information packets for their competitors in 2016 and, after much positive feedback, again in 2018.
We are vested in the welfare of marine mammals, but at the end of the day, human safety is of utmost importance. While whales are not known to intentionally harm humans, they are very large, powerful animals that can cause a lot of harm with just a quick flick of the tail. If a boat's behavior alters a whale's natural behavior, not only is it unlawful, but it can also cause an unexpected reaction which may put the boat and everyone on board in harm's way.
If you're preparing for a trip on the water, here are the basics:
It's best to study whales as you would a chart. Familiarize yourself with species in your area BEFORE you get on the water. Also, knowing how different species behave will help you safely maneuver around them.
Giving the whales plenty of space is a best practice for keeping both parties safe. Whale watching guidelines in this area recommend maintaining a 100-foot buffer from the whale(s).
When possible, drop your sail and turn on your auxiliary engine if whales are nearby. A boat under sail may not be able to reduce speed or stop at a safe distance from a surfacing whale.
If you see a marine mammal or sea turtle that is entangled, injured, or dead, the easiest thing to do is call the Coast Guard on VHF Channel 16. If you are in U.S. waters between Maine and Virginia and have cell phone reception, you are encouraged to call the reporting hotline at 1-866-755-6622. Save this number in your phone ahead of time!
All this and much more information is available on our website at seeaspout.org/SAIL. We also appreciate feedback on what information would be helpful for sailors so that we can continue to enhance Sharing the Seas and make sure it is as effective as possible. We'd love to hear from you!
Monica Pepe is the Policy Manager for Conservation and Education at Whale and Dolphin Conservation.