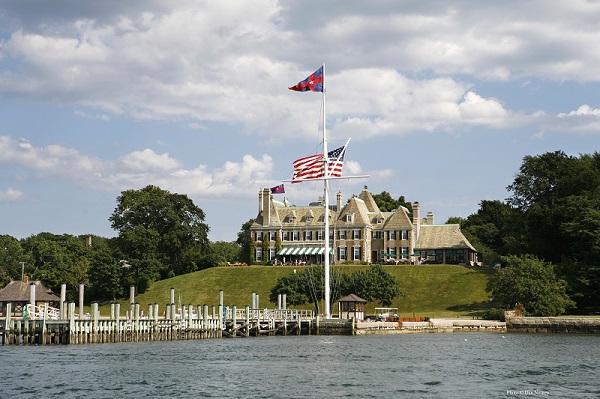 New York Yacht Club American Magic, the U.S. Challenger for the 36th America's Cup, has announced an initial roster of 17 sailors who will train and compete with the team. The accomplished group includes nine Americans and sailors from four other nations. The 36th America's Cup will take place in March 2021 off Auckland, New Zealand. The regatta will be sailed in the AC75 class, a new 75-foot foiling boat designed specifically for the next edition of the Cup that is expected to race with a crew of 11 sailors.
If things go NYYC American Magic's way in Auckland, the New York Yacht Club's Harbor Court clubhouse in Newport might host subsequent America's Cup regattas for years to come.   Photo © Dan Nerney
"We're excited to announce the names on our current sailing team, and continue the process of building a focused and successful program," said Terry Hutchinson (Annapolis, MD), Skipper and Executive Director of American Magic. "Every personnel decision we make in this campaign will be with a single goal in mind, and that is to win the America's Cup in 2021. With the support of our 90-strong collection of world-class designers, boatbuilders and staff, our sailors will be capable of accomplishing that goal."
The roster includes the combined experience of 31 America's Cup campaigns, and three team members are previous Cup winners. Eight American Magic sailors are Olympians, with two medals won, and the roster has earned over 60 world championship victories in various classes. American Magic sailors who are also Olympic hopefuls on the US Sailing Team will be given the flexibility to pursue their campaigns for Tokyo 2020 while operating as part of the America's Cup team.
"Thanks to the efforts of our partners at US Sailing, Oakcliff Sailing and other organizations that have supported high-performance sailing, we have capable athletes coming out of Olympic, foiling and development classes here at home," said Hap Fauth (Naples, FL), Team Principal and CEO of American Magic. "They will help our team win on the water, and also help reengage the American audience with sailing's pinnacle event."
American Magic recently opened a dedicated boatbuilding facility in Bristol, RI. Under the rules governing the 36th America's Cup, the earliest an AC75 can be launched by any team is March 31, 2019. American Magic is expected to begin sailing their first boat soon after this date, and conduct initial testing on Narragansett Bay and Rhode Island Sound.
"The return of America's Cup activity to the Newport, Rhode Island area will be a thrilling sight for sailing fans here, across the country and around the world," said Phil Lotz (Fort Lauderdale, FL), the 65th Commodore of the New York Yacht Club. "For 175 years, the New York Yacht Club has been dedicated to moving competitive sailing forward. Defending and challenging for the Cup, a trophy we held for 132 years, has been a large part of the club's commitment to our sport. We're proud to return to the America's Cup arena with this exceptional sailing team."
Formed in October 2017 by Bella Mente Racing, Quantum Racing and the New York Yacht Club, NYYC American Magic brings together two highly successful racing programs with one of the foremost yacht clubs in the world, all with the shared vision of launching a campaign for the 36th America's Cup competition, reconnecting the American sailing base with sailing's premier event, and elevating the quality of competitive sailing in the U.S.
The team, led by Fauth, Team Principal Doug DeVos (Grand Rapids, MI), and Team Principal Roger Penske (Bloomfield Hills, MI), is one of three confirmed Challengers set to compete for the Cup against the current holders, Royal New Zealand Yacht Squadron and its defending team, Emirates Team New Zealand. To date, Luna Rossa Challenge from Italy and INEOS Team UK from Great Britain have also been announced as Challengers.
"Racing for the America's Cup is a dream shared by all competitive sailors," said James Lyne (Granville, VT), Head Coach of the team. "American Magic is a once-in-a-lifetime opportunity for our athletes. We are led by a great group of principals, have talented designers, experienced builders, and we are representing New York Yacht Club, with its unmatched America's Cup history. The stars have aligned to give us this chance to win back the Cup for the United States." For more information, visit AmericanMagic.com.
Will Ricketson, New York Yacht Club American Magic's Communications Director/Press officer, contributed to this report.
New York Yacht Club American Magic Sailing Team
Skipper & Executive Director
Terry Hutchinson (Annapolis, MD)
Helms/Tacticians
Dean Barker (Auckland, NZ)
Andrew Campbell (San Diego, CA)
Bora Gulari (Detroit, MI)
Ian Moore (Cowes, GB)
Sail Trimmers
Trevor Burd (Marblehead, MA)
Maciel Cicchetti (Mar del Plata, AR)
Paul Goodison (Sheffield, GB)
David Hughes (Miami, FL)
Specialists
Matt Cassidy (San Diego, CA)
Sean Clarkson (Mill Valley, CA; nationality: NZ)
Jim Turner (Auckland, NZ)
Grinders
Cooper Dressler (Coronado, CA)
Luke Muller (Ft. Pierce, FL)
Caleb Paine (San Diego, CA)
Luke Payne (Fremantle, AU)
Joe Spooner (Auckland, NZ)
Head Coach
James Lyne (Granville, VT)