48th Annual Newport International Boat Show    
September 13 – 16 in Newport, RI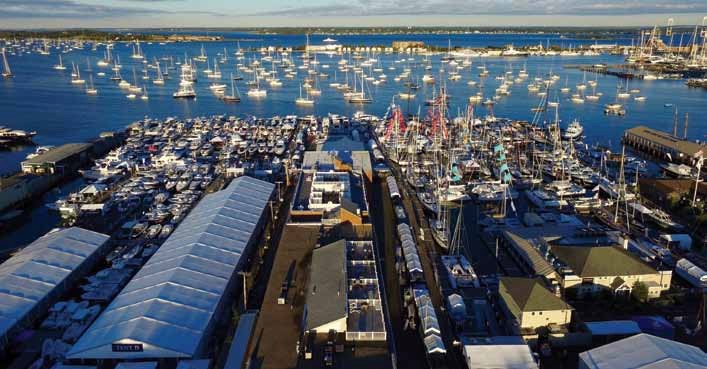 The Newport International Boat Show kicks off the fall show season.  ©NewportBoatShow.com
As always in the Northeast, fall boat show season kicks off in the City by the Sea. Spanning 13 waterfront acres in downtown Newport, the Newport International Boat Show is among the largest and most prestigious boat shows in the country. Hundreds of sailboats and powerboats will be on display, along with a wide variety of marine products and services to enhance the nautical lifestyle. Educational seminars and hands-on training courses for the whole family are offered throughout the show.
United States Power Squadrons (USPS) – America's Boating Club is offering a range of classes For Boaters, By Boaters™. Classes for 2018 include How to Read the Weather, About AIS (Automatic Identification Systems), How to Use a Modern VHF/DSC Marine Radio, Using Radar, and Anchoring Techniques. These courses sell out quickly, and advance online registration via the show website is recommended.
Nothing's more valuable than hands-on training to make you a better, safer and more confident boater, and Confident Captain/Ocean Pros is once again offering their popular At the Helm courses. Take the helm of a powerboat or sailboat with a professional USCG-licensed captain who will lead you through engaging lessons and strategies to help improve your confidence and ability and make your time on the water fun. All experience levels are welcome, and you'll never feel pressured to buy a boat because Confident Captain instructors are professional captains, not salesmen.
At the Helm courses including Just Go Sailing!, Advanced Sailboat handling and Trim (Includes Spinnaker), Become a Power-Boater, Powerboat Docking and Maneuvering, Advanced Outboard Handling, are offered all four days of the show for both powerboat and sailboat, and are open to all show attendees. As with the USPS classes, advance registration on the show website is recommended.
Presented in partnership with Cruising World, Sailing World and Yachting magazines, Newport For New Products (NFNP) showcases new 2019 foreign and domestic boats and products that are making their U.S. debut in Newport. "Best of" awards, which recognize creativity, innovation and practicality in nautical solutions and design, are presented by a team of expert judges on Friday. Look for the "NFNP" decals and balloons signifying each new debut, and be one of the first to view and explore these exciting new models while speaking firsthand with the experts who know them best.
Show hours are Thursday, Friday and Saturday from 10 am to 6 pm, and Sunday from 10 am to 5 pm. Advance discount tickets are available online. Thursday, September 13 is Preview Day, and attendees will receive special attention from exhibitors. Preview Day tickets are $35. Admission on Friday, Saturday or Sunday is $19 ($15 in advance). Two-day packages (Standard and VIP) are also available. Children under 12 are free every day when accompanied by an adult, and a free shuttle bus runs between the show and Easton's Beach (a limited number of Easton's Beach parking passes are available via the show website. For more information and to purchase tickets, visit NewportBoatShow.com.
22nd Annual Newport Brokerage Boat Show
September 13 – 16 at Newport Shipyard, Newport, RI
Held in conjunction with the Newport International Boat Show and the Newport Wooden Boat Show and presented by AIM Marine Group, publisher of the largest group of marine-related magazines in the world, the Newport Brokerage Boat Show showcases the biggest collection of high quality brokerage yachts on display north of South Florida.
With over 100 yachts from 40 to 185 feet shown by over 30 brokerage firms, you are sure to find something of interest. Admission to the Newport Brokerage Boat Show is complimentary, and continuous water shuttle service connects the three shows by water and provides a stunning prospective of the yachts on display. For more information including a list of yachts on display, log onto BrokerageBoatShow.com.
3rd Annual Newport Wooden Boat Show
September 13 – 16 at Bowen's Wharf Ferry Landing Marina, Newport, RI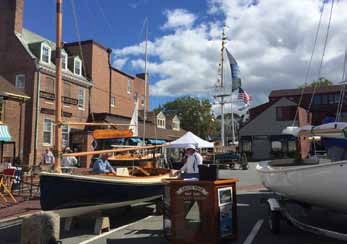 Running concurrently with the Newport International Boat Show and the Newport Brokerage Boat Show, the Newport Wooden Boat Show features a lovely selection of powerboats, sailboats and other wooden craft. In-water and land displays will again feature Hinckley, Hunt and other Downeast-style boats.
Beautiful wooden craft of all kinds will be on display at the Newport Wooden Boat Show   © BowensWharf.com
Exhibitors include Arey's Pond Boat Yard; Concordia Company; Duchess, the Classic 1930 50-foot Elco through Block Island Maritime Funding; East Passage Boatwrights; First Light Boatworks; Gansett Cruises; Maine Boats, Homes and Harbors; Mariner Gallery; Newport Nautical Timbers; McMillen Yachts; Ocean Navigator Magazine; Tall Ships Portland; Schooner Aquidneck and Sightsailing Newport; Sparkman & Stephens; Strong Firearms Company; W-Class Yachts; Monelle; Sheldon Fine Art; Rhineland Cutlery; US Harbors, and other specialty businesses.
Show hours are 10 am to 8 pm Thursday, Friday and Saturday, and 10 am to 5 pm Sunday. Come enjoy live Caribbean Music with Panoramic View, the folk duo Atwater Donnelly, and a waterfront bar where proceeds support Oliver Hazard Perry Rhode Island. For more details, visit BowensWharf.com.
42nd Annual Progressive® Insurance Norwalk Boat Show
September 20 – 23 at Norwalk Cove Marina, Norwalk, CT
There's something for boaters of all kinds at the Northeast's premier boat show, including educational seminars, boat handling workshops, on-the water demos, entertainment, special attractions, kids' activities, and more.
Head to the Progressive Boat School tent to attend seminars, learn practical skills, chat with a captain and get one-on-one boating advice, and chat onsite with an agent learn about Progressive Boat Insurance and receive live quotes.
Become a more confident boater with instruction by professional captains from the Annapolis School of Seamanship. Down on the docks, the Annapolis School of Seamanship/Boat Confident training boat will be in the water for hourly docking demonstrations, clinics and hands-on training.
If you're a boat owner interested in to maintaining, repairing or upgrading your boat or engine, head to Fred's Shed Interactive Learning Center for professional, practical advice. Daily sessions include demonstrations of techniques and tools on boat and motor cutaways and end with informative Q&A sessions, and it's all free. 
The Touch-a-Boat feature invites little skippers to climb aboard Norwalk Police and Fire Boats, tour a Sea Tow rescue boat, explore the life of a working oyster boat, and hop on recreational boats of all kinds. Kids of all ages will have the opportunity to talk with captains, snap a picture at the helm, and learn the ropes of life on the high seas in addition to free boat rides, toy boat building and lots of nautical fun. Kids can also borrow a life jacket from Sea Tow. Loaner life jackets will be available at the head of the docks, courtesy of the Sea Tow Foundation (available while supplies last). Young attendees can build a one-of-a-kind nautical masterpiece in the Kids' Build-a-Boat workshop, and navigate a mini lake in a paddleboat in the Kids' Boating booth (life jackets are supplied).
You can get your feet wet in the Try It Cove and experience a variety of stand up paddleboards and kayaks, thanks to Outdoor Sports Center and the show's partners. If you'd like to Try Power Boating, relax and enjoy a free ride on Long Island Sound aboard a 25-foot bowrider, compliments of Rex Boating Club and Carefree Boating Club of Southern Connecticut.
One of our favorite things at the Norwalk Boat Show (or any boat show!) is live music by tropical troubadour Eric Stone. Performing daily from 11 am to 7 pm in the Water Club Lounge, Eric will be playing his unique blend of rock, pop and country inspired by the islands and his love of the water. Are you The Wing King? Prove it at the 95.9 FOX Wing-a-Thon! Dominate this eatdown (featuring wings provided by Buffalo Wild Wings), and you'll take home a Yeti Tundra 65 cooler, courtesy of Keough's Paint & Hardware.
The Norwalk Boat Show will provide complimentary water taxi service during the show, courtesy of Port Jeff Launch. As you approach Norwalk Harbor (to the right of Peach Island) hail the Port Jeff Water Taxi on Channel 68 
to be directed to an anchor point. The Water Taxi will run from 9:30am to 7:30pm Thursday through Saturday, and 9:30am to 5:30pm Sunday. Show hours are 10 am to 7 pm daily. Adult tickets are $15, and ages 15 and under are admitted free when accompanied by an adult. For more information including seminar and special event schedules, and to purchase discounted tickets in advance, visit BoatShowNorwalk.com.
48th Annual United States Sailboat Show
October 4 – 8 at City Dock, Annapolis, MD
In October, sailors from around the globe will gather on miles of docks in beautiful historic Annapolis for the United States Sailboat Show, an internationally acclaimed event recognized as the world's largest, oldest and most prestigious sailboat show.
The Vacation Basin is dedicated to chartering, travel, and vacations and charter boat ownership in the Chesapeake Bay and beyond. You can browse among dozens of charter companies, speak with tourism boards, explore fractional ownership, take advantage of boat show discounts, win valuable vacation-oriented door prizes, and explore adventure travel and exotic destination resorts.
Sponsored by Annapolis Boat Shows, American Sailing Association, Annapolis Yacht Sales, and SailTime, the First Sail Workshop is a hands-on course for beginning sailors. You'll learn the basics in a 45-minute classroom session at the National Sailing Hall of Fame, immediately followed by 90 minutes on the water with SailTime and American Sailing Association instructors on the new Beneteau First 22.
The Take the Wheel Interactive Workshop, sponsored by Jeanneau, is an opportunity to compare two boats against each other, fast track your boat buying knowledge, and narrow the search for your new boat. This is an on-and-off water learning experience, with a morning session covering sailboat design, how to maximize your boating pleasure, and budget. In the afternoon, you'll sail aboard your choice of two out of eight yachts and have a chance to get a stem to stern look with wind in the sails.  
The Two Can Sail Couples Cruising Seminar comprises The Five Step Plan to Your Dream, Boat & Equipment Choices for Two, Yacht Maintenance not Pink or Blue, "The Fear Factor," The Cruising Lifestyle, and a Couples Panel Discussion with a Q&A session.
Show hours are 10 am to 6 pm Thursday (VIP Preview Day), 10 am to 6:30 pm Friday, Saturday and Sunday, and 10 am – 5 pm Monday. All tickets are $35 on Thursday, and adult tickets are $18 on Friday through Monday. Tickets for children ages 7 – 12 are $5, and kids 6 and under are admitted free when accompanied by an adult. For more information and to purchase advance tickets, visit AnnapolisBoatShows.com.
47th Annual United States Powerboat Show
October 11 – 14 at City Dock, Annapolis, MD
More than 650 boats from luxurious motor yachts and trawlers to high-performance boats and offshore fishing machines will be on display at the world's oldest and largest in-water powerboat show, including the largest power catamaran section in the world. You can try before you buy at the Demo Dock, and enjoy a drink on the Pussers Painkiller Party Barge. 
Show hours are 10 am to 6 pm Thursday (VIP Preview Day), 10 am to 6:30 pm Friday and Saturday, and 10 am to 5 pm Sunday. All tickets are $35 on Thursday, and adult tickets are $18 on Friday, Saturday and Sunday. Children's tickets are $5 on Friday, Saturday and Sunday, and kids 6 and under are admitted free when accompanied by an adult. For more information, visit AnnapolisBoatShows.com.