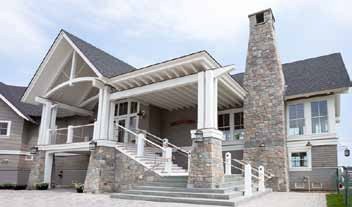 The most significant change in the Noroton Yacht Club's last 90 years is their spectacular new clubhouse. To celebrate their new facility with the community, the club is hosting an Open House on Saturday, September 22, 2018.
Founded in 1928 and located in Darien, CT, Noroton YC is one of the premier yacht clubs on Long Island Sound. Their original clubhouse, first opened in 1929, was severely damaged by Hurricane Sandy and was demolished in 2016. According to Commodore Tom Ross and General Manager Wim Jessup, the new clubhouse has invigorated the membership.
Designed by Burgin Lambert Architects in Newport, RI, the new 7,500-square foot clubhouse opened in June. One enters the building through the "Breezeway," a wide passageway leading to a grand patio as all of the club's facilities, boats, docks, and Long Island Sound come into view. Most impressive is the second floor interior with a magnificent dinning room, library, and bar. Much of the décor utilizes some of the rich woodwork from the original building. On display are numerous trophies, plaques, and models providing evidence of a serious yacht club. Adjacent to the dining area is a deck offering views of the Sound.
Noroton YC is known for its sailing heritage, having produced Olympic medalists, America's Cup winners, members of the College Sailing Hall of Fame and numerous one-design champions, and the club has reinvigorated its many sailing programs for all members. Because not every family member is a boater, the club has a refurbished tennis facility offering very competitive programs for juniors and adults. Representatives of each program will be on hand at the open house to explain the details and how to participate.
For more information about Noroton YC's Open House, contact Wim Jessup at 203-309-5763 or 203-655-7686 extension 801, or generalmanager@norotonyc.org. To learn more, log onto norotonyc.org.
Noroton YC member Jim Frayer contributed to this report.