By Rachael Lewin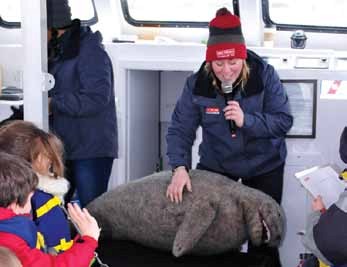 Homeschooling began to grow in popularity in the 1970s when educational theorist John Holt asked parents to consider schools without walls, where kids can learn at their own pace in their own environment. This experiential-based approach has grown significantly, and today more than 2 million U.S. children are being taught from home.
Save the Bay Education Specialist Lauren Farnsworth and "Sealia" teach harbor seal anatomy on a recent seal watching expedition.   © Rachael Lewin/Save the Bay
Save The Bay, a non-profit organization with a mission to protect and improve Narragansett Bay, added a new program called Homeschool is Cool to its marine science environmental education curricula in 2008. Once a month from September to May, children ages 6-14 meet for two-hour sessions to explore Narragansett Bay through its various creatures, watershed and habitats. Learning progress is tracked in journals in which students take notes and draw pictures of their observations. Save The Bay's education programs are linked to national science standards and Rhode Island's grade span and grade learning expectations, making Homeschool is Cool a win for parent-teachers and students alike.
On a chilly day in February, 25 children from kindergarten to third grade arrive at the Bay Center in Providence, RI abuzz about the day's activities. Educators have already gathered microscopic plankton from the Providence River, and the lesson starts with a primer on these tiny organisms. Students learn that plankton are the most abundant species in the Bay, and can range in size from miniscule to larger than a human. With older kids helping younger ones, microscopes in the plankton lab give young marine scientists the chance to look at different types of plankton up close, and then draw what they see in their observation journals.
Craft activities reinforce the marine science lesson as students "make" a plankton out of Play-Doh and spaghetti. Since plankton float rather than swim, students are challenged to make plankton that actually float. Contagious excitement fills the room as students cheer and clap for the "plankton" that looked like they might actually float. In the end, spaghetti and Play-Doh prove to be less-than-buoyant and all the plankton eventually make their way to the bottom of the container. "Programs like this are great because they allow for my kids to have some real hands-on experience with the animals they're reading and learning about," said a mother of an excited third grader. "They come home eager to share what they learned and inspired to continue learning about the Bay and all the different aspects that make it so special."
On a hazy March afternoon, homeschoolers and their families gather on the dock at Bowen's Landing in Newport. After the group receives life jackets and safety guidelines, the excursion to look for seals begins. Before heading out to visit the seals' favorite hangout spot, the educators introduce Sealia, Save The Bay's life-size harbor seal model. On the outside, Sealia is simply a stuffed animal, but inside she's anatomically correct, with removable plush organs. Educators break down the replica, explaining how seals' six inches of blubber, along with a metabolic rate higher than land mammals, keeps them warm. Children learn that Narragansett Bay is an ideal location for seals' winter vacationing because it's a safe place to rest, free from common predators, with a bounty of fish to eat.
As the boat makes it way to one of the seals' favorite spots, Citing Rock, underneath the Newport Bridge, educators talk about the Marine Mammal Protection Act of 1972, which helped raise the seal count in the Bay each winter from less than 20 to over 500. Once the rock's in sight, the children swarm over to the side of the boat to catch the best view. The rocks seem to be overflowing with the majestic mammals, with a few bobbing around in the water seemingly approaching the boat to say hello.
Homeschooling has become much more than just parents teaching children at home. An aunt of one students pointed out that in traditional schooling, weekends feel hectic and busy, especially if sports and other extracurricular activities are a part of the schedule. Homeschooling, she said, allows for more family time and that doing programs like this during the week eliminates the worry of weekend crowds. Parents work together to connect classroom lessons and experiences, creating communities that make these experiences possible.
"Our homeschool programs further our mission to connect all students in Rhode Island to Narragansett Bay," said Grainne Conley, Save The Bay Education Program Manager. The longest lasting memories come from experiences with family or friends, so why not intertwine them with education?
Rachael Lewin is a communications intern with Save the Bay. This article originally appeared on Save the Bay's Tides blog and is reprinted with permission. Founded in 1970 and based in Providence, RI, Save the Bay has a vision of a swimmable, fishable, healthy Narragansett Bay accessible to everyone. To learn more, including how you can get involved, visit savebay.org.