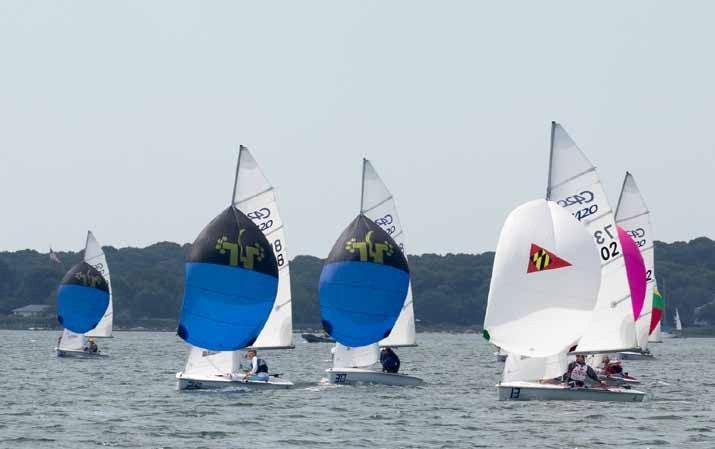 On July 12 & 13, 2018, 51 teams of sailors between the ages of 12 and 18 raced their Club 420s in the Fourth Annual Dinghy Race by Volvo Construction Equipment. Modeled after the Volvo Ocean Race, The Dinghy Race is unlike any other youth sailing event. Instead of the typical windward-leeward format of most regattas, this event is an offshore adventure on the waters of Long Island Sound and Fishers Island Sound that presents young sailors with new challenges and experiences.
One hundred and two sailors from as far away as Florida competed in the Fourth Annual Dinghy Race by Volvo Construction Equipment.   © J. Cronin – OutrageousPhotography.net
Organized by MudRatz, Inc. in Stonington, CT with support from three partner hosts – Niantic Bay Yacht Club in Niantic, CT, Fishers Island Yacht Club in Fishers Island, NY, and Mystic Shipyard in Mystic, CT – this unique event takes competitors on several point-to-point legs over a course of approximately 20 miles. Racers must deal with changing weather conditions and vexing currents, just like crews in "the other Volvo."
Setting out from Niantic Bay Yacht Club in light air on Saturday morning, the fleet sailed approximately seven miles before arriving at Fishers Island. After a Leg 1 debrief, it was time for a regatta party, and then a campout in the island's high school gymnasium. On Sunday morning, sailors raced northward to the Connecticut shoreline and up the Mystic River to the finish at Mystic Shipyard.

Participants did a beach clean up on Fishers Island.
Vanessa Lahrkamp (helm) and Katherine McNamara are the winners of the 2018 edition.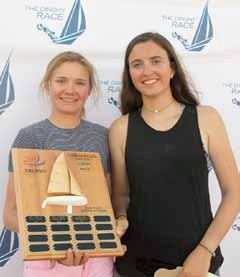 Representing American Yacht Club and LISOT, Lahrkamp & McNamara topped the fleet in three out of six legs, posting a 1-3-1-6-2-1 scoreline for a total of 14 points. Baxter Menzies & Dylan Flack (MudRatz) were victorious in Leg 2 and took second place with 26 points. Finishing third were Declan Botwinick & Tom Green of Seawanhaka Corinthian Yacht Club. The Fifth Annual Dinghy Race by Volvo Construction Equipment is scheduled for July 10 – 13, 2019. For more information, visit TheDinghyRace.com
Vanessa Lahrkamp (left; helm) and Katherine McNamara are the winners of the 2018 edition.   © J. Cronin – OutrageousPhotography.net