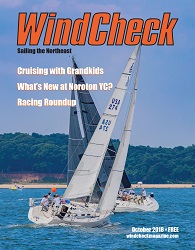 Phew! It feels like these last two months, August and September, were like a mad scramble to enjoy summer while it lasted. Junior sailing wrapped up, family vacations happened in August, then the big, season ending or championship regattas all went down in September. (And due to that family vacation, you may not have been as prepared as you would have liked!) Cruisers and day sailors were out trying to milk the last few nice weekends and evenings before the non-stop string of low pressure systems rolled through.  For those in the industry who support our passions, they had all this plus back-to-back to back boat shows to deal with. Fortunately this year, the weather cooperated for the most part and at the time of this writing, before our friends in Annapolis have theirs, the Newport and Norwalk shows had great products, good weather and good attendance.
In this issue, we cover what went down in this flurry of activity but we do want to highlight two things. This month's cover photo, by Rich LaBella, is dedicated to Rob Roden of East Hampton, NY founder of The Captain's Guide, who crossed the bar in August. Rob also founded the Antigua and Barbuda Hamptons Challenge, which is featured on the cover. Rob was very proud that this event had the largest prize of any amateur sailing event on the East Coast, and likely anywhere at all. The winning team earns free flights, accommodations and a boat to race at Antigua Sailing Week in the spring. Sadly, Rob died at his sister's home in Hampton Bays just a couple of weeks before the event. He was 70 and had been diagnosed with an aggressive form of cancer just six weeks prior. Rob's wife Teresa told me right before The Challenge that many people would understand if the event did not come off, but, Teresa said, "Rob will haunt me forever if I don't pull this off." Well Teresa, family and friends from the Peconic Bay Sailing Association did indeed pull it off and our hats go off to them! Quite sure Rob is smiling and will probably be present as always at Antigua Sailing Week next spring to make sure that this year's winners, Phil Walters and his team from Lloyd Harbor Yacht Club and Centerport Yacht Club, have a great time.
The other item to mention here is that last month, I broached the topic of the value of the Optimist as a trainer and I promised a full follow up. I have conducted no less than twenty hours of conversation on this and the feedback, as expected, has been enormous and varied. The Letters section this month gives a sampling. I have probably another twenty hours or more to go before being able to fairly frame the discussion for our Community. That will come in the November/December double issue, and it is my hope that folks on all sides can work towards improving the opportunities for kids in their own pieces of water. One thing that is abundantly clear is that the challenge varies depending on your local conditions. This is a very important topic and we want to do a really full exploration for all to review. So if you have not weighed in yet, please don't hesitate!
While I wait for your feedback…it's time to get the InterClub dinghy fired up before it's too cold to do the work she needs. (Hey, there's always a first time!)
See you on the water!
Ben Cesare