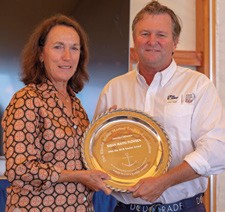 Susan Maffei Plowden of Jamestown, RI was presented with the 2018 Anchor Award at the Rhode Island Marine Trade Association's Industry Partnership Breakfast. The event was sponsored by Gowrie Group and held during the Newport International Boat Show last month.
© Billy Black
Maffei Plowden was recognized for her role as Newport Stopover Director for the Volvo Ocean Race 2017-18, an event that drew over 100,000 people to Newport and its surrounding waters and generated global media attention and economic impact for Rhode Island. Sail Newport Executive Director Brad Read, who has worked closely with Maffei Plowden on the two VOR Newport stopovers to date, made the award presentation. He joked that when Sail Newport agreed to host the first visit of the Volvo Ocean Race to Newport in 2015, "We didn't know what we didn't know."
Maffei Plowden, known as Suma, was the first person Read called. She has a rare mix of talents – as a sailor and event manager – with deep experience running "super events" for the America's Cup, the Olympic Games and other circuits. In accepting the award, Maffei Plowden was quick to share the kudos for the success of the Volvo Ocean Race Newport with the many individuals and organizations that were part of the effort – from individuals such as Governor Raimondo and Janet Coit of the Rhode Island Department of Environmental Management to the staff of Sail Newport and over 600 volunteers.
Cynthia Goss contributed to this report.