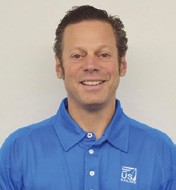 US Sailing has added a new member to its leadership team with the hiring of sports marketing and branding professional Peter Glass. As Chief Marketing Officer, the Chappaqua, NY native will lead US Sailing's Marketing and Communications Department.
"There is really nothing I can think of that is more rewarding than working with an energized and passionate cross-section of sailors from around the country that ranges from recreational and community sailing to the elite level athletes representing the U.S. on the Olympic stage," said Glass. "Our team has a driven and focused approach to further engage the sailing community and bring the excitement taking place on the water to new sailors and fans. I am grateful for the opportunity and I'm looking forward to working closely with the sailing community."
Glass will lead efforts to drive organizational growth and increase participation in the sport with a focus on content development and distribution, revenue generation, brand position/value, member retention and acquisition, communications, and enhancing programs for new and existing partners. A graduate of Hartwick College in Oneonta, NY, he resides in Barrington, RI with his wife and three children.
Jake Fish, Director of Communications at US Sailing, contributed to this report.