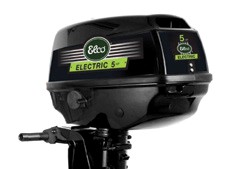 In celebration of their 125th anniversary, Elco Motor Yachts, headquartered in Athens, NY, is expanding their electric outboard motor range. The new models – the EP5, EP30 and EP50 – join the current EP9.9, EP14 and EP20 models to double the company's range of electric outboard motor offerings.
"These outboards represent the next stage in Elco's electric outboard development," said Elco's National Sales Director, Dean Heinemann. "With the trends we're seeing in the industry, both in terms of more boaters going electric and more builders shifting toward outboard propulsion, our expanded outboard line will provide electric outboard options to more boaters and boat builders."
The new outboard motors will be available with long- or short-shaft models, and with either tiller or remote throttle control. The new motors will feature zero emissions, smooth running with consistent power throughout the speed range, and low noise compared to gas motors.
Founded in 1893, Elco Motor Yachts manufactures electric inboard motors ranging from 6HP to 100HP, and electric outboard motors ranging from 5hp to 50hp. For more information, visit elcomotoryachts.com.