By Jim Frayer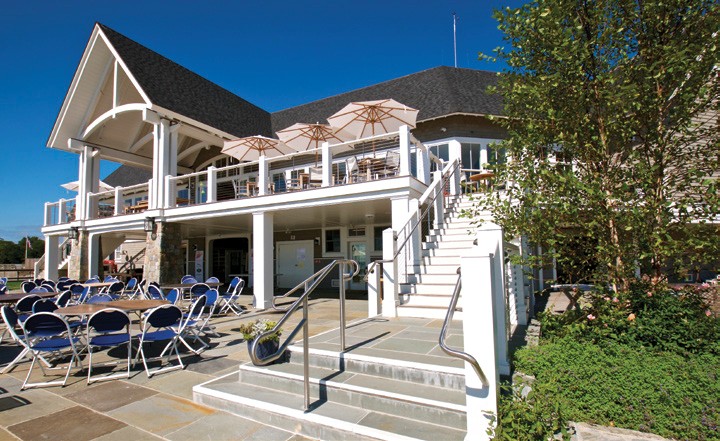 Well…probably the most recognizable change in its ninety years. Founded in 1928, Noroton Yacht Club in Darien, CT is considered one of the premier yacht clubs on Long Island Sound and has a rich sailing tradition. The original clubhouse, first opened in 1929, was severely damaged by Hurricane Sandy and was demolished in 2016. This paved the way for the club's symbolic rebirth with a spectacular new clubhouse, designed by Burgin Lambert Architects in Newport, RI.
Designed by Burgin Lambert Architects, Noroton Yacht Club's new clubhouse is among the nicest on Long Island Sound.   Photo courtesy of Rick Bannerot © 2018
If NYC members are walking a little taller and with a bit of swagger, it might have to do with the club's new look! A feeling of rejuvenation pervades among the members.  Prior to its demolition, the old clubhouse was a dark, gothic style building reminiscent of the "Manor on the Moor" with an interior not conducive to collegial gatherings.
The 7,500 square foot clubhouse was opened to the membership for the 90th Club Commissioning this past June. As members arrived for the event, they were presented with a beautiful building with dramatic views of Long Island Sound. As one approaches the facility, they are drawn toward the "Breezeway," a wide passageway leading to a grand patio as all of the club's facilities, boats, docks, and Long Island Sound come into view. Off this portal are meeting rooms, offices, and storage facilities. The most impressive improvement is located on the second floor, which houses a magnificent dinning room, library, and bar. Much of the décor utilizes rich woodwork from the original building.
The entire south side of the building facing the water, and it's all glass with sliding doors to a stunning deck providing breathtaking views of the Sound for members and guests to dine and entertain.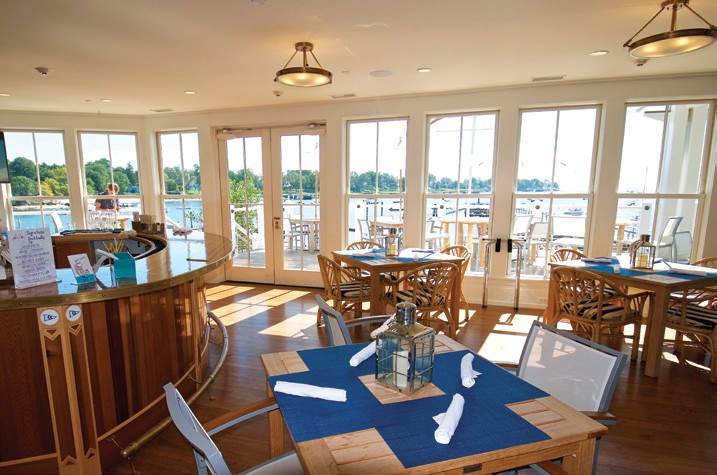 The new dining room has a commanding view of Noroton Bay and theSound.   Photo courtesy of Rick Bannerot © 2018
On a tour of the club with Commodore Tom Ross and General Manager Wim Jessup, they showed off the numerous trophies, plaques, and models that adorn the new dining area and lounge next to a massive fireplace. The number of trophies on display (only room for the most recent) are evidence as to why serious sailors are in the majority at Noroton Yacht Club.
Sailing Pedigree
Beginning in 1929 with a membership of 75 and a fleet of ten Star class sailboats, the club began to build its reputation and become known for its rich sailing heritage with America's Cup winners, Olympic medalists, and many world and national champions.  Among the legendary names in the sailing world are Emil Mosbacher, Bob Bavier, Bill Cox, Peter Wilson, Peter Isler, Paul and Hilary Smart, Tor Arneberg, Owen Torrey, Glen Foster, JJ Isler, Rob Crane, John Kolius, Scott MacLeod, Sue Sinclair, Wendy Thompson, and Karl Ziegler
Noroton Yacht Club has been prolific when it comes to one-design racing. The Star was the predominant one-design class on Long Island Sound through the end of World War II, and Noroton's Paul Smart and his son Hilary took almost every major regatta from New York to Los Angeles with a stopover in Havana, Cuba. In 1948, Hilary (with his father as crew) was the Olympic gold medalist in the Star class.
In 1949, junior sailing was formally introduced at NYC with the club securing its first Lightning, which was thought to be ideal for young sailors. The 19-foot boat proved so versatile that adults began racing them as well. By the late 1950,s Noroton had 32 Lightnings in their fleet. For the next thirty years, the club's record in the Lightning class was outstanding. While there were many standouts during this period, Jim Crane distinguished himself as runner-up in the World Championships (1969), North American Champion (3 times), Mid-Winter Champion (3 times), and Canadian Champion (2 times).
The Ensign, Tempest and Soling classes joined the NYC fleet in the 1970s and '80s.  The latter two produced some memorable sailors who represented the club. Among them were the Linville Brothers (Jim and Jack), Bruce Falconer, Andrew Kostanecki, and Bruce Kirby, who dominated the Tempest North American Championships for thirteen consecutive years and the World Championships for five years!
In 1977, the Club recognized a decline in the level of enthusiasm in racing activity and decided to do something about it. They approached member and naval architect Bruce Kirby (designer of the Laser) to design a boat that would recapture the passion for racing reminiscent of the Lightning and Star. It had to be economical to own and maintain, as well as fun to sail in light or heavy weather. What they got was the Sonar!
Today, there are more than 800 Sonars in fleets primarily in the USA, with growing fleets in Canada and the UK, and the 23-foot sloop is the 3-person Paralympic class. Needless to say, Noroton Yacht Club is always touted as one of the favorites at each year's Sonar North American Championships. Noroton sailors who have won North American Championships include Peter Galloway (7), Karl Ziegler (3), Scott MacLeod (2), and of course Bruce Kirby. Steve Shepstone has won the Sonar World Championship three times. In team racing, Noroton YC has captured the New York Yacht Club's Hinman Masters Trophy in two of the past three years and the Grandmasters five times in the last seven years.
No one would doubt Noroton Yacht Club maintains a deeply rooted sailing and winning tradition. However, Commodore Ross and his team are not content to rest on past laurels. With their new facilities, they have taken the opportunity to revitalize all member programs.
Programs
Noroton Yacht Club's Fleet Captain, Britt Hall, described the many programs promoting the sport of sailing. In the junior sailing program, young sailors from 8 to 18 learn to master the skills needed for successful racing and cruising. Beginners generally start in Optimists, advance through Fevas, move on to singlehanded Lasers or doublehanded Club 420s, and eventually to the big boat program. Over the years the program has produced many great sailors who went on to success at the college, national and world levels including Tucker Edmondson, Karl Ziegler, Bill Cox, Elizabeth Morrow, and Peter Wilson.
NYC's junior program has produced numerous champions.
The big boat program puts juniors on boats up to 45 feet to race competitively among similarly crewed boats. As one 17-year-old young woman, Devon, said, "While the program was organized for fun, everyone learned so much!" The program has created a pool of eager young sailors to fill crew positions on many of the PHRF racing/cruising boats.
The club's junior programs are based on "Adventure and Freedom." Much of the adventure comes from learning race strategy and tactics, while freedom is achieved as they gain confidence sailing on their own. Juniors are challenged to improve their racing skills. Junior sailor Zuzu, in her second year of the Opti program, admitted it was a bit "scary" that first year, but the positive attitude of her instructors helped her overcome any fears and take second place in the annual Commodore's Race.
The refurbished facilities have energized the entire junior program, with participation exceeding prior years. Each day, these young sailors look forward to practicing their racing skills and are proud to represent Noroton Yacht Club in regattas around Long Island Sound and beyond.
Celebrating its twentieth year with renewed energy, NYC's Women's Sailing program welcomes women who have little or no sailing experience as well as those who might want to sharpen their racing skills.
While a love of sailing attracts many newcomers to Noroton Yacht Club, specifically for the club's competitive team racing programs, quite a few members are recreational boaters who simply enjoy sailing or powerboating around Long Island Sound. A 17-year-old junior sailor, Kiefer, related how his parents (who did not own a boat) joined the club to help him to hone his sailing skills. When his parents observed his enthusiasm, they were hooked and are now active in adult novice sailing programs.   "You don't have to be an accomplished racer to join our club," Commodore Ross explained, "but you have the option to become one through our many programs."
For adult sailors, the club has an impressive fleet for racing, including Sonars (one of the largest fleets in the country), Ideal 18s, JY 15s, Vipers, and PHRF boats. These fleets participate in club races as well as other local, regional and national events. The club-owned Ideal 18s are available to members for racing or recreational use. The club embraces the diversity of its membership by encouraging participation of non-boat owners or non-sailors in its crew-training seminars and the opportunity to take advantage of the Ideal 18s.
The NYC Race Committee strikes a pose during the Jaguar Land Rover Sonar North American Championship.   Photo courtesy of Rick Bannerot © 2018
Because not every member of a family is a boating person, the club maintains a beautifully refurbished tennis facility staffed by two professionals offering many competitive programs for juniors as well as adults.
The culture at Noroton Yacht Club is one of participation and adaptation, with members not only organizing and running club activities but also bringing fresh ideas and innovation to existing programs or activities. Members, old and young, embrace change, whether it's the next one-design class to be raced, training the next Olympian, or upgrading their facilities to be the envy of Long Island Sound boaters. For more information, log onto norotonyc.org.
What's new at Noroton Yacht Club? A very bright future for the next ninety years!
Although he's not a member of Noroton Yacht Club, Jim Frayer is a founder of the Rowayton Club at Hickory Bluff. He enjoys boating, teaching the CT Safe Boating Course at the Landfall Marine Training Center in Stamford, CT and writing about boating.