By Rick Perret, Regatta Chair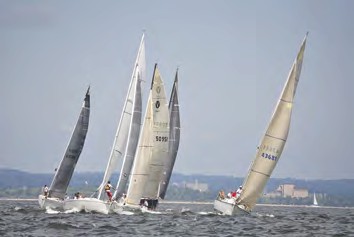 We all know someone that has been impacted by cancer and the effects of battling this terrible disease. Although much fundraising focuses on research to find a cure, it's equally important to help cancer patients live better lives. What we take for granted every day can be challenging, especially for those uninsured or under-insured.
The Sail Park City Regatta™ supports SWIM Across the Sound, Connecticut's largest cancer charity.
The Sail Park City Regatta raises funds for SWIM Across the Sound, which provides local programs and support to over 30,000 people annually through 45 programs from cancer education/screening to other forms of assistance on a case-by-case basis. Since its inception in 2001, the regatta has become a summer tradition on Long Island Sound. Presented by Fayerweather Yacht Club and Black Rock Yacht Club in Bridgeport, CT, this year's regatta takes place on Saturday, July 23, 2016 in the waters off Black Rock Harbor.
Up to two races will be held, depending on conditions. There will be Spinnaker and Non-Spinnaker PHRF classes, a Navigator class, and a provision for one-design classes with sufficient entries. One-design racers, junior sailors, and all-women crews are encouraged to race. New for 2016, we plan to sponsor a "fun" Cruising Class with special awards for yachts built before 1980. The Regatta shall operate under Yacht Racing Association of Long Island Sound rules for 2016.
Fayerweather YC will host a post-race party with live music, food, dancing and free beer. Awards will be presented to the top finishers, and all entrants are eligible to win the Jan Williams Memorial Perpetual Trophy for the team raising the most funds. Official race documents, registration and additional information will be posted at give.stvincents.org/sailparkcity. For the most up-to-date info, please follow us at facebook.com/sailparkcityregatta.
Rick Perret is a member of Fayerweather Yacht Club and he sails his Cape Dory 22 off Black Rock Harbor, CT.