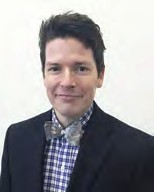 Mystic Seaport in Mystic, CT has announced that Nicholas R. Bell has been named Senior Vice President for Curatorial Affairs, a new position at the Museum that will be responsible for the care, management, strategic development, and exhibition of the Museum's collections.
Bell is presently The Fleur and Charles Bresler Curator-in-Charge at the Smithsonian American Art Museum's Renwick Gallery in Washington, DC, where he led the Gallery's recent relaunch following a $30 million, two-year renovation. He has published seven books in the last five years, including six peer-reviewed exhibition catalogues and one edited anthology.
"We are very proud to have a curator of Nicholas's caliber join Mystic Seaport," said Steve White, President of Mystic Seaport. "We believe his deep knowledge of material culture, understanding of the public audience, and demonstrated leadership and creativity will take our collections and exhibitions program to a new level. The combination of the Thompson Exhibition Building opening this fall and this new leadership position truly signify that Mystic Seaport is moving into a new era of exhibitions."
"No matter how far we live from it, as Americans, the sea is bred in our bones," said Bell. "I believe the inclusiveness with which Mystic Seaport defines this relationship is the Museum's greatest asset to building new connections with the public it serves. Expanding on these connections is a thrilling opportunity, and I could not ask for a stronger team with which to embark on this adventure than the one already in place at the Museum."
Bell earned a bachelor's degree from Simon Fraser University in Vancouver, BC, and a master's from the Winterthur Program in American Material Culture at the University of Delaware. He, his wife Allison and their three children are relocating to Mystic this spring.