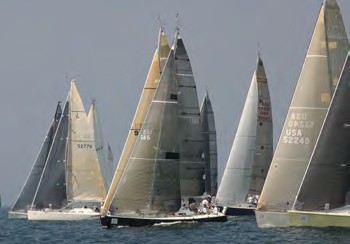 The inaugural New England J/Fest Regatta is being hosted by the Bristol Yacht Club in Bristol, RI on August 13 &14, 2016. East Coast Yacht Sales and North Sails are the Partner sponsors in this regatta, which is limited to J Boat owners and crew with racing taking place on upper Narragansett Bay. This event capitalizes on similar successful J/Fest Regattas held in other U.S. regions where participation has exceeded over 70 boats. The event coordinators are anticipating 75 boats on the starting line, with one-design starts for classes with five or more boats.
Narragansett Bay is considered "home waters" for many of the iconic high performance J boats that were built at the former Tillotson-Pearson Incorporated, the former Pearson Composites LLC, USWatercraft and CCF Composites. These boats have a very strong following and very active class associations that include numerous world champion sailors.
The regatta will include two full days of one-design and PHRF racing, along with the regatta party, dinner and award ceremonies. Bristol Yacht Club is a relaxed and family-friendly place located in the geographical center of Narragansett Bay. The waterfront town of Bristol has many diverse dining experiences, parks, museums and serves as the beginning of the East Bay Bike Path. There will be moorings available from the Bristol Yacht Club, Bristol Marine, Herreshoff Marine Museum and through the Bristol Harbor Master.
Take note of the date and please consider joining us for some great racing in Bristol, RI. The regatta's website is jfestnewengland.com. Sponsorship opportunities are still available. Contact Sam Sylvester at ssylvester@oceanpointins.com or Regatta Organizer Bill Kneller at bill@109.org.