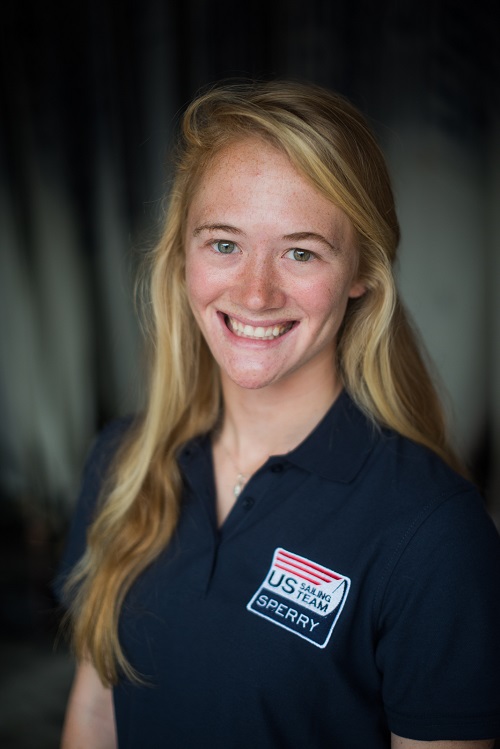 When medals are awarded at the Rio 2016 Olympic Sailing Competition in August, we won't be surprised to see US Sailing Team Sperry athlete Louisa Chafee bringing one home to Warwick, Rhode Island. A three-time Collegiate All-American, Louisa and teammate Bora Gulari are representing the USA in the only Mixed Olympic class, the Nacra 17 catamaran.
© Jen Edney/US Sailing
Louisa started sailing in the junior program at Saunderston Yacht Club. "I was eight or nine, but I quit after two years," she recalls. "I just didn't understand sailing when I was younger, and therefore I really hated the Opti. When my mum suggested that I try sailing again after high school, I was hesitant at first but decided to give it another shot."
"My cousin Quentin Chafee was my coach when I first got back into sailing," says Louisa. "I'd been accepted to Brown, and was doing a Narragansett Bay Yachting Association regatta towards the end of the summer. Quentin said, 'John Mollicone, the Brown Sailing Coach, is here. You should meet him because you might want to sail in college.' I chatted with John between races and he said, 'You should try out for the sailing team!' It seemed like a big commitment of time, but I went to the first practice. I went to the second practice, and then I didn't stop going to practice!"
"John was very influential in helping me reach my potential in sailing," says Louisa, who graduated in 2014. "I really enjoyed the team, I enjoyed being on the water, and I enjoyed the competitions every weekend. I bounced between different skippers my first year, which is not unusual when you're a freshman. I sailed with Colin Smith in A Division my sophomore and junior years, and with Luke Adams my senior year. We had a great time and did really well together. I had a fairly unconventional major in Folklore & Mythology, and I wrote my honors thesis on dragons."
Louisa's teammate Bora Gulari is a two-time Moth World Champion who set a class speed record of 30.31 knots a few years ago, and he's US Sailing's 2009 Rolex Yachtsman of the Year. "We're such a great team!" she enthuses. "Bora brings a wealth of knowledge and experience with high performance boats to our team, and I bring Nacra 17 specifics because I've sailed them for about a year longer than he has. We were training partners for a few months. Bora and his crew Solvig Sayre, Mike Easton and Katie Pettibone, and Ian Liberty and I created a training group to ensure that whatever team goes to the Olympics is the best we can offer." When Solvig Sayre sustained a shoulder injury, Gulari selected Louisa for the Olympic Trials regattas, the Sailing World Cup Miami and the Nacra 17 World Championship in Clearwater, FL.
"Miami was a highlight for us. We were excited to be in the top 10 for most of the regatta, and at one point we were in third. We didn't make the medal race, but that wasn't unexpected considering we'd just teamed up and were still figuring a few things out. Clearwater was very windy and very wavy – definitely conditions that favored not only heavier teams but also teams that had spent more time together, because that's when you need the play between skipper and crew to be really on point. We held it together enough to clinch the American spot, but we have a lot of work to do so that we're fast in every single condition that's thrown at us."
Designed expressly as a Mixed Multihull for the 2016 Olympiad and capable of exceeding 25 knots, the Nacra 17 is the fastest Olympic class. "It's incredible," says Louisa. "I have so much fun on that boat! In Clearwater, there were times when we'd launch off a wave and be fully airborne for a moment. I really like the fact that the Nacra 17 is coed, and it's going to be really exciting to have guys and girls competing against each other on the same course in the Olympics."
"The crew position on a Nacra 17 gets more difficult as the breeze increases, and it can be physically exhausting. Every muscle gets worked, especially the upper body. You're playing this giant mainsail, and when you round the windward mark you have to hoist this giant spinnaker. You play the spinnaker going downwind, then get it in at the leeward mark and immediately play the main again. You need to be sure that your body's at 100% so you can focus on looking around to see where the breeze is coming from and what your competitors are doing, and making sure the boat's going as fast as possible."
"When I was in Miami, I worked with a trainer named Amner Pereira at The Workout Spot. Amner's also a boxing coach, so we did lots of boxing and boxing-style workouts. Some days we focused on upper body and others on lower body, but always with a full-body element, and Amner set me up with a very regimented training schedule for endurance, cardio and strength."
Louisa and Bora recently competed in the Trofeo Princesa Sofía in Spain and the Sailing World Cup in France. "We might do the Delta Lloyd Regatta in the Netherlands this month," she says, "and we're hoping to do the World Cup Weymouth in England in June." Visit gularichafeeracing.com to support their campaign, and follow them at facebook.com/USNacra17. As for being on her way to the Olympics, she says, "It's pretty incredible that everything's come together so nicely."
Louisa enjoys daysailing and cruising with her parents Lincoln & Stephanie, younger brother Caleb and younger sister Thea. "My dad has a J/100 and her name is Swift. She's Stars & Stripes blue and she's absolutely gorgeous," she says, noting that the sport offers something for everyone. "You can go out on a high performance skiff and get that adrenalin rush, you can cruise around on a Hobie Cat, or just have a good time on a J Boat. Sailing is whatever you want it to be!"