A hands-on guide for all owners and buyers
By Dag Pike,  Published by Adlard Coles Nautical, an imprint of Bloomsbury Publishing Plc, in association with Pantaenius Sail & Motor Yacht Insurance,  0192 pages   paperback   $24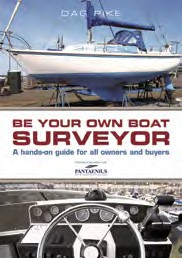 Professional marine surveyors have vast experience and expertise for which there is no substitute. If your boat is damaged by a storm or in a collision, for example, an insurance or finance company will demand a professional survey. Likewise, says author Dag Pike, you should hire a surveyor before you write the check for a secondhand boat. If you're looking at several boats, however, having each one surveyed by a pro will be costly.
This excellent book will help you save money by conducting your own preliminary survey. You might not discover all the problems that a professional would, but you'll be able to recognize trouble spots and narrow your choices. Chapters cover the hull, deck, rigging, engine, plumbing and electrical systems. With hundreds of detailed photos and illustrations, as well as hands-on advice and checklists, this book is a must-have for all owners, would-be owners, and anyone in charge of a vessel.
Having spent 65 years at sea, Dag Pike is extremely knowledgeable about boats of all types. The author of more than 40 books, he is a regular contributor to several nautical magazines around the world.