By Nancy G. Kaull & Dr. Paul F. Jacobs
The following is based on Nancy's detailed log entries and photographs. Where these are used directly they are shown in italics. General comments and discussions written by Paul are shown in regular font. The reader can thus directly discern our slightly different perspectives.
Step 1: Obtaining a Proper Cruising Sailboat for Us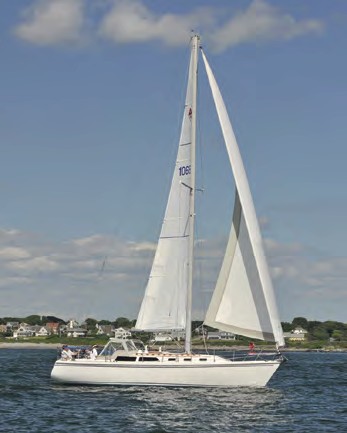 In 1998, after sailing and racing in California for more than 30 years, I went through a divorce at 59, took a position as VP of R&D at Laser Fare in Warwick, Rhode Island, bought a home in nearby Saunderstown, and purchased a 1982 Catalina 30. The good news was that Sea Ya only cost $17.9K. The bad news was that she needed a lot of work. Hundreds of hours of sanding, varnishing, painting, scrubbing, cleaning and a suitable invocation to Neptune later, her new name, Clair de Lune – after the haunting Debussy nocturne – was now shining on her transom.
Pleiades sailing on a beam reach in the East Passage of Narragansett Bay with Newport, RI in the background. This lovely photograph was taken by Daniela Clark. We love sailing this boat, and one by one the various barriers to the idea of a voyage to Maine and back began to melt away. By November 2013 I was approaching 75, was fortunately still in generally good health, and was quickly running out of excuses why we should not sail "downeast." © Daniela Clark/PhotoBoat.com
I enjoyed sailing this simple, sweet sloop around the various coves and islands of Rhode Island. Two years later I met Nancy, and as we fell in love with each other she also fell in love with Clair de Lune.
A wonderful thing about Nancy is that while kind, gracious and very lovely, she is the antithesis of a spoiled "princess." Despite the rather Spartan attributes of Clair de Lune we sailed her often in Narragansett Bay, and took her on two or more longer cruises each summer for twelve years. At various times we sailed to Block Island, Fishers Island, Shelter Island, Coecles Harbor, Sag Harbor, Peconic Bay, Cuttyhunk, Padanaram, Mattapoisett, Marion, Onset, Kettle Cove, Tarpaulin Cove, Menemsha, Vineyard Haven, Edgartown, and Nantucket.
However, as the years passed the idea of sailing to Maine never died. I had purchased and read A Cruising Guide to the Maine Coast by Hank & Jan Taft, and its later aerial companion A Visual Cruising Guide to the Maine Coast by James Bildner, had pored over charts of Maine, and thought about sailing in cold ocean water.
Nancy and I both loved to swim off Clair de Lune, but this might not be especially pleasant in Maine. Clair de Lune did not have a hot water heater, so we used a "Sun Shower" to warm fresh water on deck in the sun. To get warm water on cloudy days meant heating a kettle on the stove. It was primitive, but it worked.
On a C-30, all reefing lines are at the mast. At 74, going forward in a blow, with wet slippery decks, and 20-25 degrees of heel, to put in a reef had lost much of its youthful allure, especially after I slipped once and nearly broke a leg. Also, Clair de Lune had four non-self-tailing winches. Every tack required Nancy to tail while steering, so I could grind in the sheet. Doing this a few times was fine, but doing this all the way to Maine and back seemed excessive.
There was also an issue with access and egress for both swimming and boarding our dinghy. With only a 1.5" wide transom coaming, a split backstay, and twin guy wire supports for the stern mounted radar pole, getting into a dinghy or going for a swim off Clair de Lune was a twisting, athletic adventure. Getting back aboard with wet feet…well, Nancy and I were no longer wondrously agile. Finally, Clair de Lune had an ice box but did not have refrigeration.
We began to think about upgrading to a sailboat with more of the features we wanted. Since we love sailing, and will not live forever, then as long as we could afford the upgrade why not just do it?  We looked at a Sabre, a Tartan, and an Ericson. However, it was still true that "with Catalina one gets a lot of sailboat for the money," so we finally sold Clair de Lune in September 2012, and purchased a 1990 Catalina 34 in November 2012. Again spending hundreds of hours, sanding, painting, varnishing, scrubbing, cleaning and invoking the pleasure of Neptune, we re-named her Pleiades after Nancy's favorite star cluster.
Pleiades had eleven important features that Clair de Lune did not possess.
With a 4 feet longer waterline, she was up to 0.5 knot faster. On a 50 NM passage this can mean arriving at an unfamiliar harbor in daylight – vs. entering in the dark!
She had an open transom, which makes access and egress ever so much easier.
All lines were led aft, so one can reef in the safety of the cockpit.
She was a stiffer boat so reefing was less necessary at intermediate wind speeds.
She was better balanced especially when sailing to weather, so very little arm fatigue occurred during long stints on the wheel.
She was much better balanced when under power, with far less tendency to  swerve off course if one momentarily released the wheel.
All four of her primary and secondary winches were self-tailing.
She had a hot water heater that operated through a heat exchanger off her diesel engine.
She also sported a wonderful hot and cold fresh water transom shower.
She had refrigeration, as opposed to just an ice box.
She had a dodger to deflect spray when pounding to weather through big seas.
The summer of 2013 was spent learning Pleiades, and sailing her to many of our favorite spots. We often invited friends for daysails, and they also loved sailing her. Swimming off the open transom on a hot summer day was a joy. Reefing was wonderfully easy. Steering to weather was a pleasure. Anchoring was straightforward. Even her oversized V-berth with a large deck hatch provided excellent ventilation and made sleeping aboard terrific. In fact, Nancy often sleeps better in Pleiades' V-berth than she does in our king-sized bed at home.
July 2014. This will be a great adventure. I had not sailed in Maine since I was part of a one-month Outward Bound School program in 1974. Paul has always wanted to sail there. So off we go. I retired after 35 years at the American Mathematical Society on July 3. Our departure date was July 9. The first week of the trip involved just getting to Maine from Rhode Island! 
For starters, we checked all systems. Paul and friends Tom Rankin and John Eastberg secured, wired, and tested the new 100-watt solar panel securely mounted on Pleiades' split backstay, 10 feet above the cockpit sole. Paul then discovered a problem with the alternator. He removed it and took it to New England Starter & Alternator in Coventry, RI. The next day he brought it and a spare back, with both having been rebuilt, tested and qualified! He then installed the rebuilt alternator. All food and ice had been stowed. We slept aboard Pleiades for 10 hours! Clearly, we were both ready for a really relaxing vacation.
Wednesday, July 9, 2014 (Day 1). Destination: Third Beach, Middletown, RI.
We were up at 7:45 am. Paul turned on the engine and the batteries would not charge! This was dreadful. While extremely frustrated, he handled it very well. We powered Pleiades to the Brewer Wickford Cove Marina dock to top off fuel (4.5 gallons), top off fresh water, and ponder what to do about the charging problem. At the dock we got lucky, since Jeff, a marine electrician who had worked on the boat last year, was only three boats away and could help us. He had us on our way by 1:30. It wasn't the alternator itself, but a failed excitation wire. After locating the fault and splicing in a new wire, the alternator was now properly charging the batteries. An excitation wire!  Don't we all wish we had one! Not only were the batteries charging, but the tachometer was now working. I am all for excitation wires.
Off we went, finally leaving Wickford at 1:45 pm. However, having been delayed by five hours, the tide was now against us. On the first tack, the jib would not come all the way in. Well, grind harder Paul! Bang! There went the cowl on top of a dorade.  I forgot I had placed the jib sheet around the port dorade to keep it from marring prior wet varnish. Fortunately the cowl did not go overboard, and I was able to tape it securely back in place. While a temporary fix, this still provided ventilation, without leaking throughout our voyage.
With shifty 8-10 knot winds and multiple headers it took eight tacks to get around Newton Rock by 4 pm. We then had a nice reach to Breton Reef buoy No. 2, but it was rather sloppy after that with 7-10 foot seas stealing our light winds. We finally picked up a mooring at Third Beach at 6:30 pm, concluding a stressful day.  Fortunately dinner was very easy and quite good with stuffed shells from Dave's Marketplace. This was Nancy's first experience ever cooking in an oven on a boat!  She remarked that using the oven was "such fun, and very easy once it lit."
Later that night we had rain and the forward hatch, which is positioned directly over the V-berth where we sleep, unfortunately leaked. Wet sheets are not nice. Paul will tighten the bolts tomorrow and we will see how that works in the next rain.
Thursday, July 10 (Day 2).  Destination: Kettle Cove, Naushon Island, MA
Day 1 was so much fun, what can we do today?  We left Third Beach, and sailed around Sakonnet Lighthouse and past Cuttyhunk to Kettle Cove, one of our favorite places. The wind was light, causing us to unfurl and then soon re-furl the genoa several times. We finally arrived at Kettle Cove just after 4 pm. There were two powerboats near the beach that soon left for home and we then had the whole cove entirely to ourselves! Paul swam and scrubbed the waterline (he likes a tidy boat) and I prepared dinner. We contacted Paul's old Union College friend John Honey and his wife Betsy, in Falmouth. Yes, they would love to have us visit them tomorrow, before they leave on their yacht club cruise to Narragansett! They are very gracious. 
Our dinner aboard was great. Red potatoes and green beans were cooked below, while Paul nicely grilled pineapple slices and marinated chicken on the transom. All this was done before dusk, which is most unusual for us. A red sunset filled the western sky as seen from Kettle Cove.
Friday, July (11 Day 3).  Destination: Megansett, MA
It was a warm, bright sunny summer morning at Kettle Cove, in Buzzards Bay. Juice and coffee were followed by quick swims as the water temperature was a rather nippy 68° F. We were under way at 11:15 am in a light NE breeze. Unfortunately, the breeze soon faded and the engine was on by 12:30 after a pathetically short sail. The buoys marking Megansett are not easy to see from a distance, and there is no anchoring allowed in the main harbor. My old friend John Honey had kindly reserved us a mooring in the inner harbor. At the narrow entrance to the harbor itself, there was only 1.5 feet of water under our 6-foot draft keel. We found mooring #48, and to our delight it actually had a pick up wand. We then spent a lovely evening with John and Betsy at their home a few blocks away, catching up on many a story.
Saturday, July 12 (Day 4).  Destination: Provincetown, MA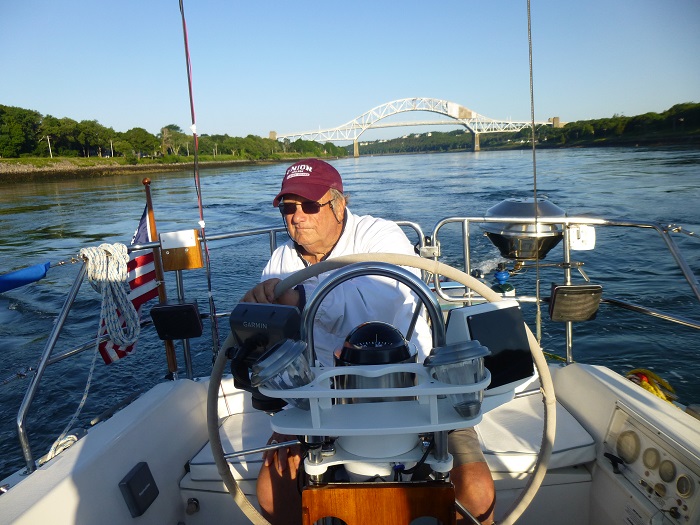 Our alarm went off at 4:30 am and we dropped the mooring line at 4:45. It is vital to be in synch with the tides through the Cape Cod Canal. However, after moving less than 50 yards we were soon stuck in the mud! Paul backed down and stayed closer to the docks to get through the entrance with approximately nine inches of water under the keel. This is a tricky place for those not familiar with the shallow spots. We were out into the main portion of the Cape Cod Canal by 6 am. Going with the tide under power, we hit 10.2 knots over the ground. A splendid ride! 
Paul at the helm as Pleiades powers through the Cape Cod Canal with about 4 knots of favorable current under a brilliant blue sky and bright sun.   © Nancy G. Kaull

We had light 3- to 5-knot winds crossing Mass Bay to Provincetown. Fortunately, we were in no hurry, and after much reaching in light air we arrived at 1:30 pm, dropped anchor in 15 feet of water, and paid out about 100 feet of rode and 45 feet of chain.  The water was very clear and amazingly warm at 76° F. We puttered about, had a couple of wonderful swims, and prepared to go ashore.
Meanwhile, John Honey called and reported that they had very strong gusty winds, and anticipated small craft warnings, thunderstorms and heavy rains for the next four days. Their yacht club cruise sadly decided to head back to Falmouth. What might this mean for us?
As we were about to get in the dinghy, Paul said, "Wow, you can really see the bottom here!" I asked if we really knew what the tides were doing since in Narragansett Bay, we are used to only 4-foot tides. Paul recalled reading about 9-foot tides in Provincetown. We turned on the instruments to find we now had 18 inches under our 6-foot keel. Meanwhile, the winds had kicked up to 15 – 18 knots. 
While pulling up the anchor, "Wilson," our fond name for the soccer ball in a net attached by a line to the anchor (so we always know where the anchor is located), got badly tangled around the chain and rode. I motored out to 19 feet depth – which is a long way out in Provincetown Bay – and drifted about while we both untangled Wilson from the rode. 
We ultimately re-anchored in 16 feet of water with a long fetch, but then encountered large rolling swells in this open anchorage. Surely, we were not going ashore in our inflatable with all this wind. So we called the marina to see if there were any moorings in the protected harbor, or slips available in the marina. Of course not, it is a summer weekend!
The tide page on the GPS showed the tide going out for another hour, with high tide at midnight. We definitely needed a lot more rode out after sunset. That was easily done in the strong wind. Paul, who was quite confident in our Mantus anchor, went below for a nap. I took cross bearings on a church spire and a navigational light, and slept with one eye partly open in the cockpit doing anchor watch "just because." This was another curiously adventuresome day.
Sunday, July 13 (Day 5).  Destination: Scituate, MA
Our 25-pound Mantus anchor was extremely well buried in the sandy bottom. Even after hauling in about 130 feet of 5/8" diameter nylon rode and all but 15 feet of 5/16" chain, the anchor was still dug in. It took a mighty heave timed with a large swell to finally break the anchor free. We then had a great close reach toward Scituate Harbor with a first reef in the mainsail. The wind freshened at noon to 15 knots, then 20 with gusts to 25 by 2 pm. Perhaps this was the weather John Honey had warned us about. 
I called ahead to reserve a mooring. When we got near Scituate Harbor, we were amazed at the number of lobster pots as we furled the genoa and dropped, flaked, and secured the main. However, the density of lobster pots will be nothing compared to Maine! After entering the harbor, we were escorted to a great mooring next to the channel with a proper pick-up wand. 
Paul, who loves to swim, was astounded to find the water temperature in Scituate harbor was only 55° F! The sea temperature had dropped 21° F in only 21 NM as the crow flies. Neither of us can ever recall such a sharp ocean temperature gradient.  Needless to say, there will be no swimming today. Sadly, Paul resigns himself to even colder water to come as we head north to Maine. The winds are expected to continue to be at least 15 knots through tomorrow. I am very glad my brother Bill will join us for the sail to Marblehead. I really like the idea of another strong fellow to help trim the sails. Bill is a good sailor who also still actively races.
Monday, July 14 (Day 6).  Destination: Marblehead, MA
My sister Janet drove Bill to Scituate from Marblehead. I made sandwiches and packed them in the top of the icebox. We were now ready to go. Winds were forecast to be 10-15 knots with gusts to 20.  Hopefully, this will be a great sail past the outer islands off Boston Harbor. 
We were underway at 9:30 am in a moderate 8-10 knot SW breeze. After a nice broad reach for a whopping 30 minutes, the wind quickly died away to less than 3 knots.  We can't believe that we evidently will need to motor all the way to Marblehead.  Good company and nice chats notwithstanding, motoring for 3.5 hours is very monotonous for three people who love sailing.
We rounded Marblehead Rock at 1:30 pm and proceeded to the town dock to top off diesel, fresh water, and to stash trash. Bill, who is a member, called the Eastern Yacht Club for a guest mooring. Once on land, he showed us the back of the Eastern where sadly an electrical fire on the first floor had gutted both the 2nd and 3rd floors.  Fortunately, the trophies, paintings, and artifacts were saved by the fire fighters and were temporarily housed in the Peabody-Essex Museum. This will be a very expensive restoration.
At Bill's house, I did some boat laundry. His neighbor Bob kindly offered us freshly caught haddock for dinner. I went to the Community Store to re-supply fresh fruit, veggies, and rum. Bill made a great dinner of the haddock, baking it with lemon, salt and pepper, crushed Pepperidge Farm stuffing, and melted butter. He is good! 
Meanwhile, his wife Annie returned from the Eastern Yacht Club cruise to Maine and proclaimed to us the beauty of it all. Previews of coming attractions! After quick showers, Bill drove us back to the Eastern YC, where the launch driver then took us out to Pleiades in an especially dense fog and light drizzle. We slept well.
Tuesday, July 15 (Day 7).  Destination: Gosport, Isles of Shoals, NH
Morning in a dense fog did not break so much as it dripped, so we puttered about tidying up down below, hoping it would clear. The harbor fog finally thinned and although we could see fog on the ocean side of the Neck, we decided to drop the mooring line at 9:45 after making note of the boats located near our EYC guest mooring should we have to return to the same spot.
The ocean fog remained as we left the harbor. Never actually seeing Marblehead Rock, we motored slowly to Bell No. 1. The fog lifted a bit, allowing about 0.5 NM visibility as we sailed past Bell No. 2 to our turning point. We were heading north when the winds died and the leftover seas remained sloppy. We motored for a while. Around noon the SW winds picked up. We tacked downwind, sailing at 6-7 knots and hitting a speedy 8.2 knots a few times.  By 5 pm squalls abounded all around. It was time to furl the jib and reef the mainsail. We then discovered the furling line was jammed! Nancy went forward, unwound the furling line, and re-wound it, checking to see if it was clear on each wrap. After sitting at the bow for an hour, she was drenched.
The wind was building and we were nearing Isles of Shoals, but the furling line jammed again, and it was clear that we had to get the jib down, so we decided to drop it on deck. As I eased the jib halyard Nancy could not gather the foot and leech in fast enough in the strong winds, so a portion of the jib fell into the water, and was too heavy for her to drag aboard. Fortunately, we were still in deep water about 2 NM from White Island, so with the engine in neutral we both wrestled the jib aboard. I returned to the helm while Nancy used the furling line to secure the jib snugly to the starboard lifelines. The solid boom vang had also somehow come loose.
There were more squalls ahead while we were still about 1.5 NM from Gosport. We carefully powered through the narrow channel between Star Island and Lunging Island into Gosport Harbor at 7:30 pm. This really is a very beautiful and extremely well protected harbor, surrounded on nearly all sides as it is by Star, Cedar, Smuttynose (love that name!), and Appledore islands. There were about 25 deep-water moorings, with only five other sailboats and three powerboats present. However, we looked like a sloppy ship with the main hastily flaked in the rain, and the jib tied in a sad wet wad on deck. However, some hot tea, cheese and crackers, and much hot soup made for a tasty dinner after a sometimes stressful day.
We learned a few lessons:
1. Furl or douse the jib immediately, and reef the mainsail when squalls are first sighted.
2. Have spare sail ties available for use as emergency tie-downs.
3. Always keep moderate tension in the furling line while unfurling, to avoid overwraps.
4. Have a spare boathook in case one is lost picking up a mooring without a pickup wand.
5. Nancy needs to practice using the VHF more, to be prepared in an emergency.
6. There is no cell phone service in Gosport.
Wednesday, July 16 (Day 8).   Lay day in Gosport, NH
This is definitely a true lay day. Besides being very heavily fogged in in Gosport Harbor, we have the various problems from yesterday to fix. Paul saw a patch of sun and optimistically hung out our damp clothes to dry on the lifelines, only to have a heavy downpour arrive shortly thereafter. The day pretty much was a series of alternating fog-rain, fog-rain. We had a few tiny leaks, mostly at the shroud bases (probably tired butyl rubber sealant?), some more in the V-berth, and at the salon overhead hatch.
This time we carefully unrolled the entire furling line on deck to eliminate all overrides, re-coiled it properly and snugly on the furling drum, raised the jib in very light air while still on the mooring, and then neatly furled it snugly around the headstay. I also reattached the solid Garhauer boom vang, using a locknut this time.  We also unfurled the mainsail from the boom, dumped much rainwater out, and then carefully flaked and secured it on the boom, and stowed all lines properly. I also made a new preventer of the correct length. Pleiades was finally looking shipshape and a bit more like a proper yacht.
The weather continued with fog and rain all day, with plenty of time to make a simmering pot of spaghetti sauce whose fragrance wafted everywhere below. We missed the solar panel's output today and thus had to run the engine for about three hours to keep the house battery voltage above 13.0 volts. It may be wet and foggy, but Gosport Harbor and her surrounding islands are very beautiful even in their current monochrome gray. This was a terrific reading day. It was also good to snuggle under both the quilt and the very comfy Union College garnet blanket. The butter, which had intentionally been left out in the galley to soften for breakfast, was really hard in the morning. We must be near Maine!
Thursday, July 17, 2014 (Day 9)   Isles of Shoals to Wood Island Harbor, ME
A few months earlier I had read Hank & Jan Taft's excellent and nearly indispensable A Cruising Guide to the Maine Coast (International Marine Publishing Company, Camden, ME, 1988). It soon became evident that when sailing to Maine from southern New England, there are myriad wonderful and very beautiful harbors once you basically "get there." However, from the New Hampshire border, for the first 50 nautical miles or so there are actually very few good harbors until one reaches Casco Bay. Thankfully the sole exception is Woods Island Harbor, which is about 33 NM north of the Isles of Shoals, along the great Bigelow Bight.
The morning in Gosport Harbor finally became a bit sunnier, with perhaps 5-7 knots of wind. Paul was ready to go at 7:07 AM. Once we powered outside Gosport Harbor, we belatedly noticed that the dinghy contained much rainwater. What a surprise after all that rain! Paul bailed it out, wearing his sea boots to carefully keep his feet out of the very cold water. We settled in for a gentle reach, which lasted for half an hour. Then, unfortunately the wind died by 8 AM.
It was coffee time, but sadly the burners on the stove wouldn't light. Maybe 15 minutes later, after multiple "on-offs" at the switch, the burners finally started. Why? Perhaps the propane solenoid was sticking, or there was excess contact resistance at either the electrical panel switch or the solenoid contact itself, so the resulting voltage drop was reducing the current flow, and hence the solenoid was not generating a strong enough magnetic field to open properly. Pleiades' wiring behind her electrical panel was now 24 years old and could well do with an upgrade including all new clean spade connectors, new sub-panels with LED lights to readily indicate those switches that are actually turned "on," and circuit breakers, which are much more convenient than fuses.
By about 11 AM, the sun had finally made something of a serious appearance. Pleiades looked like a laundry ship as we hung out wet clothes, wet towels, and wet boat rags on most of the lifelines to dry; limited only by the number of available clothespins. We also made a feeble and short-lived attempt to sail. At least it was a respite from the continuous throb of the engine.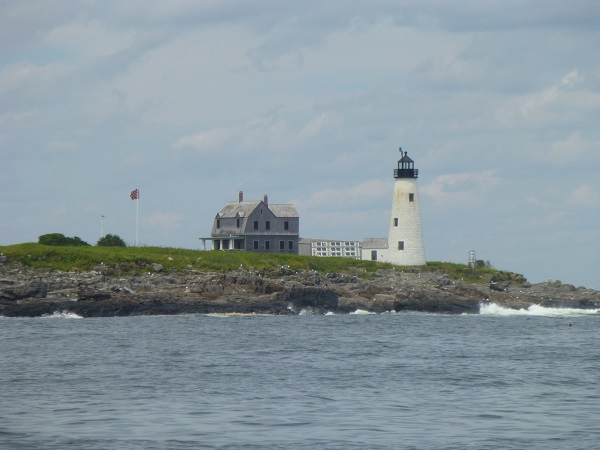 About 4-6 knots of wind finally arrived around 11 AM. We broad reached for the next three hours. Sailing inside buoy R-2 and between Washman Rock and Dansbury Reef, we left Gooseberry Island to port and Wood Island to starboard just after 2 PM.
Wood Island lighthouse   © Nancy G. Kaull
Threading our way through the passage south of the island and past numerous lobster pots, we finally entered Wood Island Harbor, and picked up a rather scuzzy mooring that had clearly not been used for quite some time. With only 5 knots of wind, even this would suffice until we determined the lay of the land in a location that neither of us had ever visited before. Our first impression was that Wood Island Harbor was surprisingly lovely and quite well protected from all but northerly winds.
After lunch on Pleiades, we called the Biddeford Pool YC, which lies inside Wood Island Harbor, via cell phone but got no answer. So, we then called on VHF and the launch driver said the BPYC did not have any moorings available and that we probably should not stay on #91, which was private and uninspected. However, since the wind was very light, was forecast to stay that way overnight, and as the owner had clearly not used the mooring in a long time, we decided to remain on mooring #91 as opposed to anchoring. Also, Taft noted that there are many mosquitoes in Biddeford Pool, and from long experience that would be exasperating for Paul.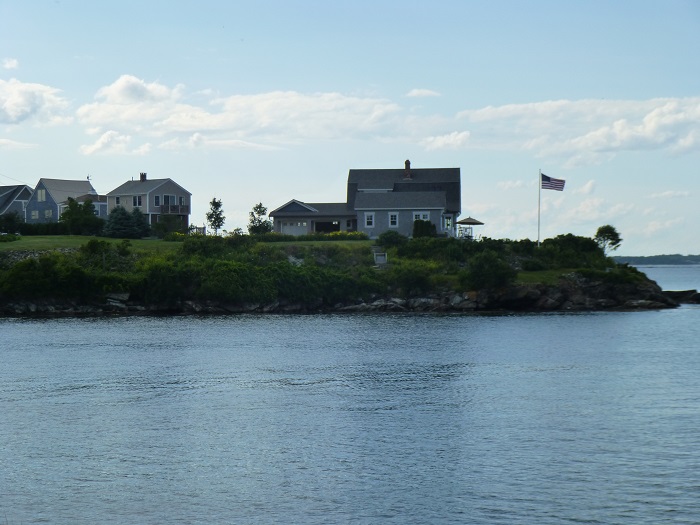 We then decided to take the dinghy in to check out the surrounding area. The tide was high and thus the interior harbor looked quite ample, although at low tide it might not. We went ashore at the BPYC and strolled a short distance to "The Store" which had a reasonable supply of a broad range of food, the most interesting of which for us at the moment was ice cream!!
A lovely home in Wood Island Harbor, ME   © Nancy G. Kaull
Paul got one with blueberries and I got a Maine "something" (raspberry ripple with chocolate pieces). Both were excellent. We ate them outside overlooking the harbor channel. There we met a very nice couple, Alan & Ronnie, and exchanged stories and interests. They have been residents of Maine for 40 years and know the coast well. Alan generously said to call if we needed any help or advice along the way. Perhaps on our way back, with some advance warning, they may sail with us.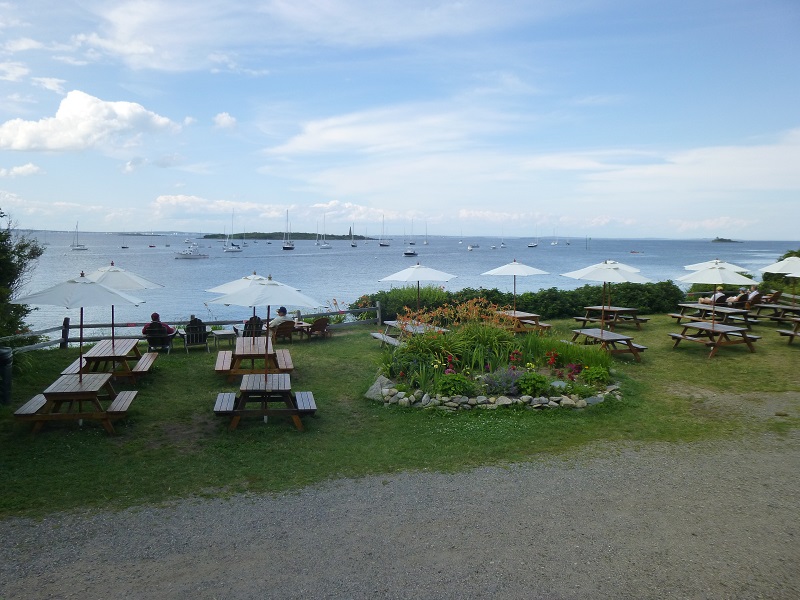 Back on Pleiades, just as we started cocktails and a snack before dinner, we heard the enchanting sound of a distant carillon. With no church in sight, the carillon could nonetheless be heard playing familiar hymns including "Nearer My God to Thee," the hymn the orchestra played as the Titanic tragically went down. We will always remember the carillon when we think of Wood Island Harbor.
Wood Island Harbor, ME   © Nancy G. Kaull
We left a cell phone message with our friends John & Donna, who have a summer home near Bar Harbor, that we were running a day behind schedule due to the weather. Our other good friends from East Greenwich, RI, Tom & Lauren, had been thinking about driving up for a daysail with us, but called to say that Grandma was home from the hospital and needed some attention. Perhaps we could connect with them on the way back. We asked about world news. Russian separatists had apparently shot down a passenger airplane over the Ukraine and Israel had invaded Gaza, all just since we left RI. We were glad we were away. Paul was in the bunk at 9 PM and I soon followed. We both liked the look and feel of our first harbor in Maine!
Friday, July 18 (Day 10) Wood Island Harbor to Jewel Island Harbor, ME
We awoke early to a beautiful but windless morning. After Paul put washers and secure locknuts on the brackets that hold the cockpit table, I discovered condensation had seeped down my side of the V-berth bunk so I brought the bottom sheet out to dry. We then also re-bedded the port shroud bolts. It turned out to be quite a project because I didn't know how to use a ratchet socket wrench and the acorn nuts had dead-ended without tightening the bolt. Finally, I held the interior acorn nut with a conventional box wrench while Paul used the socket wrench to tighten the exterior bolt. I now understand a bit more about wrenches. Such is the way of the sea.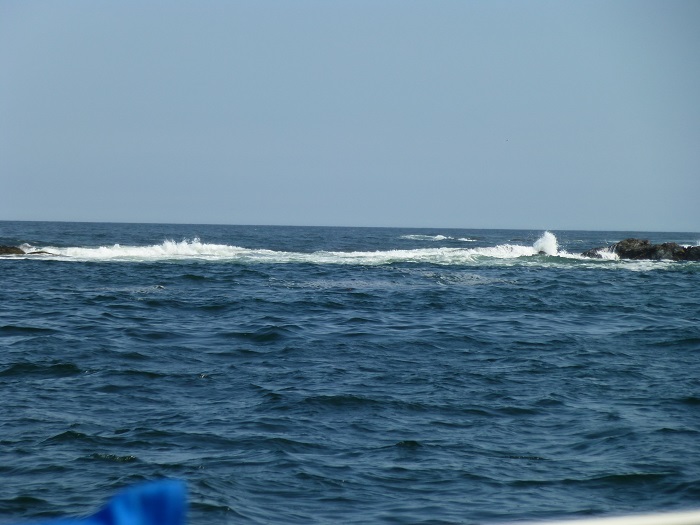 We were soon sailing in very light winds at 10:30 AM. Lack of wind in the morning has been a recurrent theme on this voyage so far, but thankfully we have not yet encountered any of Maine's notorious pea soup fog. After 11 AM a SW breeze finally arrived and we were able to sail on a lovely beam reach with full mainsail and 135% Genoa for 4.5 hours, taking us past Cape Elizabeth, Portland, and well into Casco Bay.
Near the entrance to Jewel Island Harbor, Casco Bay   © Nancy G. Kaull
As we approached Jewel Island, we sailed wing and wing for two NM in 15 knots of SW wind, which Pleiades does with surprising stability. Finally, we furled the sails and started the engine in a stiff SW breeze (18 – 22 knots), powered around some rocks and shallow places, and entered the long and rather skinny Jewel Island Harbor at high tide (10′ above low) amid seven sailboats and five powerboats. Anchoring was tight.
We were settled in for a couple of hours, but when dinner started to cook the tide was rapidly going out and an extremely rocky shoreline was quickly approaching our position! Prudence dictated that we move rather than find the keel aground in a few hours. A small powerboat came in and searched about for a good spot, which they eventually found. There was a little drama when another small powerboat broke free. It belonged to a group camping on the shore. Many other small boats – dinghies, kayaks, rowboats, etc. – came to the rescue.
Jewel Island Harbor is quite lovely, with pines and birch trees coming down almost to the water's edge, but a bit too narrow for my taste. The tide kept going out prior to our moving Pleiades and re-anchoring in deeper water. The good news was that we found a nice spot with adequate room in the event of a wind shift. The bad news was that Jewel Island Harbor must have the blackest, stickiest, most viscous mud bottom of any anchorage we have ever experienced anywhere! The mud stuck aggressively to the anchor. It also stuck to the chain.  It stuck to the rode and the deck, and it even stuck to my hands and my clothes. Sloshing it off took six buckets of very cold Maine seawater, and even then all of it did not come out of my clothes. Yuck!
Tonight it unfortunately took about 30 minutes – and at least a dozen or so "flip-flops" of the panel switch – to finally get the stove started. In spite of that, and the commotion associated with re-anchoring, dinner was great (sautéed chicken, Near East rice, thin haricot verts and a lovely crisp Riesling).  I love the refrigeration, the fact that we can make a tray of ice in 24 hours (of course being in Maine helps that!), the solar panel which keeps the ship's batteries charged, the new VHF with lat/long, COG and SOG, so Paul can do paper-chart navigation while down below, without me having to yell down latitude and longitude numbers from the GPS chartplotter at the helm, plus AIS…that we have yet to figure out. The true beauty of this harbor is the tall pines, white birches, granite shore, and the remoteness. The water temp was 60 degrees. No swimming here, but interestingly it was five degrees warmer than the water in Scituate, MA!
Saturday, July 19 (Day 11)   Jewel Island Harbor to Boothbay Harbor, ME
We were up at 6:30, finding that Pleiades' bow was now only about 15 feet from the stern of another boat, Brilliant. Fortunately both boats were similarly aligned and in no danger. The air temp was 63° F, with no wind, and the outgoing tide would continue until 11 AM. We had our coffee and juice while chatting with Pete Peterson of Brilliant. He and his wife had been cruising for 12 years!
I made a new batch of ice using chilled water and hoped for the splendid benefits of the solar panel. I then took a much needed warm water shower and shampoo in the cockpit. At 9 AM, Paul hauled up the muddiest rode and chain you can imagine. He washed it all down while we slowly powered out. The depth was 9.3 feet when the anchor came up (it had been 18 feet earlier) and the tide was still going out!  At 10:30, we were motoring out of Jewel Harbor with no wind.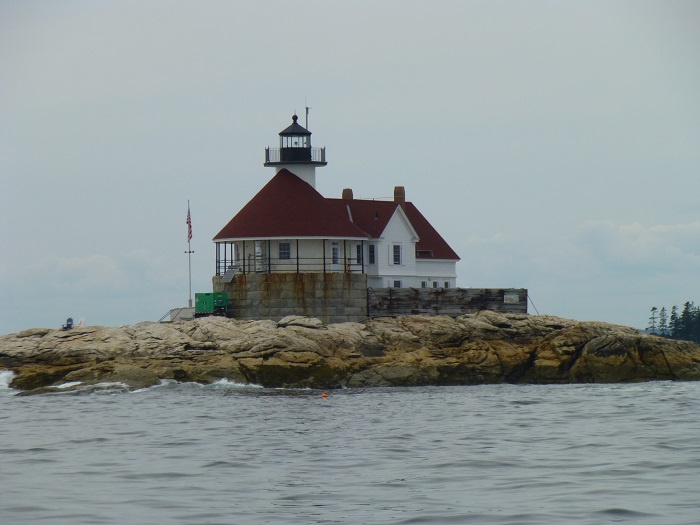 A light SSE breeze of 5-7 knots finally came up and we sailed mostly on a beam reach at 5-6 knots for about five hours past Cape Small and The Sisters. Then the wind utterly died and the tide and Pleiades' diesel pushed us at 4 knots past the mouth of the Kennebec River. We motored into the Carousel Marina dock in Boothbay Harbor for fuel (10 gallons after 25 hours on the engine), water for tank #2, and of course, ice. At the dockmaster's request, we picked up mooring #1.
This is the U.S. Coast Guard Station & Light on the Cuckolds, near Boothbay, ME. Remember this spot; it will be pertinent on our return to RI.   © Nancy G. Kaull
We later took our dinghy ashore, walked to the chandlery and purchased a spare boathook. It would be quite sad should we lose our only hook.  At the head of the dock, we met some friends from the Corinthian YC cruise that had come up from Marblehead. It is a small world up in Maine! We had dinner at the Whale's Tale restaurant, sharing steak, lobster claws, lobster bisque sauce, potatoes, and carrots. Dinner was good but not great. A light rain fell during the night.
Sunday, July 20 (Day 12)   Boothbay Harbor to Maple Juice Cove
In the morning Nancy and I went ashore in a light drizzle to the Red Cup Coffee Shop where they also provided free Internet service. We were anxiously awaiting word from Sunsail regarding the details of our 2009 Jeanneau 36i Sandpiper's phase-out from their charter program in Tortola, BVI due to occur within 35 days, before entering her into Horizon's charter program in Simpson Bay, Sint Maarten. Unfortunately, there was no message from Sunsail.
We took a brief stroll and purchased really nice water resistant windbreakers for only $20 each! I love mine in bright pink! Paul's is navy and tan with a fleece lining. They both have "Boothbay Harbor" embroidered on the front, so we looked like tourists.
We dropped the mooring at 11:30 AM and motored until we were out of the narrow east passage, then sailed for a few hours. It was a very cool, damp breeze. Nancy wore multiple layers: 1) t-shirt, 2) long sleeve Doyle shirt, 3) purple vest, 4) tan fleece, and 5) her new pink Boothbay Harbor jacket. She actually wished she had her winter parka in July! I wore a rugby shirt and a fleece. The wind got lighter and we motored three miles up the St. George River to Maple Juice Cove. One had to be very careful to avoid each and every one of the many lobster pots in the river, lest the line from a single unseen pot foul the propeller. Swimming to free a prop wrap in this cold water would most definitely not be fun. We have never seen so many lobster pots so close together!
Maple Juice Cove not only has a wonderful name, it is also very lovely and quite peaceful, with only a handful of other sailboats and a few powerboats in a harbor that is easily large enough to accommodate three or four times as many boats at anchor. There was a long gradual hill ahead and to starboard (i.e. NNE), with a weathered old gray house on the top of the hill. For those of you who are familiar with the paintings of Andrew Wyeth, this spot might look curiously familiar; it was the background for perhaps Wyeth's most famous painting: "Christina's World."
We anchored in 22 feet of water with 150 feet of rode and 45 feet of chain out in anticipation of 10-foot tides. Where is Wilson? (Wilson is our fond name for the soccer ball in a net attached by a line to the anchor so we always know where the anchor is located). He was temporarily underwater since his tether is only 20 feet long. I hope he can hold his breath for six hours! We were quite chilled and wanted some hot tea, but the burner wouldn't start (again!). Paul finally decided to open the electrical panel and jiggle the positive contact to the solenoid, at which point the burner started. Is this the answer?
Today I photographed lighthouses at White Island and Pemaquid Point. Dinner was salad with leftover barbecue chicken and rice (not much!) Paul is losing weight! He checked the engine oil and added ½ quart. He also checked the water in the house and engine batteries. Recently they were only charging to 12.5 volts. We were surprised that they needed a lot of water. Paul topped off all three Group 31 house batteries and the one Group 31 engine battery with distilled water and then ran the engine for an hour to charge them back to 13 volts. It was an exquisitely calm, starry-starry night. We turned off the refrigeration for the night, although I normally hate doing that. In the morning the freezer was at 31° F when the engine went on at 8:10 AM. By 9 it was down to 22° F. The refrigeration runs all the time when turned on. Perhaps the refrigerant charge is getting a bit low. We should check that.
Monday, July 21 (Day 13)   Maple Juice Cove to Camden, ME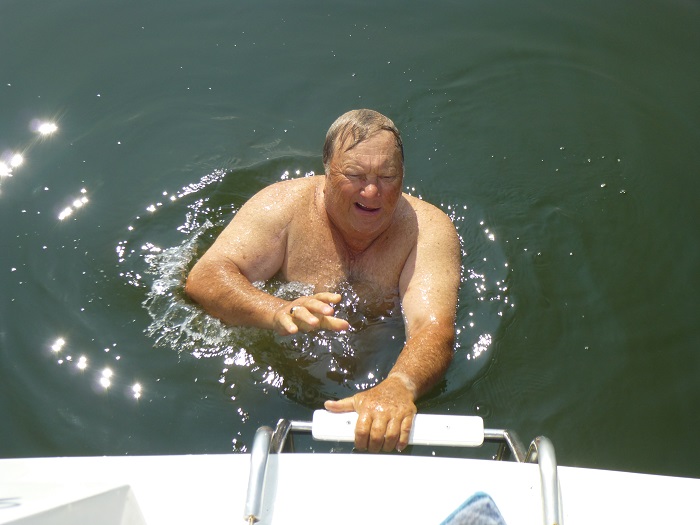 It was a beautiful sunny and relatively warm day. We re-bedded the starboard shroud bolts with fresh butyl rubber. Determined to actually swim in Maine at least once, Paul took a dip (not really a swim) in the 64° F water. I documented his single swimming stroke for posterity.
A nippy dip in Maple Juice Cove   © Nancy G. Kaull
The anchor came up easily, and fortunately this time there was only sand – and no mud! – attached to the Mantus spade, which was easily washed off. At 11 AM we carefully motored down the St. George River dodging myriad lobster pots, and then made our way out into the well-marked east passage. Winds were ESE at 4-6 knots providing Pleiades a gentle reach at about 4-5 knots. Not being in any sort of hurry, the elegant near-silence of sailing was splendid.
Lunch today was BLT sandwiches with Swiss cheese, which were very good. Fruit was canned fruit cocktail. Not great, but okay. About 5 NM south of Rockland the wind utterly died, so we powered the rest of the way to Camden. There we picked up a numbered mooring in the north cove with no other boats nearby. Furthermore, no one came out to collect a mooring fee, and in fact nobody seemed to care. The sunset over the hills was lovely. We called the Zehrings and since tomorrow promised to be a good day, they agreed to meet us here, bringing fresh Italian grinders! Yum! Dinner was chicken, carrots, and rice. With gentle rocking on our mooring, we both slept like logs.
Tuesday, July 22 (Day 14)  Camden with Donna & John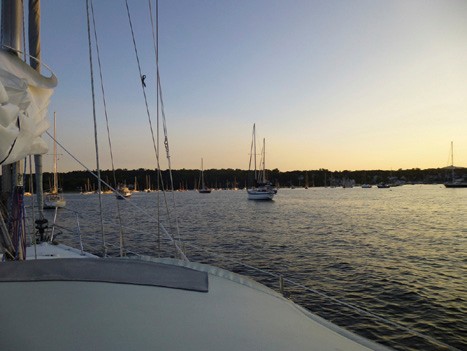 I was up early on a very lovely, sunny, albeit cool morning and polished all the stainless steel stanchions, the bow pulpit, and the pushpit. At 8:30 we took the dinghy in to find an Internet connection and some needed groceries. We eventually found one at a nice coffee shop named Cappy's.
Sailboats in Camden Harbor, as seen from Pleiades   © Nancy G. Kaull
Unfortunately, on inspecting a recent email I was not pleased with the lack of attention from our surveyor in Tortola, BVI concerning our Jeanneau 36i Sandpiper. Although he had already taken Sandpiper out for a sea trial, she evidently went in the water without him ever taking a careful look at her underbody. Eventually, he did check her bottom while she was on the hard, but this seemed like a natural opportunity missed. As a result we had more questions and emails on our return, including a direct telephone conversation.
The grocery store up the hill and across the road was quite adequate and surprisingly large toward the back. I believe the name was French and Brawn. We returned to the boat in choppy water and decided to move the boat closer to pick up Donna & John.  They were soon aboard and we were off the mooring by noon in winds of 18-20 knots. What a nice reunion, but working the boat in these winds kept us too busy for much conversation. There were plenty of whitecaps and although we had the first reef in, I wished we had put in a second reef. Pulpit Harbor, the promised destination, was directly into the wind so unfortunately we never made it there.
Around 3:00 pm, we returned to the harbor for lunch with the intention of heading back out. However, when attempting to pick up a mooring in the substantial chop of the outer harbor, we over ran the mooring line with the pickup wand on one side and the mooring ball on the other. Unfortunately, the heavy mooring line wrapped around the prop shaft! It was very bad to have the mooring line hold the boat by the strut in these strong winds and chop. Clearly, we could not solve this problem ourselves. Paul called the harbormaster, who said these things happen and he would send a diver out in about 15 minutes. Meanwhile, we should put a dock line around the mooring ball to relieve the pressure on the strut. Good idea. 
While we waited, we had the cucumber soup Donna had made and delicious Italian grinders. It was a pleasant lunch, but a bit odd with the stern facing toward the chop.  Paul grew concerned so he called the Harbormaster again. When someone else finally answered, he was told the harbormaster had gone home for the day. What?? Actually, it turned out the message indicated that he had gone home for his diving gear! Steve finally arrived via skiff.  He was a very nice fellow with sparkling gray hair. He had us drop the anchor before he dove so we could take the load off the mooring line. He donned just swimming goggles and fins, and dove in. John asked him, "How cold is the water?" Steve's response was, "A few degrees above soprano!" Later we checked the thermometer and it was actually 68 degrees, which is "almost nice," and curiously warmer than the water was in Scituate or Marblehead! Without a tank, it took Steve several dives to unwrap the line. He reported there appeared to be no damage to the prop or strut. Paul started the engine and it felt fine in both forward and reverse. 
At this point Paul and John pulled up the anchor, but pull as they might, it couldn't break the surface. It turned out the anchor was hooked on an abandoned chain that even the harbormaster didn't know existed. He helped free the chain and we went off to pick up another mooring. This new mooring was one from Wayfarer Marine, designated as transient by an orange dot.
We finally settled in to enjoy a visit with Donna & John, who was our former pastor, and some wine they also brought called 'My Daily Red', as well as a white, and the rest of the sandwiches. Finally, it was time for some real conversation. First, however, Paul decided he needed to change the pull cord on the outboard, and he was quite right – as it was in shreds and about to soon part. John handed him the necessary tools, while Donna and I talked.
Around 7:00 pm, it was time to go ashore for dinner. I ferried Donna and Nancy, and then came back for John. We had a dockside table at The Waterfront restaurant right on the Camden dock. John and Nancy had excellent lobster rolls, while I had a wedge salad, and Donna a cheese plate.  The evening quickly sped by with old friends. Of course, when the sun set the mosquito air force arrived at our outdoor table, so we fondly parted ways around 9:00 pm. It was quite a day.
Wednesday, July 23 (Day 15)  Camden to Buck Harbor, at the NW end of Eggemoggin Reach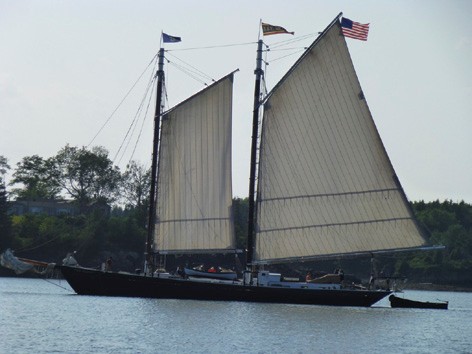 In the wee hours of the morning, I started having one of my infrequent, but very painful gout attacks, this time concentrated in my left big toe. Fortunately, I always keep a dozen or so Colchicine pills in my ditty bag for just such purposes.
A schooner on Eggemoggin Reach    © Nancy G. Kaull
These tiny pills are almost like magic. Without them I would be in great pain which can best be described as "walking on broken glass." Thankfully, my "gout bout" was wonderfully short lived. As directed by my physician, I took two pills that evening, and another the following morning. They helped substantially but I was still moving slowly. With another pill in the evening and one more the next morning, things were finally back to normal – or as normal as life is at age 75.
We went ashore to pay the harbormaster $100 plus a $20 tip for his services. He actually seemed surprised to see us!
At the grocery, we picked up rice, pasta mix, lettuce and celery. They did not have distilled water for the batteries and suggested we try Stop & Go up at the next light (the next light was pretty far up the road!). Since one of us didn't have gout, I got to do the walking. Stop & Go did not have distilled water, but I did buy some heavy clear packing tape to repair a small tear in the dodger window so the walk wasn't wasted. Then, on the way back, I went into the drug store that I had passed without noticing it, and located a gallon of distilled water. With all our goods, we returned to the boat and were underway shortly after 10:30 am.
During the summer, Camden is very crowded in the inner harbor. Fuel and water are probably best obtained at Wayfarer's dock. This wonderfully quaint town – with a waterfall visible from the harbor – is great for shopping and restaurants and for free Internet at the coffee shop. However, Camden harbor is unfortunately open to the SE and for that reason we would rate it 3-star, as opposed to a top-rated 4-star location.
We then sailed on a tight close reach between Mark and Saddle islands, followed by a broad reach up the east side of Islesborough, with a first reef still in the main – we were going about 5 knots. While we could have shaken out the reef, the wind was forecast to increase so we decided to leave things as they were. This was nonetheless a lovely sail, which finally took us "off our charts." We still had the chartplotter, but this navigator ALWAYS likes to have paper charts as well.
Fortunately, I found enough tiny chartlets in the Taft cruising guide, which also included a small printed overview of the area so that we could locate Bucks Harbor. While the harbor looked tiny on the chart, it was actually quite ample although the anchorage itself was a bit tight due to the presence of perhaps two to three dozen other sailboats and powerboats. We picked up a numbered mooring which was so scuzzy we doubted anyone would come to claim it. Amazingly, our thermometer indicated that the water temp was 71 degrees! I not only went in to truly swim in Maine waters, but intentionally stayed in for about 40 minutes to clean assorted scum off the waterline. Who says that you can't swim in Maine? It was wonderful!!!
Thursday, July 24 (Day 16)   Bucks Harbor to Stonington, ME
It rained all night and into the next morning. There were some tiny water leaks around the forward hatch. The stove also wouldn't light, so Paul opened the electrical panel and sanded the appropriate contacts. That worked and we should hopefully be OK for a while.
Over coffee, we pondered the chart situation. We had the little Taft cruising guide chartlets for Eggemoggin (EM) Reach and the Deer Isle Thoroughfare, but nothing that shows how the two connect. I had concerns because there are many rocky islands and the GPS doesn't always show the buoys until we are very close. Thus, after a nice breakfast of eggs on English muffins, we prepared to go ashore to the small marina. However, just then it started raining quite hard so we decided to run the engine to charge the batteries in the meantime. The house bank isn't holding a charge and that is causing concern. After over an hour, it got to only 12.2 volts. Not great.
Meanwhile, it seemed a good time to check battery water as we now finally have distilled water. The house bank, which includes three Group 31 batteries, has easy access. The engine battery became a challenge mostly because of its location under the quarter berth. The four batteries did require about a pint of distilled water. The real problems started when I accidently bumped the delicate voltmeter wire lead and thus disconnected the engine battery voltmeter.  This was not at all  trivial to reconnect. After a few choice words, I finally secured the wire, taped it with electrical tape, and smiled when I saw the LED voltmeter working again.
By the way, I highly advise all boat owners to install digital LED voltmeters! They are available at Amazon for about $6 each, they provide very accurate voltage readings, you can see them at a glance, and you can thus quickly determine the status of your house and or engine batteries. Their current drain is less than 10 milliamps, and as an added bonus, they provide just enough illumination to serve as nightlights so you can move about at night without stubbing a toe, yet not so much light as to interfere with sleeping. Nancy agrees that installing two digital LED voltmeters was one of the best additions we have made to Pleiades.  I carefully cut and sanded two tiny teak surrounds prior to mounting them, so they now look like they always were there!
Meanwhile, we placed towels and containers under the leaks at the chainplates. We'd also found a new leak in the quarter berth under the aft port. It turned out that the port had not been properly secured. The rain finally stopped and the sky brightened. We then bailed the dinghy and took it to check out the little Bucks Harbor marina. They have fuel, water, ice cream and charts. Paul quickly located and purchased the chart we needed…along with some ice cream. We absolutely could not have done without either!
We left the harbor around 1:30 pm heading SE down EM Reach, and were becalmed by 2 pm. Along the way, we learned that the cockpit cushions were leaking from the recent rain. We flipped them various ways but they kept seeping. I finally un-zipped the covers, took out the foam and turned the covers inside out to dry. We flipped them often during that afternoon.
It is interesting to learn that the author of Murphy's Law is alive and well and apparently inhabits Maine as well as Rhode Island. The patch of water where we were sailing is known to all as Eggemoggin Reach for a very good reason – because 99% of the time the prevailing SW wind direction is such that if one heads either SE or NW one would nonetheless be on a reach. Well, don't you believe it! We eventually had a great sail but it was a dead beat until almost the very end. Fortunately, the passage is quite wide in most places so there was plenty of room to tack. However, almost all the photographs I have ever seen down through the years, in any number of wonderful sailing magazines, always show some splendid old gaff-rigged schooner on a fabulous beam reach zipping either up or down EM with a bone in her teeth. While we did achieve another of our goals – sailing the EM Reach – for us it will always be the "Eggemoggin Beat."
Around 5 pm we had to turn on the engine if we had any hopes of getting to Stonington before dark. The tide was favorable in the Reach, but in the Deer Isle Thoroughfare it was against us. The T-fare is very narrow, and while well-marked with numerous buoys it is somewhat confusing to people who have not been here before. The hardest part was the transition from EM to the T-fare. At places it was very narrow, as low tide was at 4 pm. It was beautiful, scenic, and very rugged with numerous places for people with local knowledge to anchor.
We got to Stonington before 7 pm and picked up what was now the all-time record holder for the world's scuzziest mooring. Just pulling it up to secure it to the bow cleats left one's hands dripping in green slime. Surely no fisherman – or anyone else for that matter — had been on this mooring for a long time so there was negligible chance one would arrive after dark and kick us off. This is a very small but busy working fishing port.  
The boat dried out surprisingly well, but we had a clearly defined task ahead, which was to seal around the tangs of the leaking chainplates. Dinner was canned clam chowder which was surprisingly good, a big salad, and cheese and crackers. I switched the water to tank #1.
Friday, July 25 (Day 17) Stonington to Pulpit Harbor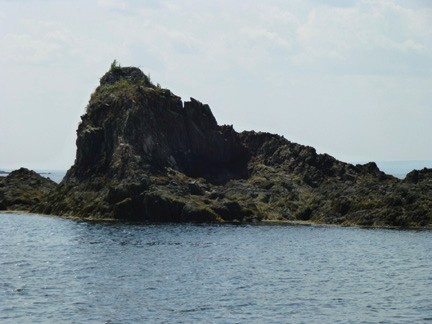 The fishing/lobster boats started departing at about 4 am, just before dawn. There were lots of lights and much noise with engines roaring and people speaking. It was quite the rollicking harbor. We had an early breakfast of coffee, OJ, and French toast.  
This is the considerable rock at the entrance to Pulpit Harbor.  © Nancy G. Kaull
It had been many days since we had topped off fuel, so we stopped at Moose Island Marine. I continue to be amazed at how little fuel the 23 HP Universal Westerbeke Diesel engine consumes. Unfortunately, Pleiades does not have a functioning fuel gauge. Thus, the effective "fuel gauge" resides in my mind. After many previous refills and subsequent calculations based on accumulated engine hours, I know that the engine uses just about 0.4 gallons per hour when powering at 5 -5.5 knots. Obviously adverse currents, wind on the nose, and/or large seas will increase this number, so I am always a little paranoid about running out of fuel.
Thus, it was with much relief when we only took on 9.7 gallons of diesel with a 23-gallon tank! While we were there we also filled water tank #2, and offloaded recycles. In case we ever go back, the marina is U-shaped with the fuel and water on the north side of the U. We also got to hear a real "down east" accent from the attendant!
We were out of the Deer Isle Thoroughfare by 11 am heading for Pulpit Harbor, which was only 13 NM away and there was not a cloud in the sky. Unfortunately, there was also no wind! Thus, we had to power much of the way. Our anchor was down and the foredeck cleaned from our past two scuzzy moorings at 3:15 pm. Pulpit Harbor is a very beautiful, peaceful harbor in which to simply enjoy being alive. It is ringed by some very beautiful homes and has a feeling of splendid solitude. A two-masted schooner came in just before sunset. We didn't expect such a large vessel.
Dinner was surprisingly good. The chicken was thin sliced, frozen at home, and packed under ice for 17 days – yet it was still as fresh as can be. I floured, seasoned with salt, pepper, dried parsley and garlic salt, and sautéed the slices in butter, garlic and lemon juice. We had the usual carrots with dill (carrots travel very well). The big surprise was candied yams from a can! I don't know much about canned food, but this surely worked well.
Saturday, July 26 (Day 18)  Pulpit to Tennants Harbor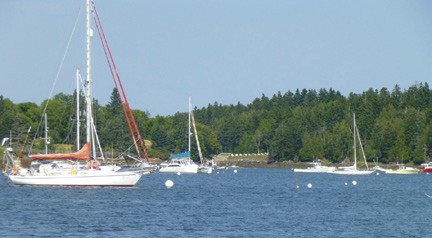 We were now officially starting our return trip. We spent an hour planning with various alternatives possible. Of course, as is usually true when cruising, what actually happened only bore a slight resemblance to our plans. Perhaps we would save time if the weather cooperated.
The interior of Pulpit Harbor  © Nancy G. Kaull
After breakfast of cereal and fresh Maine blueberries, we set off in moderate winds at 11 am with an adverse current. Thus, we had to supplement sailing with the motor to get between some islands at the north end of North Haven.
We sailed the rest of the way to Tennants Harbor, a beat all the way, arriving around 5 pm. We picked up a mooring at the outer end of the mooring field with 'SA LOVE' printed on it, which was obviously private. Anchoring in Long Cove seemed too remote as we wanted/needed to go ashore. Nancy, the one who worries about following the rules, was concerned the mooring might belong to a fisherman.
We had cocktails aboard, while enjoying the protected harbor, which made a pleasant conclusion to an entire day of beating to windward. We went ashore with an ice bag and shopping bag, hoping the general store was still open. We tied up the dinghy at the town dock but there was no "Cod Inn" in sight.  Based on the cruising guide, this is where we planned to have lobster dinner with a waterside view! The general store was open until 8 pm. We selected and paid for all that was on our grocery list, and two very nice young ladies graciously offered to store our bags while we went to dinner. We learned sadly that the Cod Inn did not open this season. The elderly woman who owned it unfortunately got cancer and passed on. Her daughter chose to not continue the family business of 75 years.
We went to the restaurant about 1/10th mile up the road, the Happy Clam. It didn't have a waterfront view, but it was great. I had the perfect size lobster, perhaps 1 pound, that was so tender and sweet. Paul selected from their extensive German menu (German food on the coast of Maine?) and was very pleased with his selection – weinerschnitzel and pickled cabbage. We met a couple from Bermuda who keep their 54-foot boat at Brewer Wickford Cove Marina. What a very small world.
After dinner we returned to the grocery store, picking up our groceries and two 5-pound bags of ice. I packed the ice on top of the fresh chicken breast. It is amazing that this is the first fresh meat we have purchased in 19 days. It was expected to be rainy/ cloudy for the next three days, so 10 lbs of ice would certainly help the refrigeration. I was not looking forward to the next three days, but we could not wait out the clouds. Maybe NOAA would be as wrong this time as they were for the first week!
Sunday, July 27 (Day 19)   Tennants to Boothbay
We woke to a cloudless, sunny morning! There were distant clouds and we counted our many blessings and gave a cheer to NOAA – since their forecast was wrong once again! We got an early start at 8:30 am. The breeze was initially out of the S at 8-10 knots, but later freshened to 12-15. Eventually the sun turned to part sun, then hazy sun, and by the time we got to Boothbay it was very cloudy. We picked up a "Tug Boat Inn" mooring around 1:30 pm. We had sailed 31 miles in almost exactly five hours, on a reach almost all the way. Great!
Monday, July 28 (Day 20)  Boothbay Harbor to Wood Island Harbor, ME
Life can be quixotic; wonderful one day and awful the next. We awoke to fog and drizzle with almost zero wind, departing under power at 0815. At 0909, while powering along with the mainsail up, about 0.5 NM past the Coast Guard station on the Cuckold Islands, suddenly Nancy noticed smoke coming out of the companionway! I quickly turned off the engine, went below, grabbed a fire extinguisher, removed the companionway steps and saw water spraying and smoke billowing from the engine!
With the engine off, the smoke and water soon dissipated. Upon peering into the hot engine compartment, I discovered that the exhaust pipe connected to the water lift muffler had ruptured. It was a classic spiral failure of the elbow a few inches upstream of the point where seawater mixes with the hot exhaust gases.
The mainsail was up, but with almost no wind. The depth sounder and GPS indicated over 250 feet of water. That was the good news. The bad news was that a modest – perhaps ½ knot – current was slowly pushing us towards the rocks! It was too deep to anchor and the chart showed that the bottom, which exhibited an almost vertical rock-wall, would finally get to anchoring depth only about 30 feet from the rocks. The engine was dead, we had no wind, it was too deep to anchor, and the current was slowly, but inexorably pushing us towards the rocks! I decided that our "last resort" would be to tow Pleiades using the 3.5 HP Tohatsu outboard on our Avon. Our "next to last resort" was for me to jury rig a repair of the exhaust manifold elbow with whatever I had available aboard in the next 20 minutes.
I found Nancy's supply of heavy duty aluminum foil, cut it into manageable strips, wrapped about a dozen thicknesses around the manifold, and then wrapped another dozen or so strips of duct tape around the aluminum foil. I knew that the manifold would get very hot if we ran the engine for more than a few minutes. The duct tape might even melt, though leaking seawater might keep it cool enough to survive for just five minutes.
Water dribbled around the duct tape after we started the engine which we ran for three minutes; just long enough to move us away from the rocks. Then Nancy joyously reported that a rain squall with a breeze had finally arrived! Only 5 knots, but it was heaven sent. We quickly unfurled the genoa, both sails filled, and Pleiades smoothly sailed away from the rocks. Whew!!!
Nancy and I discussed our options and agreed we needed to get Pleiades home where proper repairs were possible, or at least get back to Marblehead where Nancy's brother Bill might help us. Like a gift from Neptune, a solid SW wind soon built to 12 – 15 knots and we were sailing on a close reach towards Wood Island Harbor. The winds later reached about 20 knots, with 6- to 8-foot seas, so we reefed both the mainsail and the genoa, and at 7 knots sped directly to our destination, covering 45 NM in less than 7 hours.
While sailing, I was on my knees on a many-folded towel in front of the engine.  I slit an empty 6 oz. pineapple juice can along its length, wrapped it around the ruptured pipe patch and with spare 5/16" diameter line, tied a small bowline in one end, slipped the line around the broken pipe/slit juice can, through the bowline and tightly wrapped both, snugging each wrap against its neighbor over about 5" of the rupture. Each wrap was an adventure trying to dodge water hoses and electrical cables while keeping the line snug. After what seemed like forever, I finally tied off the last wrap, covered the line with another three layers of duct tape, re-started the engine, saw no exhaust smoke and only a minor water leak, easily managed with the bilge pump.
When we finally arrived in Wood Island Harbor, we furled the genoa, left the mainsail up "just in case," turned on the engine, headed into the wind, secured the same mooring we had used previously, cut the engine after less than five minutes operation, dropped, flaked and folded the mainsail, settled into the cockpit, smiled, and had two straight rums on the rocks!
Tuesday, July 29   (Day 21)  Wood Island Harbor to Isles of Shoals, NH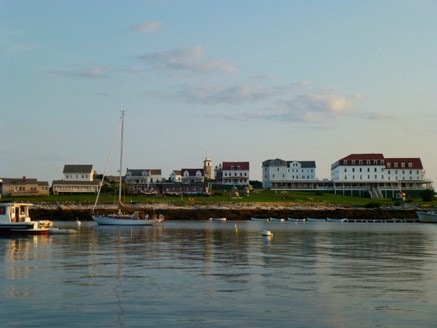 Our goal was to get home to repair the engine. Having already explored Wood Island Harbor we did no further sightseeing, as we had a long way to go without a reliable engine. We were sailing in light air by 0800. The SW breeze filled in at 10 – 12 knots by 1030 and we close reached to Gosport, arriving at 1640.
This former hotel is now a religious center on Star Island in lovely Gosport Harbor, Isles of Shoals.   © Nancy G. Kaull
After securing a mooring, we took the dinghy ashore and asked the local people if anyone might have a thick wall rubber hose we might use for repairs.  These kind people searched multiple sites and outbuildings mightily, but to no avail. We appreciated their efforts.
Wednesday, July 30   (Day 22) Isles of Shoals to Marblehead, MA
We departed Gosport Harbor at 0815 in a 5-7 knot S breeze and tacked away from the islands. At 1115, the wind picked up and we sailed close hauled on port tack towards Cape Ann. After many tacks, we rounded the dual towers off Rockport at 1615 and continued south past Gloucester. At 1920 we entered Marblehead Harbor, furled the genoa, left the mainsail up, turned on the engine, picked up the first available mooring, and cut the engine after just five minutes of operation.
Brother Bill had been in e-mail contact, met us in his Boston Whaler, towed Pleiades to an Eastern Yacht Club guest mooring, and came below to see the problem. Over dinner at his house, we discussed what to do. By a fortuitous coincidence, Bill's neighbor Bob Hanson is the owner of Hanson Marine which stocks many Catalina parts!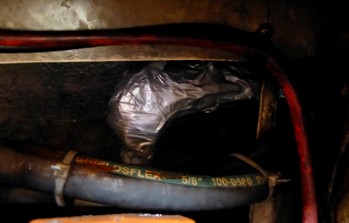 Thursday morning Bill and I drove over to Hansen Marine, where Bob agreed that we could do a proper fix back home and that using high temperature thick wall rubber hose, a new elbow and a new bushing would suffice.
Jury-rig repair of the exhaust pipe   © Nancy G. Kaull
I picked up these items and Bill very kindly helped me remove all the singed duct tape, 5/16" line, slit juice can, aluminum foil, and the ruptured elbow, and then install a new black steel 90° elbow, a mating 4" black steel bushing, and 9" of 2"ID/2.5"OD high temperature, thick wall, steel reinforced rubber hose, and eight hose clamps. We ran the engine for an hour with no fumes and no water leaks.
We eventually got back to Wickford, Rhode Island…but that, as they say, is part of another story.
By 2 pm it started to rain and it was time for chicken noodle soup. We remembered to bring in the cushions that we now know are not totally waterproof. Around 3 pm we decided to go ashore, and as we got in the dinghy it poured yet again. Fortunately our mooring (which was free) was a very short distance from the public dock. The Red Cup was closed for the day and we were advised to seek out the Fisherman's Restaurant. We felt welcome as they had few people in the lounge or restaurant. Paul got connected to the Internet easily and found he had 130 emails…with only three of significance. ■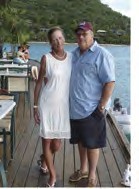 Nancy G. Kaull and Dr. Paul F. Jacobs are the co-authors of Voyages: Stories of ten Sunsail owner cruises. This excellent book is available at Amazon.com, and you'll find several excerpts at windcheckmagazine.com.