Donald Crowhurst, The London Sunday Times Golden Globe Race, and the Tragedy of Teignmouth Electron
By Edward Renehan

Published by New Street Communications, LLC   112 pages   paperback   $9.95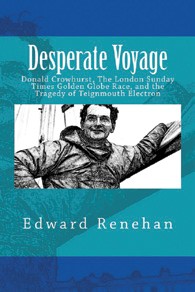 In 1968, no one had completed a solo non-stop 'round-the-world voyage under sail via the three great capes of the Southern Ocean – the Cape of Good Hope in South Africa, Cape Leeuwin in Australia, and Cape Horn in Chile. That year, The London Sunday Times announced the sponsorship of a 'round-the-world yacht race and a prize, the Golden Globe, to be awarded to the first sailor to accomplish the feat. The entrants included several accomplished yachtsmen including Robin Knox-Johnston (the eventual winner), Bernard Moitessier and Chay Blyth, as well as a weekend sailor and father of four named Donald Crowhurst.
With ambition far exceeding ability, a woefully unprepared Crowhurst set out from England in late October, 1968 aboard a fragile, hastily constructed trimaran called Teignmouth Electron. The protracted saga that followed was an exercise in delusion and deception, and ultimately a descent into madness. Although the tragic story of Crowhurst's journey has been told before (in literature, plays, films, and even an opera), author Edward Renehan has interwoven quotes from the lost sailor's family and friends into his absorbing and insightful manuscript. Checking in at only 112 pages, Desperate Voyage is a quick read, yet utterly unforgettable.
This tale was the inspiration for The Mercy, a film starring Colin Firth as the ill-fated mariner and Rachel Weisz and his wife Clare, which is scheduled for release in early 2017. Desperate Voyage is also available in Kindle edition ($4.95) and audio ($6.95) formats. Visit www.newstreetcommunications.com to learn more.
The author of more than 20 books, Edward Renehan is Managing Director of New Street Communications, LLC, an intentionally small, human-sized, family-owned publishing house in Wickford, RI. He is an accomplished blue water sailor.