Editor's note: This is the sixteenth installment in a series of dispatches from the Rath family (Colin & Pam, daughters Breana, Mariel and Nerina), who departed Stamford, CT in the fall of 2014 for a worldwide cruise aboard their Hanse 545 Persevere. You'll find previous articles linked below.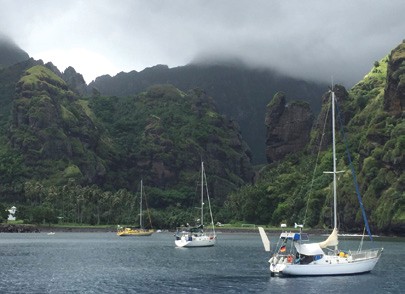 We arrived in the middle of the night in the harbor of Atuona, Hiva Oa, running on diesel fumes with a heavy breeze on the bow. It was dark, forbidding harbor with huge swells and cliffs on both sides as we anchored. (In last month's installment, I gave the name of the wrong island in Marquesas at which we initially arrived. Sorry, it's been a long journey.)
Spectacular anchorage in Hiva Oa   ©persevere60545.com
At daybreak, the dark shadows revealed a lush, green paradise of volcanic mountains rising out of the sea – like a scene of paradise you would see in the movies, but it was real. We pulled the inflatable out of the garage after breakfast, piled in with our diesel cans and headed towards shore to explore.
Hiva Oa's only fuel station is in the harbor shore. Yes, one gas station on the entire island. We dodged a full anchorage, fast ferries and fishing boats to make it ashore. You have to pull your dinghy completely out of the water once in the harbor since there is a huge slack tide like in the English Channel. Otherwise your dinghy will be destroyed or lost. Once we put the dinghy away, we walked up only to find an empty gas station. We miscalculated our local time and had lost a day in our voyage overall, making it now Sunday in Hiva Oa. The islands of the South Pacific are thinly populated, but the inhabitants are extremely religious.
Absolutely nothing is open on Sunday in the Pacific, especially in Marquesas, which is nice when you think about it. You cannot work even if you wanted to, and in fact it's illegal to work on Sunday in Marquesas. The locals actually discourage visitors working on their boats on the day of worship. They all spend it with their families after worship, of course. Family is a big thing in the Pacific, as it should be. I think we sometimes forget about that in the US, working to make a life we want rather than living a life that works. The further we sail around the world and across the Pacific, we see people enjoying life on a tenth of the income we would consider living below poverty. Yet, they are happier than the richest person in the world. It's a simple life, full of love and joy. It's just not complicated by the commercial extras that put you indentured to the bank, jobs or treadmill of life to keep up with the Smiths. It's a small population on this Earth that found this peace. The rest of us are still looking, yours truly included. But I am making progress towards that peace. At least I hope I am. We shall see as we all meet on the race to the middle.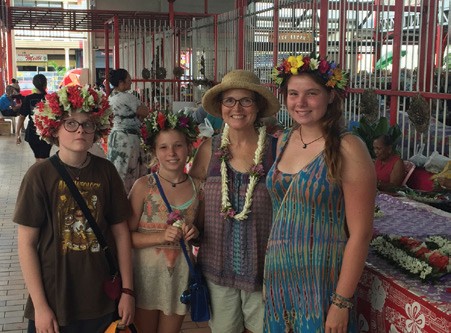 Monday, all was grand. The gas station was open and had fresh baguettes and the four grocery stores in town were open, so we could buy fuel and get resupplied.
If you're going to Hiva Oa, be sure to wear some flowers in your hair.  ©persevere60545.com
We also rented a car to explore the island. We used our Pacific Puddle Jump Duty Free Fuel certificate to get diesel tax-free (which is huge savings in the Pacific 18-20% tax on diesel). Anybody that is not European (i.e. with a EC passport) needs to use Pacific Jump to sail in the South Pacific. It will save you a small fortune in taxes and duties in French Polynesia, which includes the Marquesas. Likewise, non-Europeans are required to post a bond to travel in French Polynesia, which can be in the thousands for a family of five, where for a small fee Pacific Puddle Jump will get you a bond, tax-free fuel and a liaison to get parts and repairs. Priceless in the Pacific, and it all can be done on the web.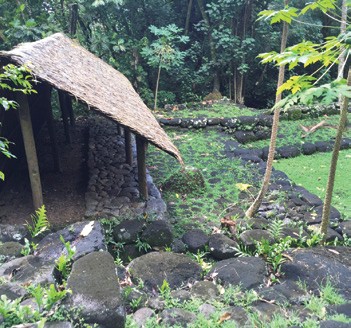 We drove all over the island, visiting several historical sites and ancient tribal tikis, One tiki was larger than a truck, which is extremely rare. It was incredible to see how the jungle has overgrown everything, and the landscapes vary around the island from thick forests to beautiful green meadows and sandy beaches, all surrounded by crystal clear water. The girls enjoyed climbing over the ruins and exporing the jungle. After a week of exploring, we moved on to Fatu Hiva. It was only a day sail, leaving in the afternoon and arriving the next morning. Fatu Hiva is the largest island of the group and the capital of Marquesas.
A jungle lean-to  © persevere60545.com
Look for updates on Persevere's journey in future issues of WindCheck. You can track the Raths' progress on their Facebook page. Colin's book, It Is What It Is, can be purchased on ColinRath.com or at any major bookstore. Look for his next book in the fall of 2017.
Previous articles from the Persevere Family Journey:
January 2015 Persevere Cruise: The Most Important Rule of Cruising: Let the Weather – Not Your Timetable – Determine the Schedule.
March 2015 Persevere Cruise: Cuba Libra!
April 2015 Persevere Cruise: Serious Fun at the St. Maarten Heineken Regatta
May 2015 Persevere Cruise: Kirk Kelly's 50th Birthday in Rincón
June 2015 Persevere Cruise: From the Persevere Log: Dominican Tree House Village
July 2015 Persevere Cruise: From the Log of Persevere: Havana – The Tale of Two Cities
August 2015 Persevere Cruise: Back to NYC
September 2015 Persevere Cruise: Transatlantic Race 2015
October 2015 Persevere Cruise: Sail On, Aspen
November/December 2015 Persevere Cruise: Europe 16: The Adventure Begins
January/February 2016 From the Log of Persevere: Bay of Biscay
March 2016 From the Log of Persevere: Into the Med
April 2016 From the Log of Persevere: One Word: Gaudi
May 2016 From the Log of Persevere: Atlantic Odyssey & Holidays in Tenerife
June 2016 From the Log of Persevere: Carnival in Martinique 
July 2016 From the Log of Persevere: Central America
August 2016 From the Log of Persevere: San Blas Islands and the Panama Canal
September 2016 From the Log of Persevere: The Lost Land of Galapagos
October 2016 From the Log of Persevere: 21 days at Sea to Marquesas