A rookie's guide to getting your first passage
By Ernie Messer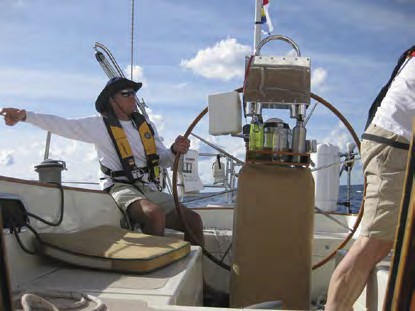 Having been involved in various Newport Bermuda and Marion Bermuda races over the years, the one question I get the most from sailors is, "How do I get a ride?
The best way, and the most likely to bring a lifelong memorable experience, is to find a boat that you think will be doing a Bermuda race in the next couple years. Offer to crew for them, demonstrate outstanding performance and dedication, and never miss a work party or practice. Regular crew almost always get the first invites to sail in the "big" races.
Prent Weathers drives Paul Kanev's Hinckley 51 Momentum
If you haven't done that, it's doable, but more involved. It's one of those "Catch 22s" – "You can't go because you haven't been!" But don't give up hope. Every year there are many boats looking for crew at the very last minute, and even more in Bermuda looking for crew for the return. It's a skipper's worst nightmare. As the race approaches one of his prize crew, or return crew, announces, "Sorry boss, I can't go!" After spending countless dollars on a carefully run program he needs someone…now! Consider the points below and you can be "that guy." I use the generic gender here, but throughout history women have sailed in Bermuda Races. Recently the Volvo Ocean Race brought to light women offshore, so don't think it's stacked against you. A skipper who needs crew is the most "equal opportunity" employer you'll ever find!
1.) Put together a "sailing resumé." It should include your age, sex, nationality, height, weight, a recent photo, and references. Mention "non-smoker," "drug free," and "low or no booze." State briefly what you do for a living, e.g. "biochemist Pfizer, Boston." Include any sailing you've done, why you want to sail back from Bermuda, your willingness to follow orders, and your awareness that it might be uncomfortable offshore. Exhibit that you're not just a "dreamer" and are aware of the occasional hardship on a small boat at sea. List any qualifications pertaining to sailing, such as the ASA courses often associated with chartering a boat. For example, asa.com/certifications/asa-101-basic-keelboat-sailing/
2.) Especially if your sailing resumé is on the light side, attend a Safety at Sea Seminar. Not only will this educate you about potential risks offshore, it will demonstrate to a prospective skipper your willingness to take the trip seriously. You'll find more information at ussailing.org/education/safety-at-sea.
3.) Post your desire to sail back on the current race web page; the Newport Bermuda Race in even-number years and the Marion Bermuda Race in odd years. While you're on the web, Google "crew waiver regatta" and find a "Crew Waiver" form. They basically say you won't sue a race organizer. Print up a similar one for the boat owner and they might be more comfortable taking a "rookie." While on the event websites, find out where you can buy race "swag" – shirts, caps, etc. They will be a great conversation starter with the people you want to talk with! Check out bermudarace.com/resources/crew-member-directory and marionbermuda.com/crew/index.php.
4.) Put together a 3 X 5 card overview with your resumé highlights and contact information. Attach these to your full resumé and also have some separate to hand out to potential skippers.
5.) Make sure your passport is up to date. You'll have trouble even getting to Bermuda without one. Read A Berth to Bermuda by John Rousmaniere (this excellent book is available at Amazon.com) and "Doin' Bermuda?" in WindCheck Magazine.
6.) Make sure your cell phone will work in Bermuda and the charges won't be outrageous. You'll need communications in Bermuda to contact perspective skippers and get calls from them.
7.) Buy a round trip airline ticket to Bermuda and secure lodging in Bermuda as near to downtown Hamilton as you can afford. If nothing else, you'll have a nice mini-vacation on one of the most beautiful places in our part of the world. Bermuda frowns on one-way tickets and will likely put you on a plane back to the U.S. if you can even get that far. Plan to arrive two to three days after the start of the race. Some boats take off right after arriving.
8.) Most high end boats won't ask, but be prepared to answer the question, "Will you chip in for expenses?" The amount of food one person consumes in four or five days is so minimal compared to the costs of preparing and racing a boat that I would be leery of any boat that was that strapped for cash. The pros doing the trip home will be getting paid, and having some help, even inexperienced, is often welcomed.
9.) Plan three or four days before the race to be at the starting venue. Roam the docks and wherever skippers might be found (i.e. bars). Be honest and straight ahead: "I'm looking for a ride back from Bermuda. Can I give you my card?" will work fine. They may not even know yet if they will need someone; crew cancellations happen all the time and often at the last moment in Bermuda.
10.) Fly to Bermuda. Pack light, but have one set of "cold gear" in case you get a ride home to New England. North of the Gulf Stream can be very cold, even in July! No hard suitcases! Bring a roll of quarters for the bus from the airport to Hamilton; much cheaper than the cab! Wear your race logo'd shirts; lots of people on the flights will be sailing back and may know of openings. Network!
11.) Roam the docks and watering holes in Bermuda. Check the bulletin boards adjacent to the yacht club bars where the racers are. See if any tickets are available for the various race parties.
12.) Enjoy yourself, talk to people, and make friends! If you don't find a ride this year, maybe you'll get invited to sail when you get back home…all good!
See you in Bermuda!
Ernie Messer has been sailing since the seventies. He is a member of the Cruising Club of America and Off Soundings Club. He and his wife have sailed New England for many years and have also raced to Bermuda frequently including three times double-handed! They sailed for 15 years on their Tartan 41 and now sail on a restored Peterson One-Ton, Valour, out of Westbrook, CT. Last Summer was spent doing the Marion Bermuda Race and return on Momentum, a Hinckley 51, then a Maine cruise. Ernie is part of a Norwegian American team competing in the 2016 Newport Bermuda Race on Cecilie Viking, an Elan 450.