By Colin Rath
Editor's note: This is the twelfth installment in a series of dispatches from the Rath family (Colin & Pam, daughters Breana, Meriel and Nerina), who departed Stamford, CT in the fall of 2014 for a worldwide cruise aboard their Hanse 545 Persevere.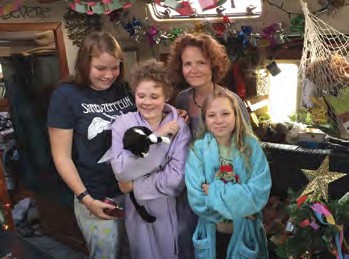 This will make our second Christmas aboard Persevere since we left in October 2014. It's amazing how time flies by. We were in Cuba last Christmas and celebrated it with Oscar and his family, and now we are in Tenerife celebrating with new friends Henri from the Atlantic Odyssey. The Christmas holidays are a very family oriented celebration there.
The girls decorated Persevere for the holidays.  © persevere60545.com
The locals have huge dinner parties with 30-plus people all over the place, setting up tables anywhere they have space or commandeering an entire sidewalk café for themselves – a very festive and friendly island full of life. But they don't celebrate Christmas in Tenerife as we do. They have Christmas of course, but the big celebration is on Three Kings day, January 5, when they exchange gifts and have a huge parade, fireworks and festival. The girls loved it, because they got a double celebration and fireworks.
Tenerife is unlike other islands we had visited. It's one of the few islands in the Atlantic that actually has a snowcapped mountain (El Teide, 3,718 meters). When it snows, the whole island takes the day off and plays outdoors – kind of fun to see. We took camel rides up the mountain and had lunch on top at a restaurant that actually cooked the food on a grill on a volcano vent. It was a huge grill, about six feet in diameter, full of chicken being cooked by hot air from the volcano. Got to love thermal energy. The island is basically volcanic rock. Definitely has a lunar feel about it, with lava fields of jagged rock as far as you could see. The land might be mostly rock, but the volcanic rock is rich with nutrients making the island extremely fertile with almost daily rain showers. The mountains provide a natural thermal to capture the trade winds and produce rain. So they actually have extensive farms and even make wine on the island. The wine was a little sweet for my taste, but they have been producing it for several generations so someone loves it.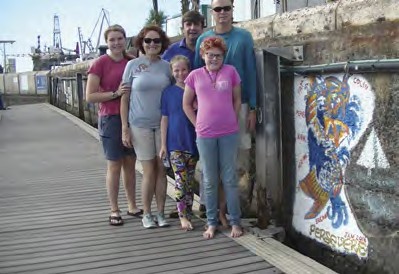 Cesar Manrique (same artist we talked about on Lanzarote) made another grand architectural exhibition in Puerto de la Cruz on Tenerife called Lake Martianez. It is a modern configuration of a dozen pools along the shore with slides, tunnels and designs made of concrete over two acres. Truly spectacular and refreshing swim. Breana took a surfing lesson there and did quite well. We spent three weeks in Tenerife before we departed for Martinique and got to see the island well on our own and on tours with Atlantic Odyssey.
Breana Rath (left) painted the Persevere logo on the harbor wall in Tenerife.   © persevere60545.com
We joined Jim Cornell's Atlantic Odyssey that had a group of nineteen boats. The rally included several local tours and parties on Tenerife and Martinique, plus a week dockage in both places, all for only 560 euros. It was a great value and it was good to be among seasoned cruisers again. The rally was extremely well managed and the girls loved having kids their age to play with for over a month. We decided to take on crew, so we asked my old friend Kirk Kelly (regular reads will remember that we went to his surprise 50th birthday party in Puerto Rico last year) and he agreed. He had to get out of town for other reasons and this was the excuse he needed. Plus sailing across the Atlantic was on his bucket list. Kirk flew in a few days prior to departure and helped with final prep of the boat and storing provisions. Breana painted the Persevere logo on the harbor wall, along with all the other boats that departed across the Atlantic from there. There was much fanfare when we departed, local press sent camera crew and participants got plaques from the city and a big sendoff party the night before.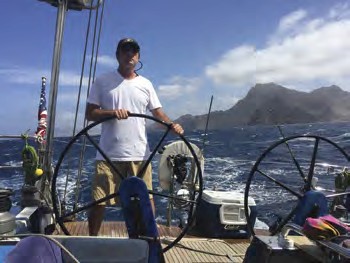 Unfortunately, the wind was not cooperating. There was only seven knots, so the start was slow and the forecast was not expected to improve until we left the wind shear of the island. This was anticipated, and rally participants discussed that Cape Verde could be a stopover if you need to be resupplied. We had 400 miles to make the decision. But as with all long distance journeys, weather can make the decision for you.
Kirk Kelly at the helm   © persevere60545.com
In our case, Hurricane Alex appeared and was coming across the Atlantic. The storm was not in our path, but when it passed across it sucked out all the trade winds that would be our fuel across the Atlantic. So, we could continue across and sit in the doldrums for three days, or go to Cape Verde and resupply, visit the island and start anew with fresh trade winds. So that is what we did.
Cape Verde was well supplied and we got to explore the island with several of the Odyssey crews that did the same stopover. On the way there, we came across a floating fish net clump surrounded by dorado and tuna. We circled it for an hour and got one of each and a few hundred other hits (the fishing line broke a few times). We could actually see fish chasing the bait, and there were swarms of 10 of them fighting for it. Really cool – never say something like that before.
After four days at Cape Verde, we set sail again in 15-20 knots of trade winds. The only bit of drama was at 3 am (Remember the 3 am rule? Everything and anything can happen after 3am on a boat, and that is when it happens) the autopilot went out. The bracket that held it unscrewed and became disengaged, so I had to remove the bracket and rebuild it from a small space in the rear of the port aft bunk. Lots of fun. It took 12 hours to rebuild and reinstall the shelf bracket. Fortunately, I had all the parts and tools to fix it. By about 3 pm the following day we were all set with autopilot back on. Other than that it was a lot of fishing, stargazing, school and of course movies at night with the crew. The wind was a constant 100 degrees off the stern and we mostly sailed with the main reefed once and jib. Seas were 5-7 feet so it was rolly, but the 9-foot keel helped a lot. This was how it was for the next 19 days until we caught sight of Martinique.
Look for updates on Persevere's journey in future issues of WindCheck, and track their progress on their Facebook page, "Persevere60545."
Previous articles from the Persevere Family Journey:
January 2015 Persevere Cruise: The Most Important Rule of Cruising: Let the Weather – Not Your Timetable – Determine the Schedule.
March 2015 Persevere Cruise: Cuba Libra!
April 2015 Persevere Cruise: Serious Fun at the St. Maarten Heineken Regatta
May 2015 Persevere Cruise: Kirk Kelly's 50th Birthday in Rincón
June 2015 Persevere Cruise: From the Persevere Log: Dominican Tree House Village
July 2015 Persevere Cruise: From the Log of Persevere: Havana – The Tale of Two Cities
August 2015 Persevere Cruise: Back to NYC
September 2015 Persevere Cruise: Transatlantic Race 2015
October 2015 Persevere Cruise: Sail On, Aspen
November/December 2015 Persevere Cruise: Europe 16: The Adventure Begins
January/February 2016 From the Log of Persevere: Bay of Biscay
March 2016 From the Log of Persevere: Into the Med
April 2016 From the Log of Persevere: One Word: Gaudi