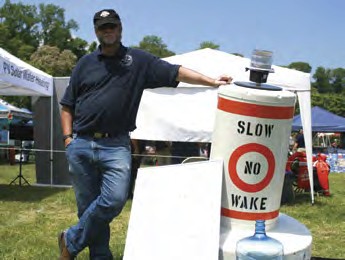 In accordance with its mission of promoting safe recreational boating, the Greater Huntington Council of Yacht and Boating Clubs will present the fourth annual Safe Boating Week from May 21 – 27, 2016. The Huntington, NY-based organization, which represents 22 clubs with boating and waterfront interests, is again partnering with the Town of Huntington, U.S. Coast Guard Auxiliary, U.S Power Squadron and other marine-related safety agencies to provide free public events related to maritime education, safety and enjoyment.
© Huntingtonsafeboatingweek.com
Huntington Safe Boating Week is one of the many services offered by the Boating Council to its members and boaters throughout Long Island. "We are proud to present this week, our classes and lectures as well as an outstanding waterfront celebration for the entire boating community of Long Island," said event chair Jackie Martin. "The event has grown rapidly in participation and support since 2013, and we are looking forward to an even better year."
The week of events includes a free eight-hour New York State Boating Safety course on May 23 & 24, courtesy vessel safety inspections by the Coast Guard Auxiliary and Power Squadron, and courses, lectures and seminars including a kayak and paddleboard safety class.
The fourth annual Waterfront Festival will be held Sunday, May 22 from 10 am to 5 pm at the Mill Dam Ball Field in Halesite. The festival features used and new marine equipment, nautical antiques, fishing gear, several boat dealers, artists, crafts, nautical home décor and amusements for children. Food and beverages, with this year's addition of wine and beer, are available on site. Area clubs and organizations will be on hand to answer questions about area boating and membership, and scheduled musical performances include an appearance by the popular Coast Guard Auxiliary Band. Free boat tours of Huntington Harbor will take place throughout the day, and police and fire rescue boats will be on display at the Mill Dam ramp. For more information about classes, boat inspections, and sponsorship and vendor opportunities, visit Huntingtonsafeboatingweek.com.