By John Field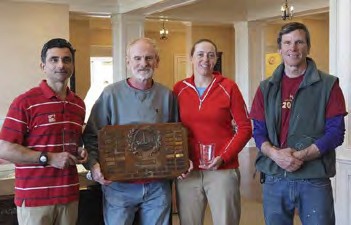 On Saturday April 16, a dozen sailors representing six different clubs competed in the Yacht Racing Association of Long Island Sound's (YRA) annual Frostbite Championship Regatta. The event was hosted by the Mamaroneck Frostbite Association (MFA) together with the Beach Point Yacht Club for the third year in a row. First held in 1954, the Championship winner is awarded the W. J. H. Dyer trophy, whose past winners include sailing legends Sutphen, Knapp and Shields, among others.
The top finishers in the 2016 YRA Frostbite Championship are (l – r) Fotis Boliakis, Dave Dellenbaugh, Clemmie Everett and Fred Treffisien.  © Jeremiah Blatz
Racing was in 9-foot Dyer Dhows provided by the MFA membership in the Outer Harbor off Beach Point in Mamaroneck, NY. The conditions were much more pleasant than frostbiters are accustomed to – sunny and warm, with a moderate and consistent easterly breeze which lightened through the afternoon. A dozen windward-leeward races were held with sailors switching boats every two races.
Over the course of 12 races, six different sailors had first place finishes and the competition was tight. The 2016 champion, Dave Dellenbaugh of Pequot Yacht Club in Southport, CT, demonstrated consistency and top finishes throughout the changing conditions. Second place went to Fred Treffeisen of Mamaroneck Frostbite Association, and third place was claimed by 2014 and '15 champion Fotis Boliakis of Riverside Yacht Club in Riverside, CT. Clemmie Everett of American Yacht Club in Rye, NY – sailing a Dyer for her first time ever! – took fourth overall and received the award for top female finisher. The awards ceremony and post-race party, held in the main clubhouse at Beach Point YC, was an elegant conclusion to the winter frostbiting season.
Founded in 1958, the Mamaroneck Frostbite Association has sailed out of Beach Point Yacht Club for over a decade and is deeply appreciative of the support the club has shown to the YRA and frostbiting on Long Island Sound. MFA has several charter boats available to encourage new and prosepective members to try frostbiting and increase participation. Visit mamaroneckfrostbite.org to learn more.