By Daniela Clark
Five years ago, in the inaugural year of the WaterViews blog, I wrote a post called 5 Reasons Your Kids Should Sail. That article was shared internationally by yacht clubs and featured by regional and national sailing media. Evidently, this is a topic of interest. But I just hit the tip of the iceberg. In my travels, I've accumulated several more reasons. Here are five qualities that true sailor kids develop that are just as significant as the original 5 Reasons: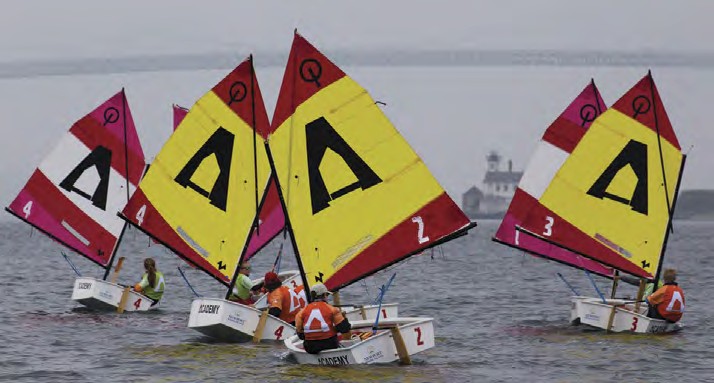 Sailing helps young people develop many traits that will serve them throughout life.   © Stephen Cloutier/PhotoGroup.us
1. Toughness. Ever spend any time at an Opti regatta on Long Island Sound in April? These kids are tough. The weather can feel like a day on the slopes, but they don't get to go in for a hot chocolate and a hamburger at lunch. They don't complain. When racing is over, they pack up their boats before heading inside to warm up and dry off.
2. Accountability. Taking the helm gives a child an accountability for his or her actions that is rarely offered before receipt of a driver's license. Recreational and racing junior sailors alike face right-of-way situations all the time and have to take responsibility for their mistakes.
3. Vision. Balancing the finer details inside the boat with the larger picture of the racecourse or channel is an important skill to hone. This balance helps in school, in business, in life.
4. Bravery. Sailor kids push their fear threshold. Most kids are scared of capsizing before they experience it. Many are scared in strong breezes. They still capsize and they still go out in rough conditions. It's the job of the instructors to control the situation, but ultimately, the kids have to overcome their fear.
5. Patience. Waiting all day for the wind to fill in at a regatta requires an amazing amount of patience. I've talked with parents who are frustrated with waiting and thinking about what else they could be doing. But the kids know the drill. Waiting for the right weather conditions is part of sailing. I'll reference an Opti regatta again, this one a two-day event with only about 90 sail-able minutes. The kids took it in stride. Would a team of 12-year-old football players act the same way?
Daniela Clark is the co-producer (with John Kantor, the founder of Longshore Sailing School in Westport, CT and Greenwich Community Sailing in Old Greenwich, CT) of the highly recommended WaterViews blog, which can be found at blog.ctnews.com/kantor/. She's also a professional marine photographer the co-owner (with her husband Allen Clark) of PhotoBoat.com.