By John Pearson, PJYC Fleet Captain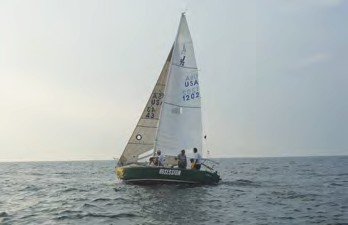 While others were trying to ski this winter, Port Jefferson Yacht Club in Port Jefferson, NY (formerly Setauket Yacht Club) was planning ways to get more young people into sailboat racing. The idea grew from the Stony Brook University sailing team, which sails out of PJYC, looking for a boat to sail after graduation.
Tufan Karaosmanoglu's J/24 Obsession is a regular participant in Port Jefferson YC's Tuesday Night Series.   © Ralph Segalowitz
The only boat we found at low cost and in large numbers is the J/24. These boats can be purchased for as little as $2,500, and with annual PJYC membership dues of only $1,750 including launch service, we think we have a winning combination.
To entice young people to race we knew we had to improve our race management. We have purchased a race committee boat and will staff it with a steady, well-trained and capable race committee crew so that racers will enjoy consistent, professionally run races throughout the season. We'll use the VHF for every start to reduce the starting confusion that new racers may experience.
As part of our racecourse upgrades, we're placing eight buoys in Long Island Sound, near shore, in an Olympic Circle. This configuration assures that races will always have a windward-leeward course regardless of wind direction. We also recognized that we needed live online access to results. We've partnered with Regatta Tech, which allows racers to pay online. Handicap race results will be posted minutes after the last boat finishes – no more going home wondering how you fared!
Lastly, we want to bring young people back to the club for the camaraderie that's such a big part of sailing. We'll video the starts to help racers understand maneuvers and analyze mistakes so they can improve as the season progresses. We'll also hand out daily first place trophies, like a glass so each winner can share a beer with their crew. Between PJYC and Port Jefferson Harbor, we have eight J/24s. If you're interested in buying a J/24, or already own one and want to join the fun, one of our seasoned boat owners will help you through the whole process. For more details, please contact me at redskyj105@gmail.com. To learn more about PJYC, visit ptjeffyc.com.