WESTPORT'S STERN AND WALKER WIN L.I. SOUND J70 CHAMPIONSHIP; MARK MCCARTHY WINS SOVEREL 33 NATIONAL CHAMPIONSHIP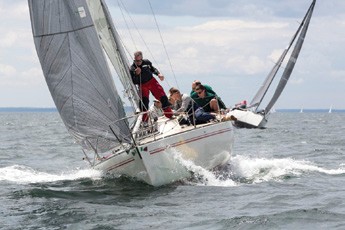 WESTPORT, CT, June 6, 2016 – Sailing teams from Maine to Texas finished strong across eight class competitions in the 2016 Cedar Point Yacht Club OneDesign Regatta, held on June 4 and 5.  Almost 500 sailors gathered to race 83 boats in the two-day event, producing one Long Island and one National class champion:
Slainte, winner of the Soverel 33 class
J70s:  Allan Stern and Bill Walker of Westport, skippering Victura, won the Long Island Sound Championship in the popular J70 sport boat class, defeating Andrew and Melissa Fisher of Greenwich in Button Fly, which came in second.
Soverel 33:  The regatta hosted the Soverel 33 class National Championship, won by G. Mark McCarthy of Westbrook, CT in Slainte, besting Darien's Tom Griffin in Mischief as well as three US Merchant Marine Academy midshipmen racing out of Kings Point, NY – Stephen Webster, Scott Johnston and Ethan Neubelt and their crews.
"Cedar Point Yacht Club was delighted to host world-class sailors from all over the United States," said John Cooke, CPYC's 2016 Race Chairman.  "Despite storms on Sunday, we had two full days of racing, a tribute to the skills of our Principal Race Officers Dick Thackaberry and Rich Gold, both CPYC members, and scores of other volunteers and supporters. Thank you to all who helped to make this regatta a success."
Results for the other six classes, and special awards:
Atlantics:  Westport residents took two of the three top spots in the Atlantic class, a fleet that has been a mainstay at CPYC for more than half a century.  Westporters Scott Reichhelm and Ron Marsilio came in first and third respectively.  Mark Foster of Southport was second.
Etchells:  International sailing competitor Ched Proctor, a CPYC member from Southport, and his son Charlie won the Etchell class, followed by Kevin Grainger of Rye, Michael Gavin of Westport and Steve Girling of Westport.
J105s:  Paul Beaudin of New York was first among the J105 class, followed by David Willis of Huntington, NY.  George and Alex Wilbanks of Westport were fourth.
J109s:  David Rosow of Southport finished first in the J109s, followed by Bill Sweetser of Annapolis, MD and Carl Olsson of New Rochelle.
Beneteau First 36.7:  William Purdy of NYC won in his Beneteau First 36.7, the largest boats in the regatta, followed by Alistair Duke of Wilton.  William and his boat, Whirlwind, won this year's Rex Marine Trophy for the Best Overall Performance in the regatta.
J88s:  Iris Vogel of New Rochelle won the J88 class, followed by Mike Bruno of Armonk.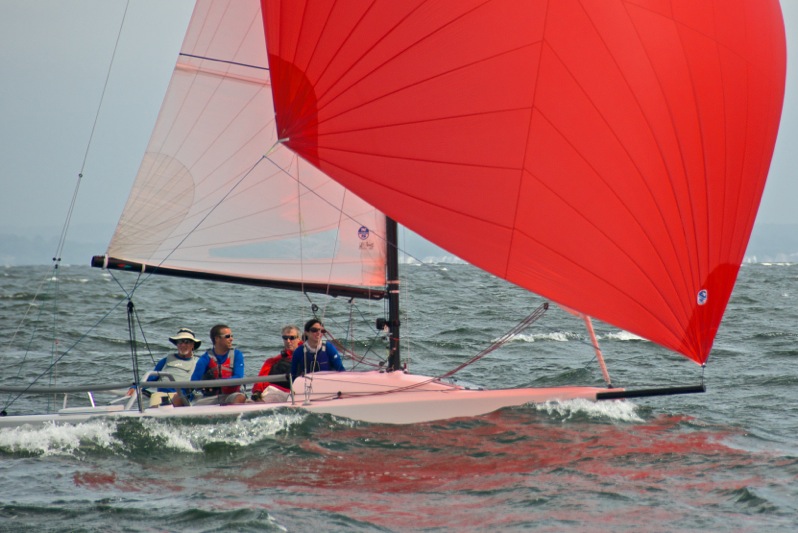 CPYC encourages amateur sailors and gives a special Corinthian Team honor to those who race non-professionally.  Nine of the 17 J70 teams qualified as Corinthian, and the winners were Andrew and Melissa Fisher of Greenwich (LEFT), followed by CPYC member Trevor Roach of Darien and Carrie and Ed Austin of Ridgewood, NJ.
For complete results: http://www.yachtscoring.com/event_results_cumulative.cfm?eID=1568
The 2016 regatta is presented by North Sails, Title Sponsor, as well as these valued sponsors:  Fairfield County Bank, Dragone's Auctions, Stew Leonard's, Coral Reef Sailing Apparel, Landfall Navigation, Gill, McMichael Yacht Brokers, and Black Rock Yacht & Athletic Club.  Support is also provided by Community Partners Rex & Cove Marine, Save the Sound, David's Cookies, Arthur Schuman, Gowrie Group and Harken.
Sailors for the Sea attended to help CPYC run a "clean regatta."  Clean Regattas is a certification system that enables sailors to protect local waters with 25 Best Practices that make sustainability approachable and easy.  This program is an effort by Sailors for the Sea raising the bar for environmental sustainability and ocean health around the world.
"We are thrilled that CPYC is committed to serving as a model for responsible sailing," said Robyn Albritton, Sustainability Director, Sailors for the Sea. "Working with the regatta, Sailors for the Sea helped CPYC to foster conservation efforts and ocean-friendly behavior."
Video highlights from the weekend are available from T2PTV at https://t2p.tv/cms/