By Joy Sherman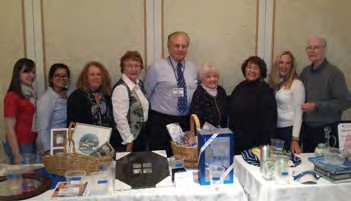 With new board members elected for 2016, Singles Under Sail Club is ramping up its summer boating and social calendar. SUS has been in operation since 1987, with the mission of bringing single people with an interest in boating and sailing together, and providing opportunities to share those activities.
Singles Under Sail members hosting a fundraiser for the Leukemia & Lymphoma Society   © singlesundersail.org
The new board members include Vice Commodore Teresa Nilla, President Rick Takatsch, Director of Sailing Events Lynda Cesiro, Director of Public Relations Joy Sherman, Director of Special Events Cherie Flavin, and Director of Skippers Michael Smith. Returning board members are Commodore Peter Luciano, Treasurer Chip Munk, Secretary Joanna Romersa, Membership Co-Chairs Leisa Bell and Ginny Cameron, Education Director Tom Zagaroli, Programs Director Terry Cotterall Lagana, Newsletter Editor Melissa Donovan, and Special Events Assistant Director Marie Cunliffe.
SUS is a great club for sailing opportunities, and it's getting better every year. This year we've implemented a new interactive calendar on the website, through which crew and skippers can connect directly for sailing opportunities. Our upcoming social and sailing events include an Independence Day weekend party at the picturesque and friendly Echo Bay Yacht Club in New Rochelle, NY, and a 9-day Westerly Cruise to Upper and Lower New York Harbor. There are many overnight weekend Sailaways planned, along with a 9-day Easterly Cruise to historic Mystic Seaport. If you're not sure about overnights, there are lots of opportunities for members to experience day or evening sails all summer long. There are many terrific skippers, with boats from 16 to 50 feet.
One of the requirements of SUS that sets us apart from other sailing clubs for singles is you must obtain your Safe Boating Certificate within your first year of membership in order to remain a member. This ensures the club remains focused on its number one goal of bringing people together for sailing. When winter comes along, we continue with many social activities such as house parties and theme dances. Many members plan sailing trips to the Caribbean, or travel to other non-sailing destinations. Last winter, many members went to Mystic Seaport's Ships, Clocks & Stars exhibit.
If you're a boat owner who has been challenged to find crew during the summer, SUS is a fantastic way to meet experienced crew who (by the way) are eager to help get your vessel ready for the season! If you're without a boat but love to sail or have always wanted to learn, there are many opportunities to meet the skippers and get out on the water. Here's what some members are saying:
Lynda – SUS has been a lifesaver (yes, pun intended) that afforded this single girl the opportunity to sail the ships of the rich and (not so) famous of Long Island's Gold Coast. Not only do I not own a boat, I didn't even know my stern from my bow. This past winter, I sailed with SUS members in the Abacos.
Ginny – I joined Singles Under Sail 10 years ago, and this club has changed my life. I had no previous experience, and sailing has enriched my life. I have met wonderful people and made dear friends.  
Peter – From the beginning, I found in SUS a group of friendly fellow boaters who were there for me in a time of need. That relationship has matured over time, and SUS offers me available crew and I offer opportunities to sail on my sailboat La Buona Vita. This relationship is key to our club's success. I have been Lead Skipper as well as Commodore – my way of giving back.
SUS President Rick Takatsch – When I joined SUS over five years ago, I was newly divorced and recently moved to Fairfield County, and a boat owner looking for crew. I found SUS members to be very friendly and the skippers very helpful to find dockage for my boat. Very quickly I felt like I was part of a new family. There were many sailing events to keep me out on the water, and a nice amount of social events. After a few years, I joined the board as Director of Skippers and helped get the club back to cruising to New York Harbor and the Hudson River as well as our easterly destinations. After two years, I became President of this wonderful club. We are making changes to give the club a fresh look while continuing our focus on fun sailing events with a good mix of social events. 
SUS meets from January through November on the third Thursday of the month for excellent speaker programs. April through October, we meet on the first Thursday of the month for a social meeting, including educational and fun activities related to sailing. You can find SUS at singlesundersail.org, on our Facebook page, and at Meetup. The SUS voicemail is 203-847-3456.
Joy Sherman learned to sail and drive powerboats at age 7, and spent time as a child living aboard her father's 60-foot wooden powerboat in the Bahamas and Miami. While studying photography at Rhode Island School of Design, she paid for photo supplies by restoring wooden sailboats at a nearby marina. After college, she worked aboard large luxury yachts as a stewardess, chef and first mate. After securing her USCG Master 100-ton license, she purchased Hado, a Pearson Alberg and started Joyride Charters in Westbrook, CT (joyridecharters.com). Joyride Charters has been introducing folks to sailing through private charters and lessons for over ten years. Joy has sailed thousands of miles on many different sailing vessels, and is a member of Singles Under Sail and Corinthians Sailing Club.