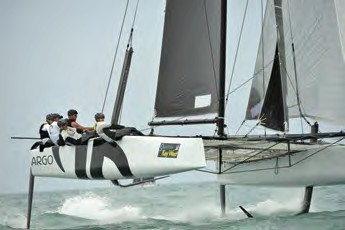 The Storm Trysail Club has announced that the next edition of Quantum Key West Race Week will be sailed January 15 – 20, 2017 in Key West, FL. This will be the 30th Anniversary edition of this international midwinter classic regatta that this year attracted 130 teams from 16 countries.
© Allen Clark/PhotoBoat.com
"Our competitors and sponsors were extremely happy with how we managed the regatta this past January, even in our first year," said Event Chairman John Fisher. "We had many challenges, such as the very windy weather for a few days during the event, but all our feedback has been positive."
"We are always open to constructive input from our classes and the racers they represent," said Dick Neville, Race Committee Chairman at the Storm Trysail Club. "With their input and our own observations, we felt there were many new innovations we introduced that helped increase the entries from previous years, so we intend to keep these in place but also improve on what we learned.
Storm Trysail Commodore Lee Reichart said, "Key West Race Week was a tremendous challenge to organize for the first time, but it was also very satisfying for the great value we feel we delivered to our participants and our supporters. We are extremely grateful to all our sponsors, especially Quantum Sails and the Keys Tourism Development Council, and among our participants everyone we have spoken with wants to come back."
"This regatta attracts some of the best teams and produces some of the highest caliber racing in the world," said US Sailing's 2015 Rolex Yachtsman of the Year Steve Benjamin, who competed in 2016 on the TP52 SPOOKIE that he and his wife Heidi own. "We come every year and know we will have a fantastic week of competition on the water and great camaraderie off the water. Key West is the complete package." For more information about Quantum Key West 2017 and results, photos and videos from previous years, visit keywestraceweek.com.