By Ed Austin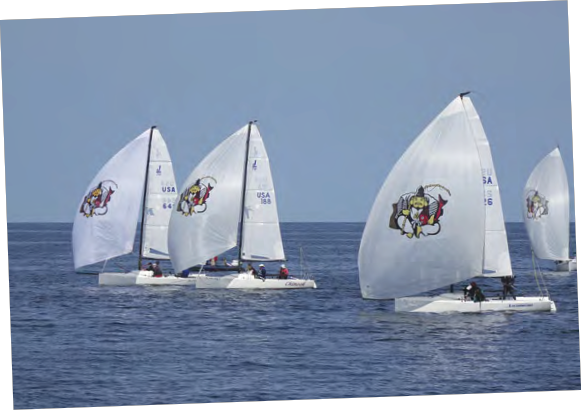 Saturday, April 23 marked the official kick-off of the 2016 sailing season on Western Long Island Sound with the start of the American Yacht Club Spring Series, a yearly two-weekend regatta held on two racecourses for a variety of IRC, PHRF and One-Design boats. For racers, this event signals the de facto start of spring and a great way to shake off the winter cobwebs, and for one-design sailors returning from the winter regatta circuit down south, a warm welcome home.
These identical spinnakers, emblazoned with the Japanese god of fishermen and luck, flew on Reggie Imamura Day in remembrance of a man who valued fun, family and open participation above all.   © Alex Hu
Conditions were somewhat atypical for April, ranging from warm and still to cold and breezy, sometimes within the same race. Wind shifts frequently exceeded 20 degrees with early season northerlies battling the prevailing southerly, creating holes of extreme stillness and big payoffs for those who made the right calls and managed to stay in phase.
For the J/70 fleet, this year's Spring Series was particularly special. In February, J/70 Fleet 15 lost one of its early members, Reginald Imamura from Larchmont Yacht Club, to pancreatic cancer. Reggie joined Fleet 15 in mid-2013 shortly after the J/70 was introduced, with his hull #324 named Ebisu, after the Japanese god of luck.
Reggie caught the sailing bug as a child on the North Carolina coast. He moved to Larchmont in 2008 with his wife Lisa, daughters Natalie and Sophie and a J/24, also named Ebisu, that he ultimately donated to a New York City community sailing program for underprivileged kids. Reggie embodied the best virtues of yachtsmanship, using the principles and universalities of sailing – forethought, prudence, tradition and science – in all aspects of his roles as husband, father and mentor to many he touched. He left lasting contributions to the Fleet, LYC and the community as a promoter of the sport who valued fun, family and open participation above all.
Though many may not have known Reggie personally, his spinnaker emblazoned with a vibrant image of Ebisu was a fixture on the Sound at almost every race. So, to celebrate his life and contributions to the community, a fellow club and fleet member donated a dozen new spinnakers with the Ebisu graphic to members of the fleet to fly in tribute on the second weekend of the Spring Series. This spectacle, surely the first of its kind on the Sound, was at the center of Reggie Imamura Day on April 30, which included events at Larchmont Yacht Club and American Yacht Club, a newly formed perpetual trophy for the J/70 class recognizing family sailing, and a fundraiser for pancreatic cancer research and support that raised nearly $15,000.
While Reggie Imamura Day was a one time occasion, his memory and the memory of all sailors we've lost who have contributed to the community will live on in those spinnakers we will see flying up and down the Sound in the coming months.
Skippers and boats that flew the Ebisu spinnakers:
Natalie Imamura, Ebisu #324
Mike Zupon, Loki #97
Trevor Roach, Semi-Charmed #395
Molly Baxter, Team vineyard vines #901
Scott Bursor, Slinky #392
Ernest Bourassa, Althea #646
Sandy Weil, Ice Nine #644
Drew Shea, Shake 'n' Bake #67
Andrew Morgan, Billy Whizz #319
Daan Goedkoop, Locomotion #226
Ed Austin, Chinook #188
Bill Walker, Victura #404
Ed Austin of Ridgewood, NJ is the Fleet Captain of J/70 Fleet 15 Western Long Island Sound.