By Mike Gehrling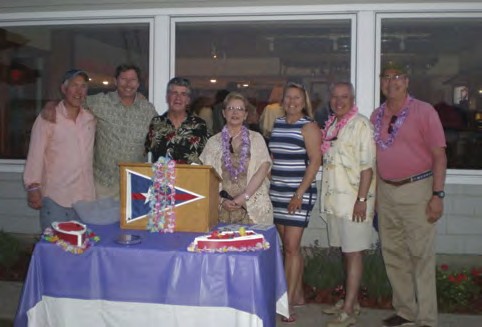 Sagamore Yacht Club, Oakcliff Sailing and the Alzheimer's Disease Resource Center (ADRC) have set plans in motion to expand this year's Alzheimer's Regatta & Awards dinner. New for this year will be the addition of the Sagamore Rowers, who will compete in a turn and burn relay race in addition to our sailing regatta and paddling for poker event for kayaks and paddle boarders. Also new this year is the opportunity for skippers to enhance their PHRF ratings based on the donations their boats collect.
Pictured at last year's Alzheimer's Regatta are (l – r) SYC Past Commodore Darren Martin, Commodore Mike Gehrling, Paul Amundson, Mary Ann Malack-Ragona, Executive Director of the Alzheimer's Disease Resource Center, Dawn Riley, Executive Director of Oakcliff Sailing, Tony Miraglia and Roger Paisley.
The Alzheimer's Regatta was started four years ago by sailor Paul Amundson, who brought the idea to me when I was the Commodore of Sagamore Yacht Club. Paul's wife Laurene was diagnosed with young onset Alzheimer's disease at the age of 64, and Paul asked the club's board members to consider doing a regatta event to create awareness about Alzheimer's and help raise much needed funds for ADRC, a local health & human services agency that is caring for thousands of families who are coping with a diagnosis of dementia and/or Alzheimer's disease. ADRC provides care and consultation, information and referral, support groups, training, and safety services products in addition to supporting local research for Alzheimer's disease. Through the initial planning process, Dawn Riley, Executive Director of Oakcliff Sailing, was approached for assistance and she agreed to collaborate with Sagamore in an effort to create a successful event.
This year's Alzheimer's Regatta is scheduled for Saturday, July 16. The event kicks off with the Rowers Relay Race from 9:00 am to 11:00 am, launching from Beekman Beach. The Regatta begins with a Captain's meeting at 11:00 am at the Sagamore Yacht Club, with a 1:00 pm start time. At 2:00 pm, Master rowers, kayakers and paddle boarders launch from Beekman Beach to compete in the annual Paddling for Poker event. There is no entry fee for any of the day's events. Participants are asked to secure sponsors for their efforts, and those raising $100 or more will be admitted to the Awards Dinner with no fee.
This year's Awards Dinner will feature a Hawaiian luau complete with a pig roast, Hawaiian dancers and a Samoan fire eater. Music by DJ Stu Kwan & SK Entertainment, a silent auction and raffles will round out the evening's events.
For more information about the Alzheimer's Regatta, please visit us at adrcinc.org and click on the Alzheimer's Regatta link, or call 1-855-732-4500, extension 306. Join us in our vision of A Future Free From Alzheimer's!