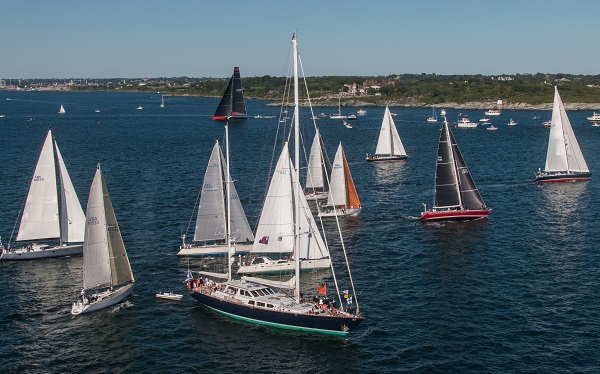 Racing in the 50th Thrash to the Onion Patch got underway Friday, June 17, 2016. Up until mid-week the race looked to be the second or third largest in history. Then the weather forecasts began predicting gales in and below the Gulf Stream. Following the weather briefing on Thursday night boats began withdrawing from the race. Finally 47 boats that had entered decided not to race. That brought the total from 184 on Monday to 142.
 © Daniel Forster/PPL
We'll post updates below through the finish.
Newport Bermuda: Challenge and Variety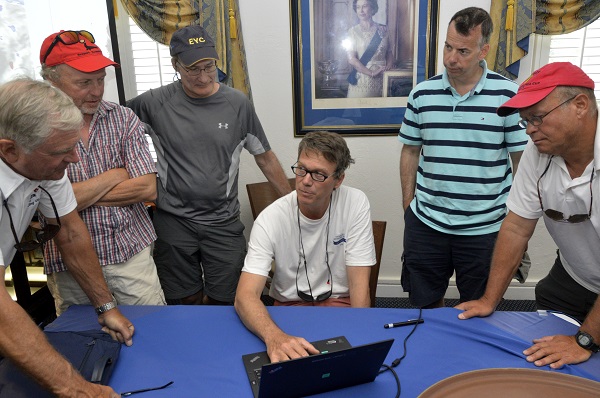 By John Rousmaniere, Newport RI: June 23, 2016— The Newport Bermuda Race has long been well known for the variety of the challenges it throws at sailors.  Sometimes there are calms, at other times storms, often there's overcast, and occasionally there is the distraction of a stunningly beautiful night.
H L Devore, navigator on the St David's Lighthouse trophy winning yacht WARROR WON, shares computer weather and Gulf Stream data with other navigators Photo Barry Pickthall/PP
This year, a full moon rose over the fleet with such brilliance that one sailor (Bermuda Race Organizing Committee Chairman A.J. Evans, sailing in Vamp) took a break from his steering and sail-trimming duties to send out an email at 2 o'clock one morning saying, "Spectacular evening of sailing here on a gentle sea with a decent breeze under a full moon and stars."
The sea is not always so pleasant. When weather forecasters predicted before the start on June 17 that the entries would be battered by brutal storms, 50 crews dropped out, leaving 133 boats start the race off Newport, RI, on June 17.  The grim forecast turned out to be correct, but only in the far eastern part of the race course. The few boats sailing there survived the 45-knot winds with discomfort but no reported damage, and sailed on to Bermuda.
The crews were also resilient as well as creative in the strategies they chose to deal with the race's other challenges. The 100-foot sloop Comanche, in the race's Open Division, set out to break the 635-Newport-Bermuda sailing speed record. The intricate course chosen by navigator Stan Honey to find favorable wind and avoid unfavorable current led to a speed record of 34hrs 42min 53sec, for an average speed of 18 knots.
Well astern of Comanche, boats in the race's four other divisions managed the typical rough Gulf Stream waters, and then dealt with a cold eddy, a large pool of swirling cool water, that forecasters had predicted would provide a favorable boost of current toward Bermuda. Some navigators intentionally sailed their boats into the eddy. Others who believed this was too good to be true kept their distance—correctly, it turned out. The eddy had shifted position and the boats in it were set back, not forward.  There were more surprises all the way to the island. "I've sailed many Bermuda Races," said Brad Willauer, in the Cruiser Division entry Breezing Up with a family crew, "but I don't recall ever sailing one when we didn't get a push from a favorable current."
The boat in the St. David's Lighthouse Division that came out best in these perplexing conditions was Warrior Won, a 44-foot sloop.  Her hard-working navigator H.L. Devore, set a course miles east of the eddy, going so far as to sail at right angles to the rhumb line to Bermuda in order to get farther away.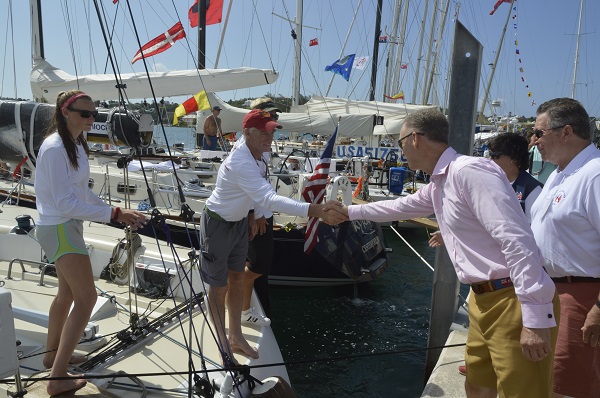 Obsessively checking the weather forecasts—Devore claimed he did 200 downloads to Warrior Won's computer in two days—Devore and his shipmates neared Bermuda with a light following wind in a pack of six similarly sized boats, all of them jibing aggressively down the course to St. David's Head as though they were small boats racing for an Olympic gold medal.
His Excellency, the Governor of Bermuda, George Fergusson meeting Peter Becker, skipper of HIGH NOON, and his daughter Carina during the Governor's tour of the RBYC dock today. . Photo Barry Pickthall/PPL
The first boat to finish in this group (and the second in the race after Comanche) was the 41-foot sloop High Noon, with a crew of seven well-trained teenagers and three adults. Warrior Won finished close enough behind for her time allowance to bring her ahead of High Noon and win the division.
These changing forecasts and conditions affected the other four divisions, too. In the Double-Handed Division, Zachery Lee and his crew Gus Stringos felt some pressure not to enter Yankee Girl, a Morris Justine 36  sloop, but they did start under an agreement that should conditions become threatening, they would turn back.  They went hunting for the cold eddy, but the wind did not cooperate and so they sailed to Bermuda within 30 miles of the rhumb line, mostly reaching and running, and with some interesting company. "There were a lot of nice spottings of whales, porpoises, and birds," Lee recalled after the race. "A Minke whale came up alongside and swam with the boat."
But their AIS (automatic identification system, required in Double-Handed boats) tracked opponents' positions and maneuvers as they ran before the wind to the finish. Lee hand-steered though all but one of the last 24 hours of the race.  When Lee later told a visitor, "I'd like to attribute my success to a good crew and lots of luck," what went unstated was the power of aggressive sailing tactics.
The Cruiser Division's name suggests that these boats are sailed in a more relaxed way than the others.  In some ways that is true. "I don't like beating to Bermuda," said Brad Willauer. "Nobody does." As the 44-foot yawl Inisharon neared Bermuda on the last night of their race, crewmember Mark D'Arcy posted the night's menu: "Tonight, chicken and rice for dinner washed down with a lovely vintage of sports drink topped off with some butterscotch cookies.  What more could one need?"  And yet D'Arcy later wrote, "We are approaching Bermuda and as other boats converge our angles of approach will continue to get narrower and we will once again see boats which will be an exciting sight.  Currently, we have a competitor on our tail, and hope we can keep them there."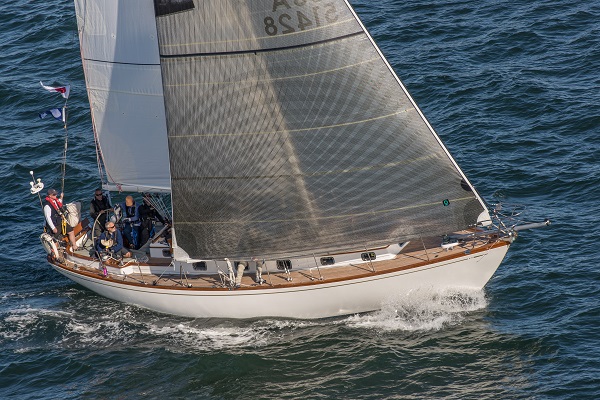 The division winner, which avoided the eddy, was the Mason 43 Shearwater, a powerful, heavy boat that, to judge by reports, was raced as hard as the high-performance entries.
SHEARWATER a Mason 43 skippered by  Daniel Biemesderfer  from Stonington Harbor YC  looks set to win the cruiser division Photo Daniel Forster/PPL
The oldest boats in the fleet, at least in design, were in the Spirit of Tradition Division. Until this year, the replica Bermuda "sloop" Spirit of Bermuda has not had any competition in Bermuda Races.  But this year America, a semi-replica of the yacht whose name is on the America's Cup, came around from San Diego and entered the race against her along with a superyacht, Altair, and a cat-rigged schooner, Farfarer. The sight of these yachts on one starting line was entrancing. Spirit of Bermuda went on to win the race.
Re-run the Race
Virtual spectators can watch the race unfold as their favorite yachts, skippers, or crewmembers in this 635-mile ocean classic tack and gybe their way through the Gulf Stream and hunt for the wind in the 'happy valley' north of Bermuda. All boats in the 2016 fleet have been tracked by YB satellite trackers as live as it can be on Pantaenius Race Tracking — www.pantaenius.com/NBRtracking.
Event Website: http://bermudarace.com/
Newport Bermuda – Fleet's in. WARRIOR ONE leads
By Talbot Wilson and John Rousmaniere, June 22, 2016— Based on Wednesday's provisional results, Warrior Won, the Xp44 skippered by Christopher Sheehan out of Larchmont YC has emerged as the St David's Lighthouse winner for the 50th  Newport Bermuda Race. She finished Tuesday morning at 10:10:25 and her corrected time was 70:40:03.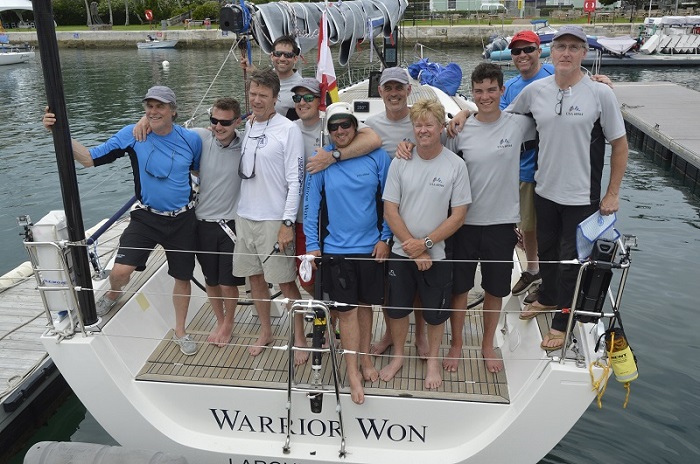 Provisional St David's Lighthouse winners! The crew of the second finisher, the Xp44 Warrier Won, 2nd on elapsed time. From left to right: Roland Schulz, Ryan Zupon, HL Devore (Navigator), Andres de Lasa, Peter Carpenter, Chris Simon, Chris Sheehan (Skipper) Paul 'Whirly' van Dyke (Watch Capt) Jost Olan, Carter Hollida, & Doug Lynn (Watch Capt.) Photo Barry Pickthall/PPL
The St. David's Light House Trophy goes to the corrected time winner of the largest division. This year Warrior Won defeated 70 boats vying for the silver lighthouse replica. Only amateurs are allowed to drive the boats in the St. David's Lighthouse Division
Second place in the St. David's Lighthouse Division goes to the little Cal 40, Flyer, owned by Douglas Abbott. She finished Wednesday morning at 7:20:24 with a corrected time of 71:33:05. High Noon, the first 'Traditional' boat to finish, came third on corrected time.
The Double Handed Division leader by mid-afternoon was Yankee Girl, a Morris Justine 36 co-skippered by Zachary Lee and Gust Stringos. Standing second was Jeroboam, Jonathan Green's Oceanis 351.
The Cruiser Division leader was Shearwater in Class 12. She's a Mason 43 skippered by Daniel Biemesderfer. Eight of her class-mates were still racing, but expected in by 20:00 Wednesday.
The Gibbs Hill Lighthouse Trophy will not be awarded. All seven  boats in the Gibbs Hill Division decided not to start because of wind and weather concerns. The Gibbs Hill Division allow unlimited professionals aboard.
Click here for provisional RESULTS
Juniors on High Noon take 'Traditional' line honours
By Talbot Wilson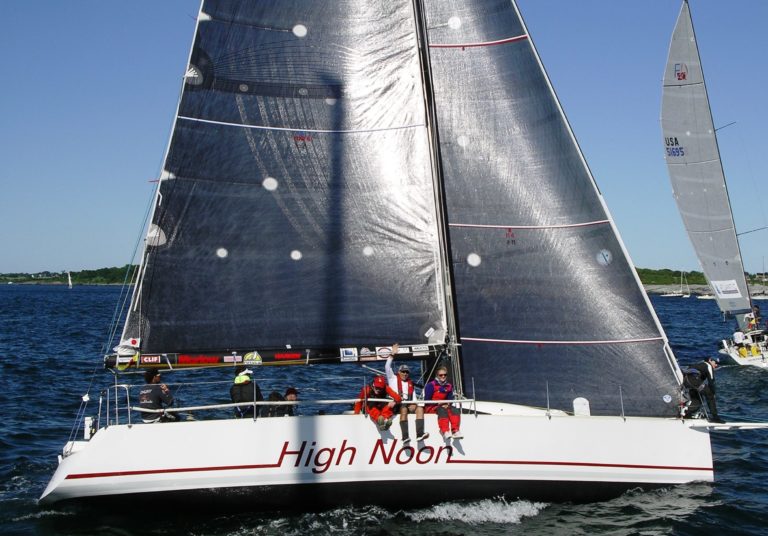 Dateline- Hamilton, Bermuda: June 21, 2016 — High Noon has captured 'Traditional' line honours in the combined St David's & Gibbs Hill Lighthouse Divisions in the 2016 Newport Bermuda Race. This is an amazing accomplishment for the Young American Junior Big Boat Sailing Team from American Yacht Club (Rye, NY). They sailed High Noon, a Tripp 41 on loan from US Merchant Marine Academy Sailing Foundation, across the finish line at 9:07:05 EDT.
High Noon started the race with her young crew riding the rail. Photo Courtesy John Rousmaniere
High Noon was the second boat in the fleet to finish overall. Comanche, Jim and Kristy Hinze Clark's 100-footer, smashed the Open record when she finished at 4:22:53 EDT on Sunday breaking the elapsed time record with a professional crew. High Noon sailed in the St. David's Lighthouse Division, Class 10 with a mostly amateur crew of seven young sailors ranging in age from 15 to 18 along with three adults. She is the second smallest boat to take line honors… smallest was Thomas Fleming Days 38 footer Tamerlane.
"This Bermuda Race was the culmination of at least three years of work by these juniors," said Peter Becker, one of the project's leaders. "First they did overnight distance races, then weekend races, and then they looked for opportunities to sail offshore."
High Noon is in line to win the St. David's Lighthouse for the best corrected time in her division and four other major prizes, at least, including the first Stephens Brothers Youth Division Prize.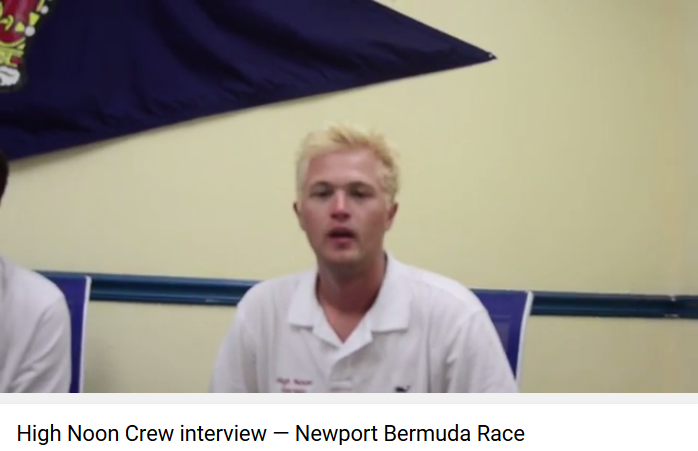 It's High Noon for the Last Sprint by a Surprisingly Young Crew
As the fleet rushes to the finish line on Monday night, a boat with a crew of youth sailors stood first on corrected time in the St. David's Lighthouse Division and fourth in the fleet on elapsed time. This surprising boat, High Noon, was expected to finish early Tuesday.
The Tripp 41 was loaned by her owners, Steve and Heidi Benjamin, to the Young American Junior Big Boat Sailing Team, at American Yacht Club (Rye, NY). "This Bermuda Race will be the culmination of at least three years of work by these juniors," said Peter Becker, one of the project's leaders. "First they did overnight distance races, then weekend races, and then they looked for opportunities to sail offshore."
The young sailors underwent hands-on safety training and worked closely with the navigator, skipper, and watch captains to gain experience in leadership roles. Some of the sailors helped deliver boats home from Bermuda and Hawaii. They are committed to the project, and so are their mentors. "I've sailed 16 Bermuda Races," Becker said. "My first race was when I was 15 or 16. I was the kid on the boat, up on the bow changing sails. I'm trying to give these kids the same passion and experience I was exposed to when I was young and sailing with older sailors. Every junior on the boat is there because they're competitive and they want to win the race."
But it's not all about winning, said Becker. "The kids are resonating with this. They love big boats. It's challenging, it's social, and it's really inspiring. You get out there and you see the stars overhead and you think, 'the land is really far away.'"
Monday, June 20 – Punching Through the Stream, the Pack Nears Bermuda
By John Rousmaniere. When dawn blessed Bermuda on Monday, Comanche was still a very lonely yacht in the Royal Bermuda Yacht Club marina a full day after the 100-footer's crew, led by Kenny Read with navigator Stan Honey, broke the course record by nearly 5 hours.
The Pantaenius Tracker shows the Hubbard family's Reichel Pugh 57 Siren as leading a tight clump of boats in the second-to-finish race, some 150 miles from the finish off St. David's Lighthouse as they enter the long forecast southwest breeze that, after days of sailing  off the wind, will provide a traditional Bermuda Race beat upwind to the finish.
The Gulf Stream crossing has been bouncy for some boats, but it has not been the universal nightmare that some had anticipated back at Newport. "Fantastic ride!," H.L. Devore reported late Sunday morning from his navigator's station in Warrior Won, Christopher Sheehan's X44. "Gorgeous sunny days, porpoises, sailing and friends, what more could you ask for?  We're in the Gulf Stream. 420 miles to go before Dark'n Stormies in Bermuda!! . . . Had a nice dinner of steak and rice tonight."
Mark D'Arcy posted two reports on Sunday from the F&C 44 Inisharon, in the Cruiser Division: "The wind has filled in, sun is out and we have passed our entrance waypoint to the Gulf Stream.  It is a gorgeous day with lots of beautiful boats around us all doing the very same."
Later Sunday night, Mark told us:  "We have punched through the Gulf Stream and now in smoother water.  The Gulf Stream was a confused sea, but beautiful sailing with consistent breeze around 12-15kts, Inisharon's sweet spot. Got the crew on the rail, and everyone is very focused on logging the miles."
Mark added, "The stream was far less problematic than what was being discussed through the week. White caps, 5-10 feet waves and very easily manageable. Forecasts are just that and with the weather moving around a lot it is difficult to judge.  Nevertheless, it has proved to be delightful sailing. . . . Another beautiful sunset, weather and conditions have been super."
"We'll just be older"
For some crews, the biggest problem with the Gulf Stream has been getting into it. A frustrated Chris Museler, in the Swan 44 Aura, emailed us at 1:40 AM Monday after he had a look at data showing wind direction and strength, a reliable profile of area weather. "Hello again John!" Chris wrote with his usual enthusiasm. "The latest GRIB files show a much bigger high we are sitting in than previously thought.  I asked navigator Frank Bohlen if he's concerned if and how we are going to get to the Stream since we are moving at less than 1 knot. He said yes. Then I asked, 'Can we get there at this rate?' He replied, 'Sure, we'll just be older when we get there.'"
Monday Morning Call in from AJ Evans, Newport Bermuda Race Chair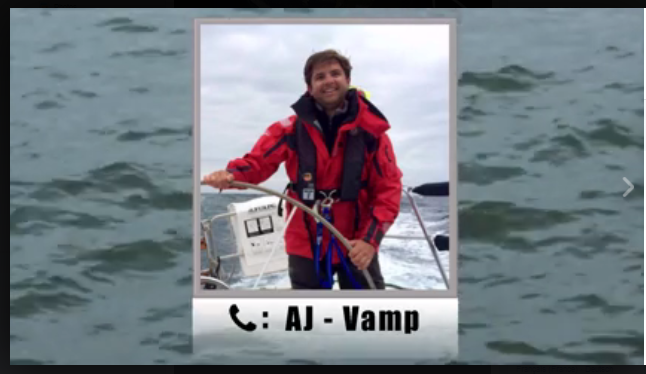 We did a profile of AJ this spring – it can be viewed here.
Comanche chops hours from Newport Bermuda line honours record
By Talbot Wilson
June 19, 2016— Comanche has set a Newport Bermuda Race record celebrating her line honours victory in the 50th Thrash to the Onion Patch, Newport Bermuda 2016. Jim and Kristy Hinze Clark's 100 foot screamer, skippered by Ken Read, crossed the line off St. David's Lighthouse at 4:22:53 EDT. Here elapsed time is a provisional 34hrs 42min 53sec, almost five hours ahead of the previous 39:39:18 set in 2012 by George David in Rambler.
The next closest boat is Maximizer, a Farr 72, which now has an ETA of 17:48 tomorrow, June 20.
Follow the Fleet:
Livestream – Live streaming and daily updates 10AM EDT, and at 12, 2, and 5PM daily
Event Website: http://bermudarace.com/
Social Media #Bermudarace
Instagram: BermudaRace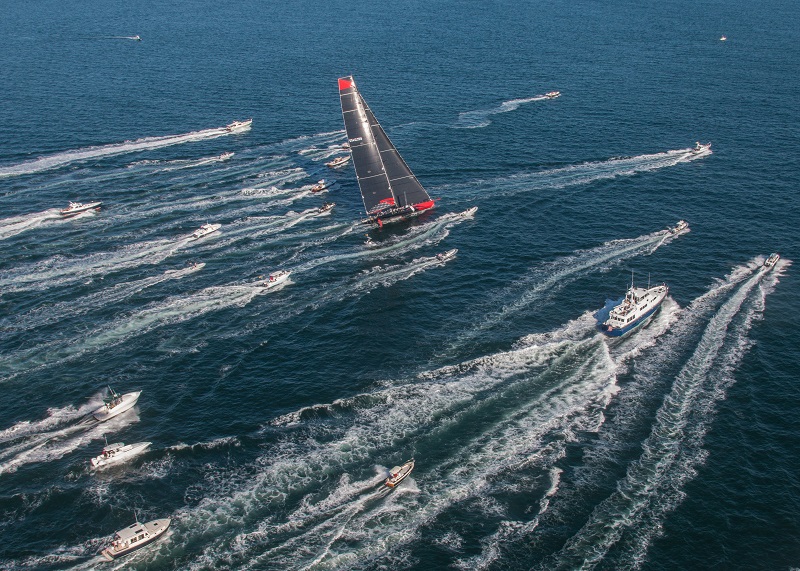 In his morning briefing to the fleet, Chairman AJ Evans told the skippers that Commanders Weather advised and the committee suggests that if skippers decided to withdraw after starting they should decide before entering the Gulf Stream. He emphasized once again that the decision to race is the responsibility of the yacht's person in charge.
The 100-foot Comanche took off in the last start, the Open Division, and drew a crowd of press boats at the beginning of her record-breaking attempt. The record of 39hr 39min 18sec was set by the 88-foot Rambler in 2012.  © Daniel Forster/PPL