By Colin Rath
Editor's note: This is the thirteenth installment in a series of dispatches from the Rath family (Colin & Pam, daughters Breana, Meriel and Nerina), who departed Stamford, CT in the fall of 2014 for a worldwide cruise aboard their Hanse 545 Persevere. You'll find previous articles at linked below.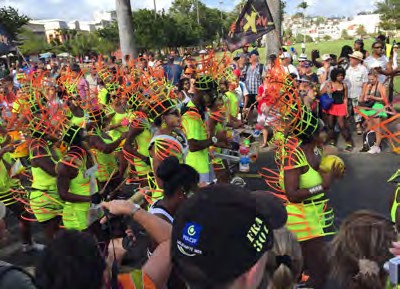 We arrived in Martinique at 4 am and decided to head into the marina. We were advised not to do this since the harbor is full of sandbars and reefs, but the girls had had enough of the choppy seas and wanted to sleep motionless for once. We entered very slowly, and with the aid of GPS docking was semi-easily achieved. We could see the shells of other boats that were not as successful.
Just a few of the many costumed Carnival performers. © persevere60545.com
The cats immediately jumped ship upon landing at the gas dock for dry stationary land (no worries, they returned later when they were hungry – no desertion here). The next morning we were greeted by the other Atlantic Odyssey boats when we docked at our slip; rum punch and celebration began. "Welcome to the Caribbean," as Capt. Jack Sparrow says. It was Carnival time anyway. We got the local bus and water taxi over to Port de France to join in. This is a three-day celebration with dance groups from all over the island strutting their best with food and drink.
We lost Kirk in Martinique for three days. (My old friend Kirk Kelly had joined us in Tenerife for our transatlantic passage.) He turned up later, broke and wearing new clothes he bought in a local gift shop. He'd had a lot of fun with locals and sleeping on the beach. In Carnival, each dance group had about 100 members in costume that danced in choreographed routines that evolved as they moved on. Every group had full bands dancing with them and floats…a little like Mardi Gras floats, but with a lot more energy and more skin. The women wore next to nothing except glitter and feathers. This was Carnival in Martinique, a small island – the one in Trinidad is said to be the best. However, people have known to get killed there. Martinique is safe; just don't be stupid and flash jewelry or money, basically same as you would do in Manhattan. Later, we checked out the Seven Sisters waterfall inland, toured the rum factory (there is one of these on every Caribbean island) and after a week discovery (and free dockage thanks to Atlantic Odyssey) we set sail for St Lucia. Kirk's wife and youngest son were meeting him there for spring break.
St. Lucia is semi-safe on the scale of the lower Caribbean islands. Grenada and Martinique are safest, St Lucia is below, and St. Vincent is on the bottom. St. Lucia is a nice place to hang out on the beach, windsurf and catch up with the Kellys. It's also a good place to provision, although there is not much more. If you go out at night, make sure that you are in a group. Locals prey on tourists if you are alone – they call it payday. Unfortunately, Kirk was mugged while going to his hotel alone late at night. They knocked him down and cut the pockets off his shorts to get a cell phone and credit cards. Anyway, after a week it was time to shove off. The girls wanted to see all the locations for Pirates of the Caribbean at St. Vincent and Mustique.
Willilabou Bay on St. Vincent is where they filmed the scene of entering Port Royal. You know, the fort with pirates hanging from the arch as Capt. Jack Sparrow sails in at the beginning of the first movie and tries to escape the first time of many. Well, we sailed into the bay at roughly 11 pm and started to anchor, when a guy in a motorboat came by to help with the stern anchor. After a few minutes of help, he asked for a tip. We offered $20 (generous, I thought), except he wanted more and we eventually gave him $50. The next morning we woke up and saw the arch and what was left of the dock from the film. In reality, the rest of the set was green screen. Disappointed, we left the next morning. In retrospect, we got off easy – one week later a sailor was murdered exactly at that same spot. So, we went further down the chain and checked out Mustique.
Next stop was Grenada, home of Ronald Reagan's overwhelming invasion of 17 Cuban civil engineers. We went to the airfield where the Cuban cargo plane remains from the invasion, stripped of anything of value. The airport is now used as a drag strip by the locals to show off their cars on Saturday night. It was interesting to hear the Grenadian version of the battle…a little different than popular American lore. We loved Grenada – super friendly people, not expensive and a lot to see, especially the rainforests with the monkeys. Prickly Pear Bay offers great anchorage, and a lot of Australians and Brits that have been cruising for over 10 years were anchored there for the season. I even found a couple that had been at sea for 30 years – an amazing subculture of really happy people.
The girls enjoyed the chocolate factory tour in Grenada, Kirk and I enjoyed the rum factory, and everyone enjoyed the waterfalls. It was becoming a pattern and Kirk had to go back to reality. He had been with us a little over ten weeks, and the girls were sorry to see him go. He got a haircut, cleaned himself off and flew back to upstate New York, just in time to get the last of winter. It was time to start making our way to the Panama Canal for our crossing on April 10.
Look for updates on Persevere's journey in future issues of WindCheck, and track their progress on their Facebook page, "Persevere60545."
Previous articles from the Persevere Family Journey:
January 2015 Persevere Cruise: The Most Important Rule of Cruising: Let the Weather – Not Your Timetable – Determine the Schedule.
March 2015 Persevere Cruise: Cuba Libra!
April 2015 Persevere Cruise: Serious Fun at the St. Maarten Heineken Regatta
May 2015 Persevere Cruise: Kirk Kelly's 50th Birthday in Rincón
June 2015 Persevere Cruise: From the Persevere Log: Dominican Tree House Village
July 2015 Persevere Cruise: From the Log of Persevere: Havana – The Tale of Two Cities
August 2015 Persevere Cruise: Back to NYC
September 2015 Persevere Cruise: Transatlantic Race 2015
October 2015 Persevere Cruise: Sail On, Aspen
November/December 2015 Persevere Cruise: Europe 16: The Adventure Begins
January/February 2016 From the Log of Persevere: Bay of Biscay
March 2016 From the Log of Persevere: Into the Med
April 2016 From the Log of Persevere: One Word: Gaudi

May 2016 From the Log of Persevere: Atlantic Odyssey & Holidays in Tenerife