There has been a lot of negative press about the Louis Vuitton America's Cup World Series event held in New York last month. While I understand why people (spectator and competitor alike) were disappointed with the racing conditions on the Hudson, I cannot agree that the event was a failure. Races were run, and with three different winners in three races including a winner-take-all final race, a team came out on top…the same result as if there had been a baker's dozen perfect windward-leeward races in 15 knots of breeze and flat water. But, I am not writing about the successes or failures of the Race Committee or course management or Mother Nature – and I'm certainly not writing about the TV coverage.
I was at Brookfield Place on Sunday with my family (mom, dad, sister, brother, nephews, wife and kids – 13 of us in all). We gathered for Mother's Day, but also to watch the ACWS together. It was the first time we'd enjoyed a sailing event as a family in a long time, and it was splendid. While the points competition, corporate sponsorships, nationality and race management were lost on my three-and-a-half year old son, one thing was pressed into his memory – and mine – about the Louis Vuitton America's Cup World Series New York…that it was awesome.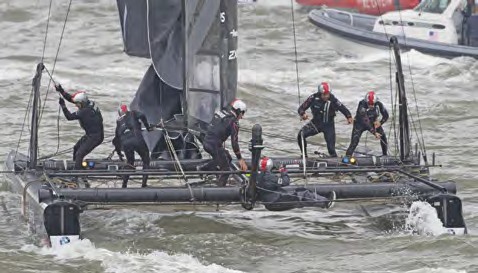 We ran into friends as we walked the seawall in Lower Manhattan, explored the Race Village, talked about the boats docked in the basin, and eventually made our way to the main stage as Tucker Thompson took to the mike to introduce the teams.
© Stephen Cloutier/PhotoGroup.us
A large screen stood next to the stage and my son Oliver was in awe of it all. I don't think he realized that the people on the screen were actually the ones – live – just in front of him until the first group of sailors exited the stage.
As the teams made their way to their tenders, each and every sailor took the time to give my son a high five, and a 'Hey, buddy' or 'Thanks for coming to cheer us on!' And while that may seem like no big deal, to Oliver it was just about the coolest thing ever. These were the guys from the big screen, the ones wearing 'space suits' that everyone was there to see, who everyone was cheering for, who had their own theme music – and they were all now his friends.
This caused one problem however, as Oliver now didn't know who he wanted to root for, so he just cheered for each boat as they rounded the marks. As the day went on, Oliver asked typical toddler questions about the boats like what color boat belonged to which team, remarked how fast they went when they were flying, and even inquired as to whether we were going to be bringing the teams home with us. He soaked it all in and so did I.
We all have polarizing moments in life and I suspect that even at his young age, this might be one for my son. It is for me, because I will never forget Oliver saying, "I love this, Daddy" as he sat atop my shoulders. It felt more like Father's Day to me, but really I could see that my wife and mother were equally happy to be spending their special day there along the Hudson.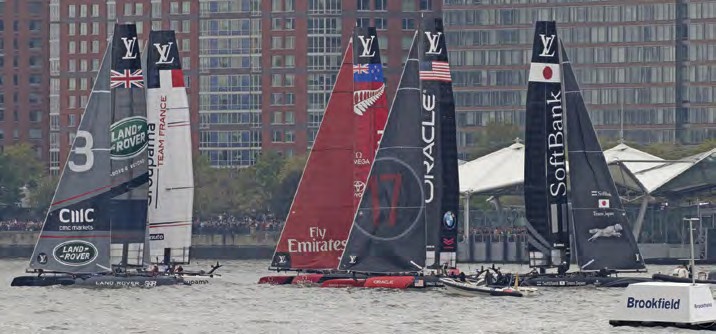 I read that the crowds gathered to watch this event surpassed even those that line the sea-wall for New York's Fourth of July fireworks. That's really something, if you take the actual racing out of the picture for a moment and consider the sheer spectacle of the event.
© Stephen Cloutier/PhotoGroup.us
In fact, most people that I was within earshot of had little idea about racing, or even that the competition had started well into the second race of the day. It didn't diminish their excitement, or enjoyment.
So, say what you will about the racing – I contend that from a purely competitive standpoint, you'll see better action at a high school or college  dinghy event anyhow. That doesn't really matter, because the consistent Oohs, Ahhs and occasional  WHOAs were something I've never heard while watching sailing.
From this father, I want to say thanks to Sir Ben Ainslie, Dean Barker, Jimmy Spithill, Nathan Outteridge, Glenn Ashby, Franck Cammas and the crews from each of their boats  for making my son's (and my) day, both onshore and off. I no longer know who to root for either – I just hope that fathers and sons in Chicago, Portsmouth, Toulon and Bermuda enjoy and experience the Cup races in a similar way.
See you on the water.
Chris Gill