By Mikaela Kimpton & Payton Canavan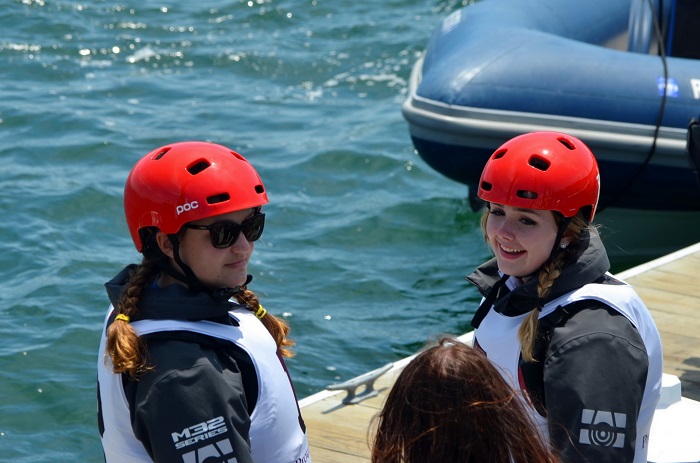 Editor's note: Two enthusiastic members of the Prout School Sailing Team (Wakefield, RI) had an exceptional opportunity to share their love of sailing. A meeting with two-time Rolex Yachtswoman of the Year Sally Barkow, whose Team Magenta 32 was competing in the World Match Racing Tour Newport, led to an invitation to sail with Barkow's team on the Pro-Am day. Mikaela Kimpton (first essay) and Payton Canavan recount their experiences.
Geared up and ready to go: Payton (left) and Mikaela receive pre-race instructions from World Match Racing Tour officials.  © Jan Harley/Media Pro International
There are a few moments in this existence that change our lives. Sometimes these are sad, sometimes beautiful, sometimes serious, sometimes inspirational. But each one is filled with inexplicable and powerful emotion. They can set you on the astounding path of a new dream, bringing experiences you could never possibly fathom. That's what sailing has done for me.
I joined the sailing team at my high school and fell in love. I have always been infatuated with the ocean and spent as much time as possible on the shore and among the waves, but being out on the boat was breathtaking. The wind in the sail and my hair, the salty spray glistening on my face and hands, the sun sparkling on the water – I don't think I've ever felt more free. So I stuck with it, literally "learning the ropes" of this new skill. My newfound friends and sailing coach, Coop, were by my side the entire time, teaching me not only about the sport itself but proper seamanship, teamwork, responsibility, and giving back, among countless other things.
Sailing has opened so many doors for me. I recently attended the World Match Racing Tour Newport and sailed with Team Magenta in the Pro-Am racing. It started with meeting Sally Barkow and her crew to learn about their sailing experiences, and soon progressed to my friend Payton and I actually racing with these incredible sailors. Simply meeting Sally was extraordinary. She discussed Project Magenta and its aim to promote women, not only in sailing but in society as a whole. I strongly support everything Project Magenta stands for and hope to become more involved. She also shared her unbelievable experiences in the Volvo Ocean Race on Team SCA, which I also had the opportunity to see firsthand when it stopped in Newport last year. Just watching the enormous boats sail into the finish that first night was captivating. Sally and the other strong women in her crew are true role models to me and I will never forget our meeting.
The most phenomenal part arrived on Thursday. The sun was shining and the breeze blowing at a good speed. Payton and I were excused from school, arriving at Sail Newport early to grab our gear and learn the schedule. We met the broadcasting crew and a cameraman, Adam, was assigned to follow us around the entire day. We became more invigorated as the day progressed, meeting many new people and watching the boats racing. Knowing that I would soon be on one can only be described as electrifying! As we suited up and proceeded down to the docks to be transported to the boat, the reality of the situation began to sink in. I had never sailed on anything like an M32 catamaran before. I was a little nervous, but that was overcome by my overwhelming exhilaration. This was actually happening! I couldn't stop smiling. The joy in my parents' and Coop's eyes said more than enough about what I was feeling.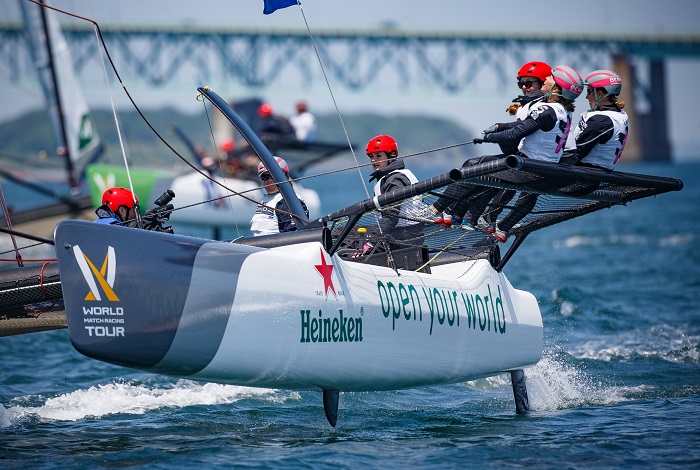 And we were off. Payton and I climbed aboard the Team Magenta boat and were debriefed on what to do and how to help. The team was so welcoming that we quickly relaxed, although I vividly remember the sensation of my heart beating wildly in my chest from the brilliance of all that was occurring. I was soon pulling lines and crossing the trampoline with much more ease than I initially possessed.
Prout School sailors Payton Canavan and Mikaela Kimpton sailed with Sally Barkow's Team Magenta 32 in the World Match Racing Tour Newport.   © Rod Harris
Then Sally offered me a chance of steering. I accepted, and was handed the tiller. Listening to Sally's guidance, I directed the boat to the finish. Just holding the tiller was absolutely riveting. I decided there was no feeling quite like that of the boat rising out of the water. As I mentioned in an interview later that day, it literally felt like we were flying because, essentially, we were. If I ever felt free while racing 420s – although I still love it so – it was nothing compared to soaring over the waves.
We were allowed to sail another race, and by this time I felt much more comfortable on the boat. The entire time Sally and her crew were so positive, patient and encouraging, but too soon was the ride over. I was so stunned from the surreal trip that I felt as in a daze the whole ride back to the docks. We were interviewed once again about what it was like racing on the boats. All I can say was it was beyond words.
So, what does this translate into for my life? How did it impact my future? Well, I came home that night exhausted and happy, and with a new dream. And that dream is sailing. I definitely want to sail on a competitive team in college, but I aim to take sailing even further. Someday, incorporated with my career, I hope to be involved in large international competitions such as the World Match Racing Tour, and maybe, just maybe, the once-in-a-lifetime chance of participating in the Volvo Ocean Race. However it all turns out, I know sailing will always be a part of my life.
So, what are the specific points of our lives that permanently change them – those moments that set them spinning onto a radically different track? That first step on the docks, that first ride on the boat, those first words and laughs with my teammates – that's what did it for me. Shaking the hand of Sally Barkow. Catching the contagious enthusiasm of Coach Coop. The people I've met and the friends I've made. The promise of the future that sailing holds. That's what sent me careening into this new dream. I know now with certainty that I will hear the wind in the sails and feel the salty spray on my face forever.
– Mikaela Kimpton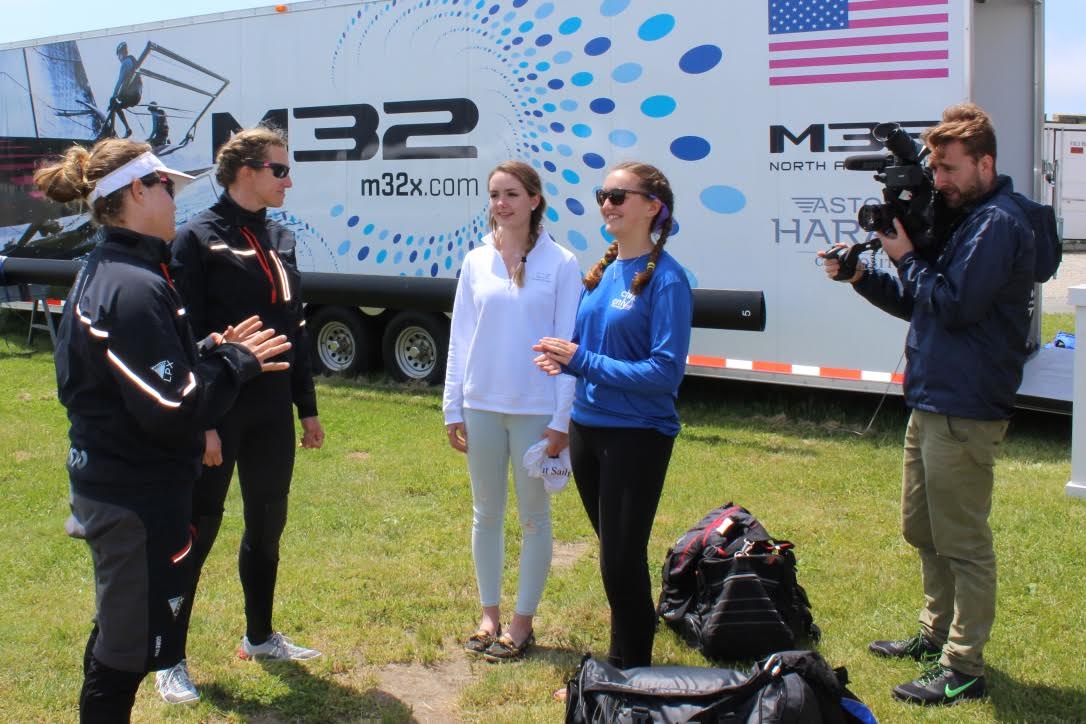 Having the opportunity to be on a boat with one of the most accomplished female sailors in the world seemed like a dream to me. Sally Barkow, who was on the all-women's Team SCA during the Volvo Ocean Race 2014-15, is now one of the lead organizers for The Magenta Project, which helps advance women in the sport of professional sailing. My family and I had followed Sally and her team very closely during the Volvo Ocean Race, but I never imagined that I would be given the opportunity to sail with her. 
Our coach, Joe Cooper, had offered the girls on our high school sailing team at The Prout School the opportunity to meet with Sally and her crew to discuss her career and women in sailing. Two of us from the Prout Sailing Team sat down with Sally and several of her teammates and talked about all things sailing. They were all so patient with our numerous questions and were very nice to be around. This already incredible opportunity became even more amazing when Coach Coop found a way to get us on an M32 catamaran with them for the Pro-Am race. I couldn't believe I was actually going to sail with them, and I was so eager for the event on the days leading up to the Pro-Am. 
Once the big day arrived, I got to leave school early to go get geared up. Sally came by to talk to us before we headed out. I soon realized that I was not going to be along for just a ride but that I was there to work. I was surprised when I was handed a helmet because I have never had to sail with one before. As we geared up to go out, I realized how big a deal this really was and that it was truly a once-in-a-lifetime experience. 
Getting on the boat was a bit more challenging than I initially thought it was going to be, due to the fact that you had to jump up on the side with all your might. Sally and her team welcomed us aboard. They all showed us the basics of the boat, gave us positions, and told us what to do. Pretty soon after, the first race rolled around and we took off like a shot, soaring several feet over the waves. I had never been on a sailboat that could go that fast, and never thought in my wildest dreams that I'd get a chance to steer the boat. 
Sally shared with us the racing skills unique to the M32 as well as many other tactics.  After two races, we said goodbye to the girls on the M32 and headed back to the dock for a few exciting press interviews. As the day began to wrap up, I thought to myself that this could be me in a decade or so. 
I came away inspired by the Magenta Project. Giving back is a big part of The Prout School community, so I wondered what I could do to give back from this incredible experience. I began to think about how I could help to get more girls out on the water sailing in my community, and realized I could do this by inviting younger female sailors at my yacht club to race with me in my 420 this summer. 
I am so grateful that I was able to have a part in this event and meeting the women of the Magenta Project Team. I appreciate how many people worked to make this happen. This experience has made me realize that if you set your mind to something and work hard at it, anything is possible.  
– Payton Canavan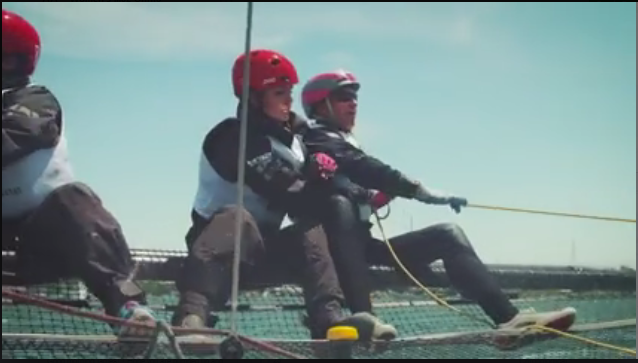 Watch a clip of their race. Video produced by Red Handed TV.