40 Years of Circumnavigation
Track the fleet see course updates this week.
By Jim Arnemann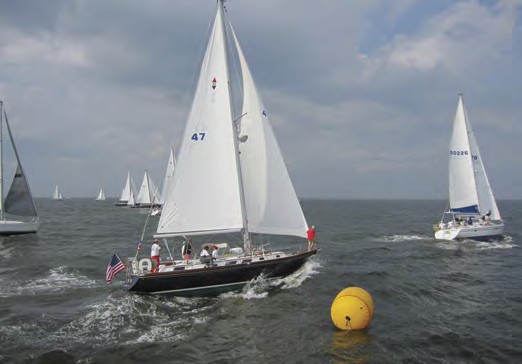 Moses wandered through the desert for 40 years, and Solomon reigned over Israel for 40 years. Venus completes an orbit of the Sun every 40 years. And the Around Long Island Regatta has been circumnavigating New York's Long Island for 40 years. Since 1977, sailors have been starting in the Atlantic Ocean off Rockaway Point, sailing east around Montauk Point, through Plum Gut or the Race, and down Long Island Sound to the finish in Hempstead Harbor, homeport of the event's host club, the Sea Cliff Yacht Club.
The 40th Annual Around Long Island Regatta starts Thursday, July 28.
Every July, world-class racers, weekend cruisers, doublehanders and junior sailors, in sailboats of all sizes and shapes including multihulls, have made the challenging, 190-nautical mile trip. In celebration of this major milestone, the Sea Cliff Yacht Club Race Committee, headed up by Race Chair Effie Marie Smith, is pulling out all the stops to make the 40th anniversary of the ALIR a race to remember.
"We are very excited about the 40th anniversary of the Around Long Island Regatta," said Smith. "We are expecting a regatta befitting this historic event, and look forward to welcoming competitors from around the globe. This is a regatta for everyone, and all are invited to join in."
Boats and crews from as far away as California and Great Britain have already signed up for this year's ALIR, and the U. S. Naval Academy and the U. S. Merchant Marine Academy are expected to send teams again. Closer to home, local sailors like Harvey Bass of Sea Cliff and Mike Emmert of Glen Cove have been putting to sea every year and are gearing up for this year's race. Skipper Bass is planning on sailing with a junior crew, some whose parents weren't even born when this race was first run.
This classic race is the brainchild of Frank Braynard, a longtime Sea Cliff resident, historian and author, who created the 1976 Operation Sail in New York Harbor in conjunction with the then Flag Officers of the Sea Cliff Yacht Club, which has been running the race ever since. This year's ALIR starts on July 28, and ends with a gala awards party on July 31. The race is open to all sailboats 24 feet or longer. Skippers can sign up for the race by visiting alir.org, or through Yachtscoring.com. The ALIR is also featured on Facebook, at facebook.com/aroundlongislandregatta.
This is a great race, perfect not only for hardcore racers but, with several divisions, plenty of opportunity for the cruising sailor to win their divisions, and with corrected time, perhaps win the regatta overall.
The committee has been planning this race since the finish of last year's race. With the support of the regatta's sponsors: Brewer Yacht Yards & Marinas, Gosling's Rum, North Shore Farms, vineyard vines, Samuel Adams, Golden Eye Construction (the sponsor of this year's ALIR Kattack Racer Tracker live feed), Harken, and Fairview-Licht Company, the committee looks to make the 40th iteration one to remember. Don't miss it.
Jim Arnemann is the Commodore of Sea Cliff Yacht Club.