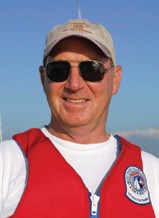 John Kantor, or 'JK' as nearly everyone but his mother refers to him, has sailed as long as he can remember. "I grew up in a beachfront house on Long Island Sound, and we always had boats: sail, power, row, and paddle," recalls JK, who lives in Westport, CT. "My first sail was on my father's Snipe. I got to steer at age 4. We then got one of the earliest Sailfish.
I went on to Beetle Cats and Super Sprites in the Cedar Point Yacht Club Junior Sailing Program. I got a Blue Jay at around 12, and started campaigning it around Long Island Sound. I became fascinated by multihulls along the way, before they were fashionable." JK went on to win a catamaran national championship in his late teens.
JK crewed regularly on his father's Atlantic while growing up. "At age 9 or 10, I attended a dinner party during the Atlantic Nationals at Pequot Yacht Club. I was by far the youngest guest, and uncomfortable in the sea of blue-blazered yachtsmen and their wives. It was held at the waterfront estate of Briggs Cunningham, the defending national champion. He was a kind, talented and generous man of means and had successfully defended the America's Cup, skippering the 12 Metre Columbia. He spotted me in the crowd, introduced himself and said, "C'mon son, let me show you something." He led me into the mansion and across the expansive foyer, He opened a heavy oak door, switched on the lights, and before me was a cavernous room filled with sail bags. Among them were the giant mainsails from Columbia. That personal tour of Briggs' sail room was, to me, a humbling privilege, and an example of giving back which stuck with me ever since."
"My heart has always been in small boats, but I rarely passed up opportunities to cruise and/or race on larger boats. I was very curious, wanting to see and learn everything. I crewed in countless offshore regattas on anything from stock boats to custom Grand Prix ocean racers. After college, I was a charter boat captain for a season in the Caribbean, sailing a cutter-rigged catamaran the size of a tennis court to the islands around St. Maarten. I didn't wear shoes for months, and came back with stories for a lifetime."
JK has owned Longshore Sailing School since 1975 (he ran it for 10 years prior), having rescued the program from a fiscally troubled town. "It was one of the pioneer community sailing programs in the country," he says, "but we didn't know it at the time." JK reckons that 70,000 people have learned to sail at Longshore since 1960, and there are approximately 2,000 staff alumni! "They are a very active and loyal group. We have a private Facebook page just for staff alums. Five families have had multiple generations work at Longshore, and four married couples met while working here."
Over the years, Longshore Sailing School has purchased about 2,250 boats, all new. "We turn the fleet over regularly, selling about half the boats every fall and buying new ones in the spring," JK explains. "We have well over 200 boats in season. It's a lot to manage. That's why we have nearly 90 employees."
Longshore offers a variety of choices, with monohulls, catamarans, centerboard sloops, daggerboard beach boats, double and single kayaks, canoes and, most recently, stand-up paddleboards. "It's not just sailing," says JK. "It's fun on the water. We try to make people safe, competent, and responsible boaters first, then the road forks in many directions. We offer students lifetime rental discounts, and they have longstanding loyalty."
Longshore's curriculum is likewise varied and progressive, and kids never spend more than a week or two in the same type of boat. No two days are the same, and students can progress from a kayak to a Laser or Hobie Getaway in a single season. The emphasis is on safety, fun and learning and there's little racing (unless you sign up for the Racing Techniques class – about 1% of Longshore's sailors push into racing), so there's no losing. Kids are rewarded for keeping their boats shipshape and achieving high test scores, not for winning races, and they receive a fancy diploma after each course.
Students can choose from a variety of multihull and paddling courses, although the best option for learning the fundamentals of the sport is Longshore's Core Curriculum. "It is our time-honored sequence of four 2-week courses: Sailing 1, Sailing 2, Sailing 3 and Sailing 4," says JK. "We have an in-house manual for each course. Everything in the manual is in the course, and everything in the course is in the manual. It starts with 'What is a sailboat?' and progresses methodically up to advanced handling techniques. It is thorough and demanding. There are strict prerequisites, with written and practical tests at each level. The final exam in Sailing 4 can stump even lifelong sailors. 'Advanced Certified' is a high honor only a handful of students achieve."
"Over the years I have developed very specific criteria for the perfect sail trainer, and there's currently nothing available which meets all the criteria," JK asserts. "If the sailing industry wants more sailors, they need to come up with the right first-time-on-the-water trainer. Designers need [to create] beginner-friendly boats – not tippy, scary high performers, prone to capsize. Also, it's time to move beyond fiberglass. Cross-linked roto-molded polyethylene is vastly more resilient."
"I'll probably never fully retire, but I'd love to downshift from President to Instructor and let some new rising star take the tiller," JK enthuses. "I also have one more book left in me. I have ghost-written many, including a lot of the US Sailing instructor and student training books, but perhaps most broadly recognized is the Boy Scout sailing badge manual. My 'work in progress' has a working title of 'Sailing School,' but it has little to do with sailing. It will be about the lessons I have learned over half a century in running a small business – which just happens to be a sailing school. Stay tuned."