By Colin Rath
Editor's note: This is the fourteenth installment in a series of dispatches from the Rath family (Colin & Pam, daughters Breana, Meriel and Nerina), who departed Stamford, CT in the fall of 2014 for a worldwide cruise aboard their Hanse 545 Persevere. You'll find previous articles linked below.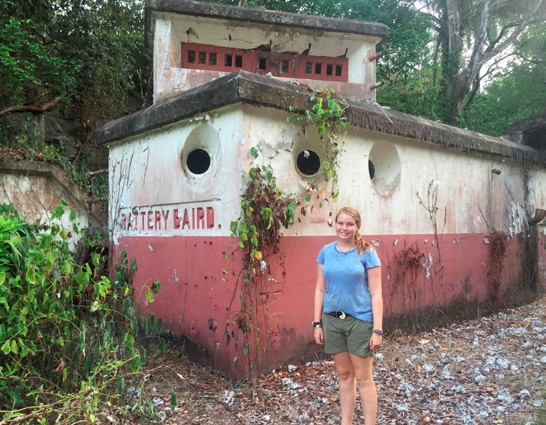 I know everyone thought that we left the states in October 2014 with a windfall of cash, sailing off into the sunset, but that was the Disney version of our exit. At the time I penned my book It Is What It Is, it looked like our fortune had finally changed with the condo under contact for sale coupled with a legally dismissed 2.7 million dollar mortgage. We thought that after a decade, we had successfully escaped our construction saga.
Breana Rath checks out the Battery Baird fortification near the Panama Canal.   © persevere60545.com
Unfortunately, real life didn't work out as it does in the movies. The American legal system is not designed to resolve anything permanently, as exemplified in the movie Thank You for Smoking. There's a scene that says it all. The main character's son has a homework assignment to write an essay on why the American government is the greatest in the world. He asks his father for help. The father quickly responds, "Because of the endless appeal system."
The American legal system can indeed appeal anything forever if you can afford it. After three years of having our mortgage legally dismissed, eight years of living under foreclosure to get it dismissed under statute of limitations, three months of due diligence under contract to sell the condo, Bank of America motioned to appeal the decision to dismiss the mortgage and every title company in Manhattan refused to provide title for the sale. The buyer could not get a mortgage no matter what, killing the sale and opening another five years of litigation for us. Believe me, we tried every title company in the Tri-state area. Just the appeal – not a legal decision against us – and all the title insurance companies went south.
Makes you wonder what title insurance is for, if a title is only issued when there is no risk at all on the property, since all the due diligence is done by attorneys on both sides of the sale and the title company redundantly. You are paying a company for a no-risk insurance policy mandated by the government that your legal team has already checked completely and charged you for the service on the same transaction. Maybe that's why the insurance and banking industries are the two biggest lobbyists of government. It makes you wonder who the U.S. government is really working for? But, that's a whole other consideration; I hope all of you bear that in mind when you vote in this corporate sponsored election this fall.
Obviously we left over a year ago as you have been reading as planned regardless, but continued to persevere though our legal problems from afloat, launching motions, and new actions with our legal team as we sail around the world. But, I digress, that's not what you want to hear about. This is a family sailing adventure story, and we will eventually get that cheerful ending one way or another. There was no reason to delay our departure waiting for it to happen, so we decided to go out and make it happen.
After getting a lot of intel from the local cruisers on Bonaire, Colombia, Panama and beyond, we departed Grenada and set sail for Bonaire, an uneventful reach of 400 miles or so, although we caught a nice 40-pound tuna along the way. We have logged over 17,000 miles since we started this endeavor, and my family is well seasoned aboard Persevere and get into the flow at sea very quickly.
When you enter Bonaire, the first thing you notice is massive hills of white along the shore and no, it's not snow. It takes a few minutes to realize that these are 300- to 400-foot tall mounds are actually huge piles of salt. Bonaire's second largest industry behind tourism is salt production. About 1/3 of the island is salt flats for making salt. The diving there is exceptional. Bonaire provides moorings for $10 a day. Put on your tanks right from mooring or rent a car and drive to the sites marked all around the island. The whole island is a dive site. The island edge is a massive reef with huge schools of fish. The shore is 20 feet deep out to about 50 yards, and then a cliff goes down 400 feet. It's extraordinary – some of the best diving I have seen. Meriel and Breana loved it. We saw schools of topical fish numbering in the dozens, not like BVI these days when you see three or five of the same fish together. We stayed for two weeks, dove and explored the island. We came upon an interesting establishment called Cadushy. They make vodka from cactus and anyone who knows me knows my deposition with that spirit. This little distillery offers several natural flavors, and only makes 2,000 bottles a year – each by hand bottling that does only two at a time. We liked it so much we got a case of various flavors.
It was a quick sail from Bonaire to Santa Marta, Colombia. We arrived at 2 am and tied to up the gas dock and checked in in the morning. Our cats Wasabi and Pusha quickly jumped ship, since they had not been on land for several weeks. Wasabi came back early the next morning, but Pusha was MIA for two days. We didn't think anything about it until we started to see her put on weight. It turns out our British cat (who was too young to be neutered when she got her shots in Gibraltar) had a fling with a Colombian tomcat.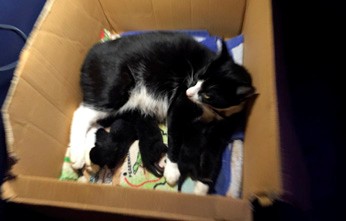 Eight weeks later, we had our first birth aboard Persevere. At 3 am (everything always happens at 3 am aboard a boat), three kittens were born. Santa Marta was jumping for Easter break with the bars playing loud disco until the early morning hours. Also, Colombia was in the running in soccer in two different leagues, so there was a lot to celebrate. We enjoyed exploring the town and getting provisions. Santa Marta has first class supermarkets, and we provisioned up for our next stop, the San Blas Islands off Panama.
Pusha and kittens aboard Persevere. ©persevere60545.com
As a competitive sailor, Colin has owned and captained several racing yachts. Follow him in the Rolex Sydney Hobart Race this year. Colin's new book, It Is What It Is, can be purchased on ColinRath.com or at any major bookstore or Amazon.com. Colin's next book is coming out in the fall of 2017. Look for updates on Persevere's journey in future issues of WindCheck, and track their progress on their Facebook page, "Persevere60545."
Previous articles from the Persevere Family Journey:
January 2015 Persevere Cruise: The Most Important Rule of Cruising: Let the Weather – Not Your Timetable – Determine the Schedule.
March 2015 Persevere Cruise: Cuba Libra!
April 2015 Persevere Cruise: Serious Fun at the St. Maarten Heineken Regatta
May 2015 Persevere Cruise: Kirk Kelly's 50th Birthday in Rincón
June 2015 Persevere Cruise: From the Persevere Log: Dominican Tree House Village
July 2015 Persevere Cruise: From the Log of Persevere: Havana – The Tale of Two Cities
August 2015 Persevere Cruise: Back to NYC
September 2015 Persevere Cruise: Transatlantic Race 2015
October 2015 Persevere Cruise: Sail On, Aspen
November/December 2015 Persevere Cruise: Europe 16: The Adventure Begins
January/February 2016 From the Log of Persevere: Bay of Biscay
March 2016 From the Log of Persevere: Into the Med
April 2016 From the Log of Persevere: One Word: Gaudi

May 2016 From the Log of Persevere: Atlantic Odyssey & Holidays in Tenerife
From the Log of Persevere: Carnival in Martinique