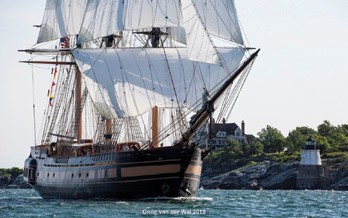 Oliver Hazard Perry Rhode Island (OHPRI) is seeking to hire licensed deckhands for its brand new 200-foot SSV Oliver Hazard Perry, which is based in Newport, RI and scheduled to sail throughout New England this summer. The Tall Ship is the first full-rigged ocean-going ship to be built in the USA in over 100 years and requires that crew applying hold an Able Seaman license or Masters license (any tonnage) with auxiliary sail endorsement or international equivalent.
© Onne Van der Wal 2015
"Anyone who has been watching the project and wanting to get aboard and be part of our first operational crew: now is the time to make a move!" said OHPRI Executive Director Jess Wurzbacher. "We've got an exciting summer ahead with lots of sailing and some adult trips coming up in the Fall."
Wurzbacher pointed out that SSV Oliver Hazard Perry has everything crews love about Tall Ships, but none of the things they don't. "There's a 130-foot rig to climb and seven miles of line to haul at the start of the day, but there are hot showers and climate controlled spacious accommodations to retreat to at the end of the day." Other amenities include an environmental science lab, state-of-the art classroom technology, wheelchair accessibility, and climate-controlled learning spaces.
OHPRI will run programs for students of all ages during year-round operation, initially along the East Coast. The ship's programs this summer include one- to two-week voyages in partnership with academic institutions as well as teen summer programs and adult voyages in the fall. Deck crew members work the ship both on deck and aloft, and lead trainee crew members (youth and adult) in all aspects of shipboard operations. Applicants must be comfortable working aloft; willing to live by the rules and regulations aboard the ship; and suited for the duties and responsibilities outlined at ohpri.org/employment
Positions are full-time and live-aboard. (Room and board provided.) To be paid, candidates must be U.S. citizens or permanent residents.
For more information, email jess@ohpri.org.