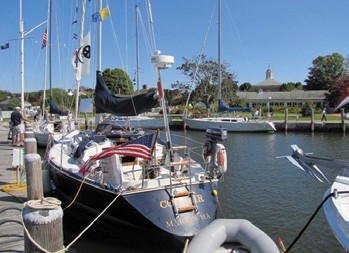 Owners and admirers of C&C Yachts are cordially invited to the 2016 C&C Northeast Rendezvous, which will be held September 10 – 12, 2016 at Mystic Seaport in Mystic, CT. It's our fifth year in a row pulling this off and so far it's been a big hit.
Mystic Seaport is prepared to accept early arrivals on Friday, September 9, with overnight dockage available for an additional fee. Saturday's activities include a trip to the Mohegan Sun casino (with sufficient interest); and a dockside BYOB gathering at 5:00 pm. Sunday's agenda kicks off with reveille and calisthenics at 7:00 am (just kidding); followed by informal tours of C&Cs for interested enthusiasts at 11:00 am; a dockside meeting led by Don Sweeney to introduce Greenport, NY, the 2017 Rendezvous Destination at 1:00 pm; a private (C&C only) guided tour of the Mystic Seaport Collection Resources Center (Exhibits that are not on Exhibit) at 3:00 pm; light dockside dinner (deli platters, sandwiches, etc., BYOB) at 5:00 pm; a private planetarium show and night sky viewing at 7:00 pm; and dockside farewells, cocktails, cigars, etc. at 9:00 pm.
We hope to donate some Rendezvous proceeds to the Mystic Seaport youth sailing program. To register, log onto cncnortheast.com. For more information, contact me at 860-389-6900 or trysail@gmail.com.
Rob Gallagher, via email