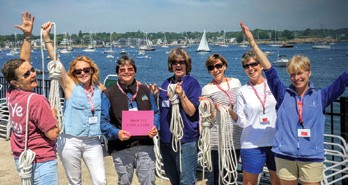 With a roster of new instructors and increasing interest in technical subjects, the 15th Annual Women's Sailing Conference drew over 100 women to the Corinthian Yacht Club in Marblehead, MA on Saturday, June 4, 2016. The event was sponsored by the Boat Owners Association of The United States (BoatUS) and Black Rock Sailing School.
Women's Sailing Conference instructor Capt. Nancy Erley (holding sign) with students learning how to heave a line.   © BoatUS.com
"I just bought a boat last Friday," said attendee Stephanie Muto, who is in her 20s and bought a Sabre 30. "I have been sailing for eight years and although it is quite intimidating buying a boat and living on it, I feel more confident now that I have come to this conference."
"Women are very much the face of the new boat owner," said Conference organizer Joan Thayer. "They are into more technical skills, moving beyond daysailing, so we've responded with more courses like Heaving To, Diesel Engine Preventative Maintenance, and Marine Electrical Wiring. Sailing around the world or racing offshore is no longer just for men."
Courses were led by accomplished women instructors including Captain Nancy Erley, a two-time circumnavigator who led four different standing-room-only workshops. "I believe men often go brashly out and try stuff, and women don't like to try and then fail," said Erley. "It is my hope that women absorb more of the skill so they can become partners on the boat and stop depending on the man and become more self-referenced, so women can rely on their own experience."
The featured speaker, Donna Lange, completed her second solo circumnavigation in her 28-foot sailboat just one week before the conference. As well prepared as Lange was she still experienced the unexpected, yet she made repairs and continued forward. "Events like the Women's Sailing Conference provide the confidence to push beyond one's comfort zone," said Lange.
A silent auction also raised funds to benefit the Women's Sailing Foundation, which funds the AdventureSail program for underserved girls ages 9 to 14 and provides scholarships for community learn-to-sail programs. For more information, visit womensailing.org.
D. Scott Croft at BoatUS contributed to this report.