Warrior Sailing helps disabled veterans find new heights on the water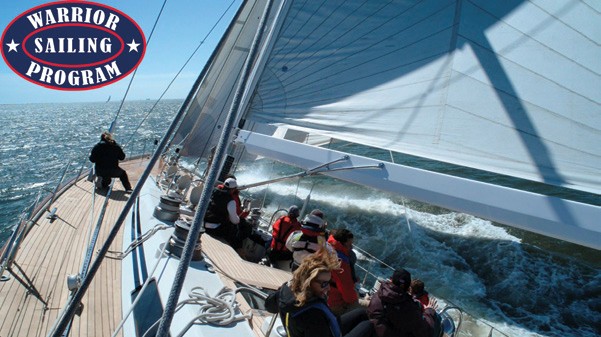 It's no secret that sailing can be a fun, thrilling and engaging sport. But it can also be a tool for therapy, reintegration and camaraderie among military veterans with disabilities, both mental and physical. This philosophy led to the creation of the Warrior Sailing Program, an official program of the USMMA Sailing Foundation in Kings Point, NY.
Ten Warrior Sailors sailed Metolius to third place overall in the Pursuit Race-Non-Spinnaker division at Sperry Charleston Race Week. © Peter Slack
Co-founded by Paralympic silver medalist Jen French and America's Cup veteran and USMMA Sailing Foundation President Ralf Steitz, Warrior Sailing focuses on serving wounded and ill military service members including those who served our country in such places as Vietnam, Iraq and Afghanistan.
The activities of the Warrior Sailing Program are focused on teaching participants the skills of sailing and maritime tactics. The core programming includes Basic Training clinics that introduce the concepts of sailing in a hands-on and fun experience. Participants in these 3-day camps come from all parts of the U.S. with a variety of disabilities like traumatic brain injuries, post-traumatic stress and amputations, and many are cancer survivors. San Diego Yacht Club hosted a Basic Training camp in June, and Warrior Sailing is recruiting participants for camps at the Annapolis Yacht Club in September and the St. Petersburg Yacht Club in November. Graduates can then elevate their skills at Level Two Advanced Training clinics, sailing higher performing boats like the J/22 and J/70.
"What we found from the camps is that a lot of people wanted to keep sailing," says Program Director Ben Poucher, who is also the Assistant Director of the USMMA Sailing Foundation. "It isn't very fair to teach people to sail and not give them an opportunity." Poucher notes that an impressive 76 percent of Basic Training graduates have said they want to continue with the sport.
Exposing the participants in the program to the different aspects of sailing is key. Equally important, Poucher maintains, is how well an activity like sailing helps fill a void for soldiers, marines and airmen in need of help recovering from the physical and/or emotional injuries they've sustained, often through their service. "The biggest thing is getting people who may be having a tough time getting off the couch, teaching them a skill and giving them a community, like what they knew in the military," Poucher says.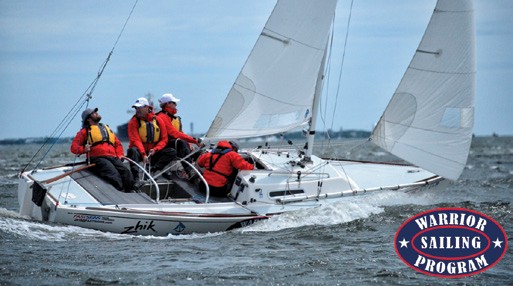 Highly motivated graduates with competitive drive don't just want to participate – they want to compete, and at a high level. Enter the Warrior Sailing Team, comprised of select program graduates. These men and women commit to training, competition and to each other to hit the big time in terms of both disabled and mainstream sailing.
The Warrior Sailing Team, with skipper Sammy Lugo at the helm, competed in the J/22 class at Sperry Charleston Race Week.  © Peter Slack
This year, the Warrior Sailing Team competed in the Sonar class at the NOOD Regatta in St. Petersburg, FL and the J/22 class at Sperry Charleston Race Week. They have had unique experiences like sailing on a sponsored boat at the New York City stopover of this year's Atlantic Cup presented by 11th Hour Racing. Last month, the team competed in the C. Thomas Clagett, Jr. Memorial Clinic & Regatta in Newport, RI. They're currently training with the J/22 fleet at the St. Francis Yacht Club in San Francisco, CA in preparation for the 2016 J/22 World Championship in Kingston, Ontario this August.
Additionally, ten Warrior Sailors had the unique experience of competing on the USMMA Sailing Foundation's Frers Huissman 84-footer Metolius in the distance race at Sperry Charleston Race Week and claiming a third place podium finish.
The Warrior Sailing Program also supports other adaptive sailing events, including the Clagett/Oakcliff Match Race this month. Hosted by The WaterFront Center in Oyster Bay, NY with support from The Clagett, Oakcliff Sailing, Seawanhaka Corinthian Yacht Club and SailAhead, this inaugural event (which is open to both adaptive and able-bodied sailors) will be sailed in Sonars. Five-time and current US Match Racing Champion Dave Perry will be on hand to provide coaching in boat handling, boat speed, and match racing techniques. Warrior Sailing will have a team competing in that event, including Co-Founder Jen French, who also serves as the USMMA Sailing Foundation's Development Officer.
Central to Warrior Sailing's mission is the fact the costs of providing these experiences for ill or wounded service members (both active and retired) are covered by the program. "The funds raised to help support these programs make it financially possible for our participants," Poucher explains. "Without the support, we could not make the impact that we have." To date, more than 150 participants have graduated from the Basic Training camps, with nearly 90% having a first time experience on a sailboat. To this end, Warrior Sailing relies on funding and support from sponsors, foundations and grants to be able to provide these life-changing experiences.
However, Poucher says Warrior Sailing has barely scratched the surface in terms of the many service members in need of help – by some estimates, over a half a million – and as such the program is looking to grow not only in the number of people served, but in locations around the country and unique experiences for the graduates, which means it's also in need of additional financial support. Those interested in taking part or helping out with a program that truly represents sailing at its finest are invited to visit www.warriorsailing.org.